Whitecourt is a thriving Alberta town that gets it. To those living and working here, snowmobiling is more than just a frivolous pastime for the adrenalin addicted—it is a key economic driver. And nobody is more cognizant of it than the town's mayor, Maryann Chichak.
Alberta-born-and-raised, Chichak has been an advocate for the local snowmobile scene ever since she was elected to mayor in 2013. Her admiration for the sport, however, runs deeper than mere politics.
Living in the town of Fox Creek at the time, Chichak was introduced to snowmobiling by her late husband in 1992. As for her first ride—she remembers it well.
"We went out on the trails and we had a blast—until my son's friend went through a creek," she said. "It was comical, just being an outsider and a newbie, watching my son's friend take off and my husband going, 'Stop, don't go there!' and seeing the snowmobile start to go under . . . That was my first introduction to trail riding in Fox Creek."
Never one to shy away from adventure, Chichak embraced snowmobiling with her family.
Over the years, however, she found herself getting busier and when her husband passed in 2007, she made the tough decision to sell their family's sleds to focus on being a single working mom. But her passion for the sport never waned and thanks to good friends in Whitecourt, she was able to continue riding.
"I'm fortunate enough," said Chichak, "I have so many friends with sleds that when I want to go I have access to a snowmobile."
The warmest welcome
Lending snowmobiles and gear is not uncommon in Whitecourt. The Whitecourt Trailblazers snowmobile club even keeps a stash of snow pants, goggles, boots and gloves for newbies to use.
"This community embraces snowmobiling," said Chichak.
And because of that, Whitecourt is able to host million-dollar events like the World Snowmobile Invasion of 2015. According to Chichak, Whitecourt doubled its population during that five-day event and the economic impact was estimated to be nearly $2.5 million.
The snowmobile club's annual VIP & Media Ride in January and the family snowmobile rally in February are important to the town as well since these events attract riders and non-riders from around the province.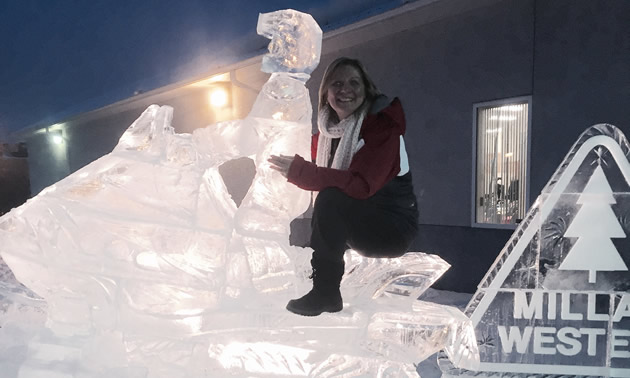 "So we really, truly value the Whitecourt Trailblazers club and the volunteers who are a part of that," said Chichak, "and we are very very supportive of that group and what they do for our community."
Chichak said the town of Whitecourt and Woodlands County contribute to the club's grooming fund.
Alberta's snowmobile capital
Whitecourt is a popular destination for Edmonton snowmobilers, but riders from Edson, Fox Creek and Swan Hills also enjoy the trails here, especially the Golden Triangle, a 350-kilometre loop that links Whitecourt with Fox Creek and Swan Hills.
"There are so many different stops along the trails in this area and on the Golden Triangle that are breathtaking," said Chichak.
Picking her favourite was not easy.
"If I had to pick one, the Goodwin is probably my favourite," she said. "But I enjoy them all."
The camaraderie of it
Chichak enjoys being outdoors, but for her, snowmobiling is best shared with friends and family.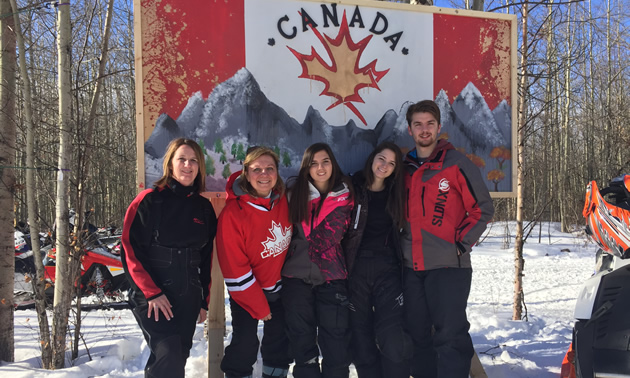 "I am a very social person so I love sitting around the fire, catching up with people," she said. "Or meeting new people, and I've had those opportunities, especially through the media ride."
After inviting yours truly to join her on the trails in Whitecourt, Chichak had this very convincing message for anyone who has yet to experience the Snowmobile Capital of Alberta:
"For anyone who hasn't been to the area to go snowmobiling, you have to try it," she said. "You have to come here and experience that because once you do, you'll be here each and every year. It will become a destination for you."