When you ride your snowmobile, do you blaze the best trails last?
If you're anything like Leo Zelinski, 76-year-old co-founder of the Whitecourt Trailblazers Snowmobile Club, then the answer is yes. Despite a lifetime of snowmobiling excursions to choose from, Zelinski experienced his best day ever just last year. If you've ever thought your best sledding days were behind you, draw inspiration from this Albertan pioneer.
Family outing
On March 24, 2018, Zelinski set out for adventure with his avid snowmobiling son, Daryl, grandson, Zachary, brother-in-law, Duane Farrar, and co-worker, Jim McGrath.
"The last two seasons have been short of snow in the snowmobile capital of Alberta," Zelinski said. "We decided to look for snow at the Shiny Bank Summit lookout."
Obstruction ahead
After offloading at the Grout Creek Campsite, the staging area on Highway 32, the quintet headed south on the unplowed, fresh-powdered snow road for 26 kilometres (16 miles). Once at the summit, the group crosstracked to hook up with the Summit Trail. Zelinski ran into an early snag on his best day ever but that didn't deter the optimistic senior.
"Unfortunately, it was too windblown," he said. "There's a little bit of cussing and swearing when you get to the end of a trail that's totally blown over. We got stuck turning around in knee-deep snow. Turning around with heavy machines on a narrow trail is a bit rough but you have to do it. It's good for riding when you got momentum, but when you stop it gets frustrating."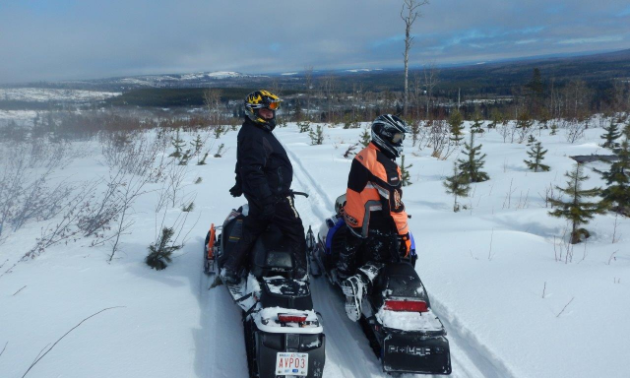 After the group unleashed their favourite four-letter words, they dug themselves out of their sticky predicament and pressed on.
"Disappointed in having to turn back but happy to get some real snow, we kept scouting around," Zelinski said. "We had to find an alternate trail, which we did. It was so overgrown and rugged that I was sure it was going to be a dead end. I even stopped and waited for the guys ahead of me to turn around. They didn't come back so I moved along. My adventurous son kept on pushing. Lo and behold, we did find a trail of virgin snow that opened up to an old, abandoned logging road. There was no trail. We had to blaze our own. What a thrill it was to ride in that deep powder."
Lost and stuck
Just as the day was shaping up into a classic outing, Zelinski faced a new challenge that almost convinced him to quit riding for good.
"We came to a narrow bridge with a steep incline and I got stuck," he said. "My old 2009 Ski-Doo 600 Etec Renegade skis are wide and couldn't follow the broken trail. I was sure I would need a helicopter to get out of there. Thoughts of retiring from this game seriously crossed my mind. Not only was I stuck, we didn't know where we were. We hadn't found any bearings yet."
The situation was bleak and Zelinski was distraught. Rather than give up and call it a day, Zelinski's son channelled rigorous determination to help his pops out of the jam.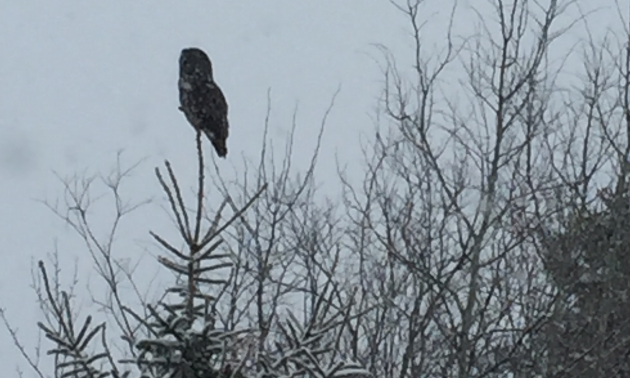 "Daryl was able to pack a trail in front of me and save my butt," Zelinski said with relief in his voice. "About 100 yards up (91 metres), we came across the end of the logging road and came across a wide, untouched snow-packed oil patch lease road. I refer to it as the Old Man River Road. We crossed the Summit Trail and it was still knee-deep snow. The Summit Trail wasn't groomed this year because it wasn't accessed and used from Whitecourt. It levels off on the top end. Nice timber. Wide trail. We just packed it down. It's a man-made highway that's perfect for snowmobilers.
We marched up to Marker 36 and were able to pin the machines to 100 kilometres (62 m.p.h.) an hour for 10 kilometres (6.2 miles). We were full of exhilaration. This part was the best ride ever. Right in our own backyard in the hills. Beautiful scenery. Top of the summit. Nice sunny day. It was such a good day."
To sum(mit) up the trip . . .
Looking back on the memorable day that was, Zelinski recalled the trials of the quest to explore new ground.
"We had emotions of desperation, disappointment and concern because we were trying to get to a trail in the wilderness that we'd never been on," he said. "Instinct led us in the direction that we thought we should be able to cross out to the Summit Trail. That's what we like to do: find new trails, explore new areas and find good powder. By good luck and good golly, we were able to make it. We were even home in time for supper."
Though moments of turmoil sputtered up throughout the excursion, the joyous experiences far outweighed any negative ones.
"Hey, this is just great to be alive!" Zelinski said, thinking of his mindset while racing through Whitecourt's white gold. "We're out in nature for a ride with friends and family, and it's right in our backyard. Can't be better than that."
If you ever thought that being in your 70s meant that your best days on a sled were in the rearview mirror, guess again. Give that machine one more ride. It might turn out to be your best day ever.