From the most scenic snowmobiling area in Alberta to the top SledTown in the province, Whitecourt has racked up an impressive list of awards. But it's hard to imagine Whitecourt without the Whitecourt Trailblazers. Active since 1979, this club has developed a 480-kilometre trail system, along with three warm-up shelters, four lookouts and two staging areas. From December 31 to March 31, however, snowmobilers can access the trails from town, thanks to a bylaw that was created many years ago, again, with the help of the Trailblazers.
Then
Ice races, cross-country rallies and even hillclimbs were popular activities organized by the club during its infancy. Trail rides took place as well, as did trail grooming, but only on a semi-annual basis.
"We had to hire out a groomer, either from Fox Creek or around Edmonton," said past president Ken Linford. "So we'd only groom a couple times a year."
It wasn't until 2003 that the club purchased its own groomer. A second groomer and drag were then added in 2012. Groomed trails made the riding experience more enjoyable as well as safer. With bigger, better, faster a common theme in the snowmobile industry, club volunteers are careful about marking and if necessary removing hazards along the trails.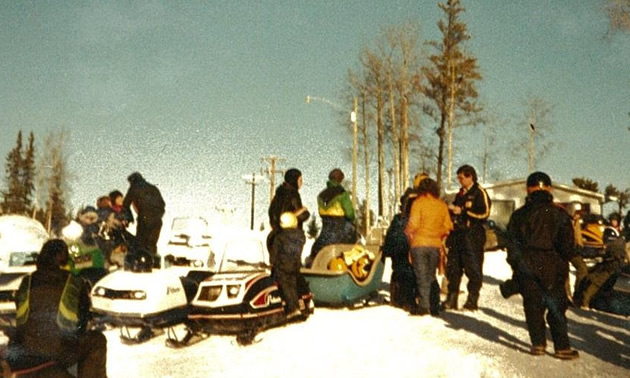 "Over the years, we've put in hundreds of hours every year with volunteers, saws and quads in the summer and sleds in the winter to keep the trails clean and safe." said Linford.
The club has been proactive in promoting safety as well, whether it has to do with trail riding or riding in the mountains. Zac's Tracs Avalanche Training has presented the ASA Safe Riders course to local schools and has held avalanche skills training courses in Whitecourt.
Now
Today, the Trailblazers work like a well-oiled machine, perfecting the club's trails, maintaining shelters and keeping visitors up to date on current riding conditions. The club has also put on major events, such as the million-dollar World Snowmobile Invasion of 2015.
Historically, the Whitecourt Trailblazers have worked well with the Town of Whitecourt, and the symbiosis extends to the businesses in Whitecourt who welcome snowmobilers with open arms.
Local riders are also proud of their trails and, according to Linford, enjoy showing them off.
"We have some really good people who are passionate about snowmobiling and they want people to come out and share the experience with us," he said.
Spend any amount of time in Whitecourt and you'll see for yourself that snowmobiling had enjoyed a long and prosperous history here.