There are many reasons why Valemount is considered one of the best snowmobiling areas on the planet. Cold temperatures and heavy snowfall equate to plenty of deep-pow bluebird days. Valemount has more bluebird days, in fact, than any other mountain snowmobiling destination in B.C. Riders in Valemount will find themselves plastering on the sunscreen, bracing themselves for yet another sunny, fun-filled day.
In addition to blue skies, the colder temperatures create the much-sought-after dry powder. A little trip to the white room, anyone?
Allan: a key sledding spot
One of the most popular riding areas is Allan Creek. Staging for this riding zone is 35 kilometres south of Valemount off the west side of Highway 5. This area has it all—lakes, bowls, meadows and steep hills—giving every sledder something to look forward to. Family-friendly snowmobiling can be found around the cabins and lakes, providing safe terrain for beginners. It is recommended that you ride with a local or a guide for safety's sake. Terrain can become large and challenging, so novice sledders and those new to the area should contact the Valemount and Area Recreation Development Association (VARDA) with any questions and concerns they may have. The folks at VARDA can point you in the right direction.
Always focused on safety
Curtis Pawliuk, general manager of VARDA, is one of the most proactive riders out there. His safety outreach is second to none, and he is ready to provide information and suggestions to help riders of all experience levels stay safe. Pawliuk can be seen in the Canadian Avalanche Centre's Throttle Decisions, a movie made for sledders by sledders about avalanche awareness.
More than just snow
The spring and summer months see a multitude of off-road vehicle (ORV) users visiting Valemount to enjoy the undisturbed beauty of the area.
"Leave thoughts of mud and spinning tires at home," Pawliuk said. "Stay on the forest service roads and help us preserve and protect our area."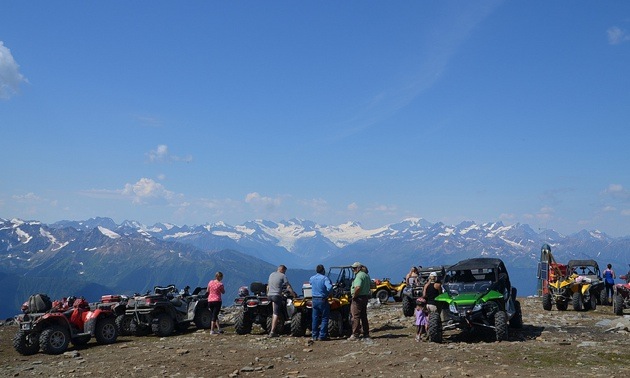 See forever, from the spectacular views from one of the lookout destinations on the ORV trails in the Valemount area. Photo courtesy VARDA
ATV and UTV riders enjoy riding through epic old-growth forests. Breathtaking waterfalls combined with stunning views leave no rider disappointed.
There are areas where you can stay and play right from your campsite, making vacations easy and enjoyable. Kinbasket Lake is one of these areas, providing ride-from-camp spots such as Yellowjacket, Griffin and Horse Creek campgrounds.
A number of ATVing, hiking and fishing destinations are highlighted on VARDA's website.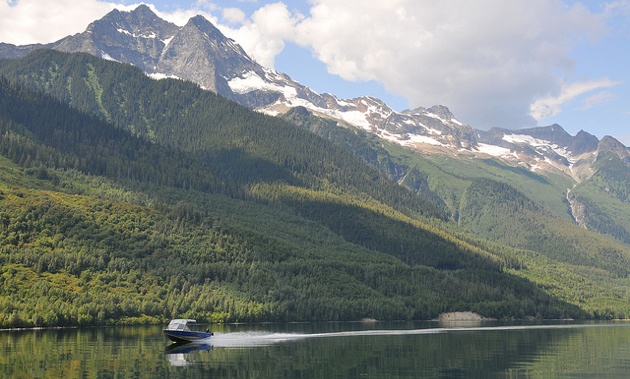 There is multi-season adventure in the Kinbasket drainage. Photo courtesy VARDA
VARDA is a non-profit association consisting of a range of local businesses and backcountry enthusiasts. The organization focuses on educational outreach to encourage responsible and safe recreation.