For most people who have broken their backs while snowmobiling, they would probably call it quits. But not Eric Dargis, a super-passionate, pow-chasing sledhead from Quebec. Every year, he and his buds travel from Quebec to McBride and Valemount, B.C.—driving 46 hours straight with three drivers with pickups—and head into the Rockies.
"First off, if you've never seen the Rockies yourself, it's so hard to describe the overwhelming feeling of standing face to face with this beautiful but intimidating monster ready to be explored," said Dargis. "And with these incredible machines, you can access such majestic areas never touched before. It's an incredible privilege but also so rad to get to ride that kind of terrain in perfect conditions."
Last January in B.C., Dargis' love of pushing the limits made him push a little too far when he broke his back dropping a cliff. He overshot the landing and right away realized the area where he was going to end up was lacking snow. It was barely covering the rocks. He pinned the throttle to absorb the shock as much as he could but bounced a solid nine metres further down.
"The shock was terrible," he described. "I made a few cartwheels, looking like a doll. When it finally stopped, I couldn't feel either of my legs for a few minutes. It felt like the longest and scariest time of my life. The story of one of my friends getting paralyzed after a ski accident kept running through my head. I stayed calm, but inside I was really freaked out."
After about 10 minutes, Dargis regained sensation in his legs but couldn't walk. The next challenge was to get out of the mountains fast, as he and his friends were still deep in the backcountry, approximately 100 kilometres out in the bush. Over 10 years ago, Dargis and his friends formed a 20-member crew they called the High Riders. Some of them were with him at the accident.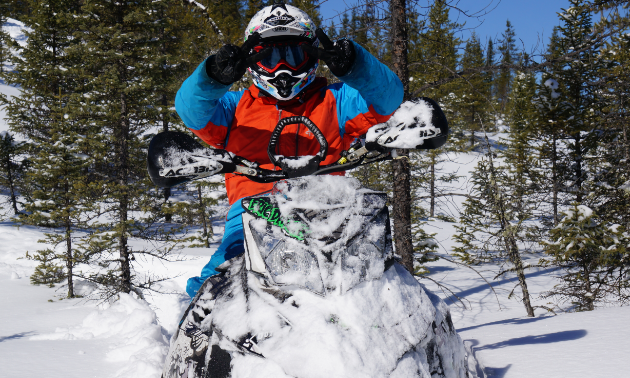 "Thank God my High Riders soldiers were with me to figure this out," he said. "Alexis was quick on the trigger as he took a waypoint on a GPS and left right away to find a cellular signal back in a valley one hour away, made a few calls and got my rescue by helicopter organized. Without him, I would probably be in way worst shape today. My other teammates JF and Felix slowly started the hazardous way back to the cabin, carrying an extra sled, while my friend Dave took care of me, setting up a fire to keep me warm in the meantime."
Dargis had broken his 12th thoracic vertebra (T12) which was putting pressure on his spinal cord. He had an operation which managed to fix it with a few nuts and bolts. He says he's still not 100 per cent yet, but no matter what, he will be ready to sled this winter.
Passion for the mountains
The first time Dargis went sledding was in Squamish, B.C. Instead of hopping on expensive helicopters to go snowboarding for untouched snow and "rad backcountry terrain," he and his friends used snowmobiles to get up on the glaciers. After a couple of runs, he realized it was just as fun to carve and jump with the snowmobiles, but the possibilities were unlimited.
"I then put my board in the shed to rot and bought my first sled," said Dargis.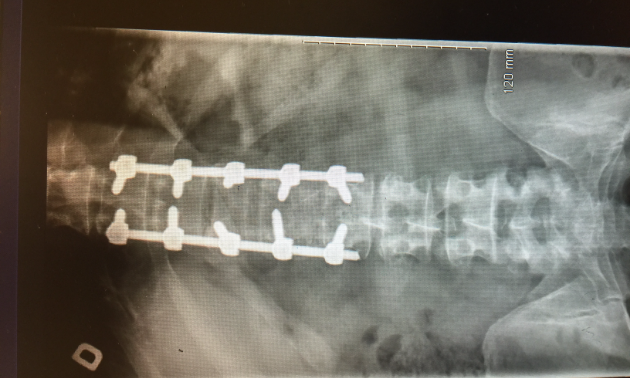 Every year, the High Riders travel across Canada with a bunch of pickups and trailers filled with sleds to get two weeks of ultimate riding in deep fresh snow around Valemount and McBride.
"In Quebec, my life revolves around chasing snowstorms so I usually get around three days per week to shred in addition to my annual trip out west," said Dargis. "Yes, a great and understanding girlfriend is required and mandatory if you wish to keep playing in the snow that much! So choose the one wisely."
One of his favourite spots to ride is Renshaw in McBride.
"It's a huge playground up there with every possible type of riding," he said. "You can climb, jump, drop, go deep into the trees and always find fresh powder to shred. Year after year, we keep on discovering new areas. We always stay at the Terracana Ranch Resort located between McBride and Valemount. With its log cabins, sweet staff, great food and massive bar with a fireplace, the gatherings every night can really make a good trip a great one."
Dargis rides a 2016 Summit 800 Freeride 146 and a 2016 KTM 450 XCF 2016 snowbike set up with a Timbersled track 121.
"I like technical terrain with manageable drops," said Dargis. "I always look for a bit of a challenge and of course, lots of light and deep snow. I've had the chance to ride a lot of different types, lengths and brands of sleds in all sorts of conditions and terrain around the country. Finally, in the last few years, the combination of a wider but shorter track made me believe a 146 (144 a few years ago) could do it all. A bit more of a challenge in deeper days indeed, but definitely makes you step up your game."
When Dargis isn't out West, he spends his time wakeboarding, mountain biking, fishing, swimming and during the winter, in-between snowstorms, snowboarding with his six-year-old daughter.
His main goal for the upcoming season is to ride as much as possible to get back to where he was (physically and mentally) before his accident as fast as possible. He plans on returning to McBride and planning a few trips in Quebec.
"Shredding pow is very addictive," said Dargis. "I got to find it, have it and consume it as much as I can. This is my drug, my way out, my life. I love the spirit and the adrenalin of this sport."