Valemount, B.C., is a popular destinations for Alberta riders. As it's only five hours west of Edmonton, eager pow seekers like Sean Maxwell make the trip several times a year. Through blizzards and blowing snow, these weekend warriors have only one thing in mind: the fresh powder in Valemount.
Ample snowfall and beautiful bluebird skies summon riders to this welcoming town, where everything revolves around the snowmobile culture.
"Most every Friday night the local pubs are packed with sledders, eager to talk shop and plan for the day to come," said Maxwell.
The Valemount and Area Recreation Development Association (VARDA) is an awesome resource for those new to town. You can pop into the VARDA office, pick up a trail map and talk to a local who is familiar with terrain and snow conditions. Volunteers are stationed at the trailheads to ensure you have the time of your life, safely.
On the first trip Maxwell and his father Roy took to Valemount, Roy Maxwell took a leap of faith and purchased property to build a family vacation getaway and his retirement home. Now the entire family enjoys the Valemount backcountry year-round.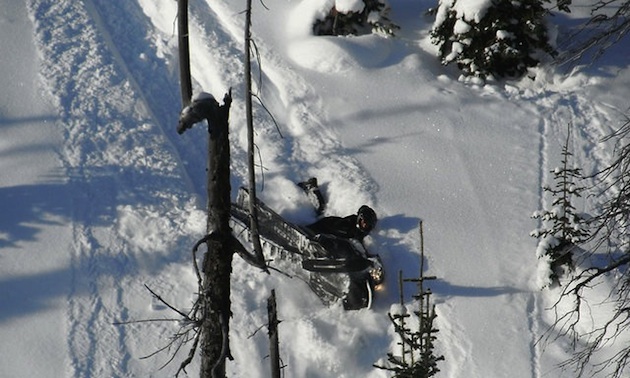 Best riding areas
The Allan Creek Trail is the first to open each season in the Valemount area. The terrain is as tame or as challenging as you want to make it, with a warm-up cabin available for a rest at midday. Rolling hills and lakes to play on give beginners ample opportunity to hone their skills.
"Allan Creek is great for beginners," said Maxwell. "One day we came upon a family on 250 Skidoo Elans, having the time of their lives."
The farther back you go into the Allan Creek area, the more challenging it becomes. This area was once hit by a wildfire and has become a tree rider's paradise, with plenty of opportunity to test your skills. With elevation ranging from 5,500 feet to 7,500 feet, only the experienced should attempt its outer reaches.
Clemina Creek is another area that provides a Big Mountain experience for freeriders. Big bows and lots of steep, technical terrain can bring hours of fun for those seeking a workout. Clemina Creek riding area also has a BCA Beacon Training Park located near the subalpine cabin, where riders practice searching skills. This area provides terrain to suit a variety of riders, with simple terrain for beginners branching into more technical, challenging terrain for the more experienced. The trails into the alpine are wide and easy, allowing riders of all skill levels access to the backcountry. In times of low visibility Clemina Creek is a favorite tree riding area.
"There may be a parking lot filled to the max with vehicles," said Maxwell, "but you are still able to shoot off the beaten path and find fresh snow."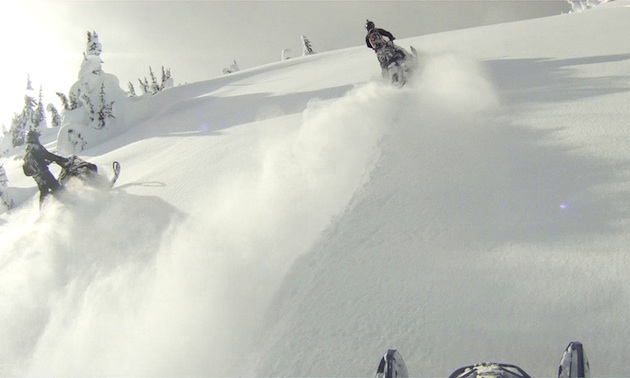 There are many opportunities for adventure and play. If you are choosing your own destination it is helpful to go with a local or hire a guide such as Toni Parisi (www.snowfarmers.com). Not only will a local guide ensure you have the time of your life on your getaway, but he or she will also ensure your safety.
Valemount is near McBride and Blue River, both of which also provide epic snow adventures. By using Valemount as your home base, you have the ability to access around 50 riding areas. Valemount has an active snowmobile community, with rentals and repair available even on Sundays. The security of the townsite is another plus, with local accommodations providing secure parking.
For more information about recreation in Valemount, visit ridevalemount.com.