What's the hottest off-road product on the market these days? There is little question that it is the super sporty, high performance side-by-side ATV's like the Polaris RZR, Arctic Cat Prowler and the Can-Am Commander.
These top sellers disappear off dealers showroom floors faster than leather jackets at a Harley rally. Which leaves us wondering where are the sporty, high-performance side-by-sides in the snowmobiling world?
The last stab at this market was the re-introduction of the Ski-Doo Elite in 2004/5. It was billed at the time as the safest, yet the most powerful Elite ever. Project leader and developer Charles Bombardier was quoted at its launch, "You drive it like a car and you feel completely safe in its cocoon."
Which may explain the Elite's quick demise—snowmobilers, not unlike ATV'ers, aren't looking for a ride reminiscent of a Lazy-Boy on skis—they want to feel the adrenaline pumping excitement of a side-by-side Razor.
Ski-Doo originally introduced the two-seater Elite model way back in 1973. The hope was that the Elite would, in fact, appeal to the "elite," or a more well-heeled, upscale snow riding clientele. The heavy sled was designed to give a smooth ride while offering "nimble" handling despite its clumsy twin tracks and wide twin ski stance. This Elite model sported a rear-mounted 635cc fan-cooled twin engine. It came with side-by-side seating that mimicked the "pony" cars of the day complete with 4-speed console mounted shift transmission lever located between the seats.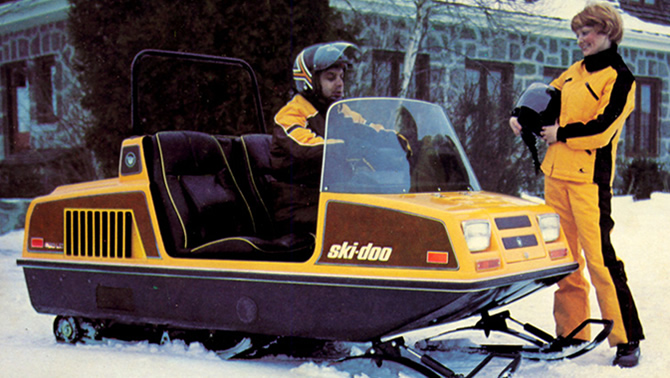 By the 1975 model the Elite's engine had been scaled back to a 436cc Rotax twin but the amenities upgraded to include a speedometer, tach, electric fuel gauge and, to appeal to the more urbane of the day, a cigarette lighter. However, in 1976 the Elite was discontinued and wasn't revived again until several years later. This time the 1978 Elite came with a 444 liquid-cooled twin engine—gone were the bogie wheeled suspensions, now replaced by Ski-Doo's new Torque Reaction slide suspension system, promising to give the sled a smoother ride and better handling. Upgrades available included a CB radio (10-4 good buddy), a ski rack and AM/FM radio.
The Elite hung around until 1983 when it was once again axed from the Ski-Doo production run. The Elite remained mothballed until its resurrection in 2005. This time a more sporty model was introduced with a Rotax 4-stroke 1/5-litre liquid-cooled engine, a airplane cockpit inspired "steering wheel" complete with heated grips, lockable front trunk and twin SC-3 rear slide suspension. But again Ski-Doo seemed to be playing to the snowmobiler who was seeking more "creature comforts" than sporty performance and side-by-side riding excitement. It still came across as your "father's Oldsmobile" – more "snow car" than "performance sled."
We haven't heard or seen anything of the Ski-Doo Elite since. So is there a performance side-by-side snowmobile lurking somewhere in the back rooms of one of OEM skunkworks studios? Obviously Ski-Doo would be the natural choice to infuse some energy back into this possibly lucrative side-by-side snowmobile market. A performance market just waiting to be discovered?
Remember, many laughed when the ATV world introduced the first side-by-side's back in 2007 and now they are the hottest thing on four wheels. Note to Ski-Doo: Maybe the Elite name isn't the best choice for a high performance side-by-side snowmobile this time around—though the BRP EDGE (with apologies to Polaris) sort of has a nice ring to it?