Here's an article that caught our eye about the world's first production electric snowmobile. It was written by Fred Lambert, on the website Electrek.
He writes, "The Montreal-based start up Taiga Motors invited us to Mont-Tremblant this week to witness the unveiling of what they claim will be "the world's first production electric snowmobile": the Taiga TS2. In 2015, the company spun out of McGill's racing team where the three co-founders, Paul Achard, Gabriel Bernatchez, and Sam Bruneau, worked on electric powertrains during their engineering studies at the university.
During a presentation at the unveiling Bruneau said that the team was inspired by Tesla to forget any preconceived idea of what a snowmobile should be and instead design an electric snowmobile from scratch."
He added, "The team says that they managed to keep the weight "under 500 lbs fully loaded," which is competitive with current options on the market, but while being equipped with a significant 15 kWh battery pack. That battery pack powers a PMAC motor with 250 N.m. of torque and about 80 kW of power output, which is a lot of power for a machine that weighs less than 500 lbs. It's why they can achieve a scary 0 to 60 mph acceleration in just 3 seconds."
He further observed, "It's quite impressive that a team of about 17 people put together a working electric snowmobile built mostly from scratch in 3 years and it's arguably not only competitive with current snowmobiles on the market made by giants like BRP and Artic Cat, but also significantly better in many aspects. Of course, the two main advantages are zero-emission and significantly less noise pollution."
Lambert summed it up by stating, "As for the range, the TS2 can travel 100 km (62 miles) on a single charge. Charging can be done in about 2 hours through level 2 charging with an onboard charger and the company says that it will also offer a DC fast-charging option for 80% charge in 20 minutes. While the range might not seem like much, it's actually quite impressive when you consider that Taiga claims the vehicle will maintain this range even at -30 Celsius. The company also says that they will offer different versions of the vehicle optimized for different uses: Utility, Touring, Crossover, and Mountain."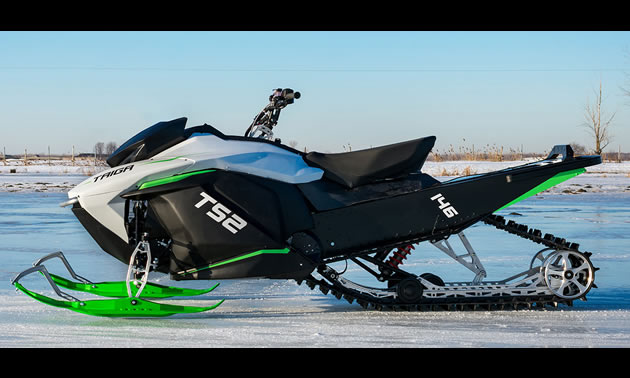 SnoRiders has heard rumours of the Taiga electric sleds being tested quite extensively out west including in the Revelstoke area.
Taiga is striving to bring the TS2 to market next year at a entry level price of around $15,000. They are currently taking reservations with a $500 refundable deposit.
Read the entire Electrek article on the Taiga electric snowmobile here: https://electrek.co/2018/03/03/tesla-inspired-taiga-electric-snowmobile/
Source: Electrek website