BRP introduces a refined 2020 Ski-Doo MXZx 600RS E-TEC specifically for snocross racing in North America that further advances the extremely successful redesign of 2019 which led to multiple championships and podium dominance last season.
The MXZx 600RS E-TEC continues to leverage the industry leading REV Gen4 platform for superior rider ergonomics and handling in rough conditions, while increasing durability and performance. The Gen4 layout delivers a narrow design with centralized mass for agility and responsiveness while the Ergo Step side panels and beveled tunnel gives racers enormous freedom to ride the way they want - without interference from the chassis. For 2020 the rear of chassis has been re-designed with a new tunnel, heat exchanger, bumper and taillight that better fit its race focused purpose. All shocks receive the Integral Base Valve that was seen on the factory shocks from last season. The rear suspension receives a new rail design that's sturdier, the front shocks have the reservoirs turned inward to protect them in close quarters racing and the engine gets a new cylinder design for more horsepower. Additional refinements include a new fuel pump that delivers the last few drops of pre-mix so racers can run with minimal amounts of gas, a stronger brake backing plate to provide consistent chassis performance and reduced load on the bearing and new suspension and engine calibrations.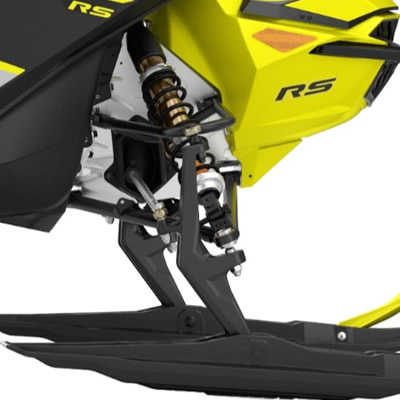 The RAS 3 front suspension features a long spindle that allows higher cornering speeds and a unique power steering system that provides ultra precise handling with less effort so racers can change lines easily. New this year, Integral Base Valves on all shocks add the ability to adjust not only High and Low Speed Compression but also High Speed rebound. Often seen as a factory only component in the past, these new adjusters are now offered as standard equipment to all racers. Changes were also made to the front shock reservoirs by having them turned inward for protection in case of contact.
The Racing rMotion skid frame in back is 137" length for maximum traction and holeshot performance with proven motion ratio geometry for both front and rear arms. All four KYB Pro shocks (40 mm front and 46mm for both rear) are Kashima coated for less friction, longer life and consistent performance. For 2020 all shocks will have new calibrations with the ski shocks and rear shock featuring high and low speed compression and high and low and speed rebound adjustment, while the center shock features high and low speed compression and high speed rebound control. Also for the start a new mechanical holeshot device is added that allows for more efficient weight transfer and quicker response off the line.
The Rotax 600RS E-TEC engine gets a new cylinder that delivers more horsepower above 6000 RPM with new calibrations for stronger starts and better pull in high load, deep bump situations. The Rotax engine features E-TEC direct injection, that always delivers quick response and perfect calibration no matter the altitude or weather conditions so racers and their crew have less to worry about. Other features include booster injectors first deployed on the Rotax 850 E-TEC, a short intake tract with double reeds and digital eRAVE. The Brembo brake system gets refined with a new larger, stronger backing plate that ensures the chassis and brake stay in alignment all while reducing bearing load and wear. The four-piston brake caliper is located for easy maintenance and mated with a stainless-steel rotor to deliver the stopping power required in rugged snocross races while keeping costs down.
Chassis changes include refinement to the lightweight Lexan hood and LED lights along with the new, straight rear bumper that works better with the tilt tunnel, plus a redesigned heat exchanger for increased cooling.
2020 MXZx 600RS Highlights
REV Gen4 Platform –
NEW Design Taper/tilt tunnel
NEW Short heat exchanger with internal loop
137" Track
Lightweight Lexan Hood
LED Lightweight Headlights
Reinforced E and S modules
MX inspired seat
NEW taillight – moved to seat
Racing foot box
5-gallon fuel tank
Lower center of gravity
High Air Flow Left Vent
RAS 3 Front Suspension
NEW shock calibration
NEW Integral Base Valve Adjuster
Kashima coated 40mm KYB Pro R Series shocks (High Speed /Low Speed compression and High Speed / Low Speed Rebound adjustments)
Rack steering with power assist
Long Spindle design (Stronger + better speed cornering)
Lightweight Pilot R2 Ski - Reinforced
Racing rMotion Rear Suspension
NEW rail design – stronger
NEW Integral Base Valve Adjuster
NEW shock calibration
137" length
Lightweight Front and rear arms
Kashima coated 46mm KYB Pro Series piggy back center shock w/ High Speed /
Low Speed compression and High Speed Rebound adjustment
Kashima coated 46mm KYB Pro Series piggy back rear shock w/ High Speed / Low
Speed compression and High Speed / Low Speed rebound adjustment
Optimized geometry (race proven motion Ratio front and back)
Rotax 600RS E-TEC Engine (599.4 cc)
E-TEC direct injection
NEW Mono block cylinder design with Plasma coating- delivering more horsepower
NEW engine calibration
Intake booster injectors (850-inspired)
Shorter intake length (850-inspired)
Double reed valves (850-inspired)
eRAVE (850-inspired)
Lightweight exhaust system (Stainless steel tuned pipe)
Racing Throttle Block – Ready for 50% throttle applications
Reinforced engine mounts
Hot Start Button
Drivetrain
NEW larger brake backing plate
Brembo Brake System – large diameter rotor, easy maintenance caliper
pDrive primary clutch
TEAM TSS-04 secondary clutch
Revised slip gear – Better durability, less maintenance
RS drive axle (Lighter)
Lightweight belt guard – better air flow