New! 2018 Polaris® 600R
The new 2018 Polaris 600R Race Sled continues to push and evolve technology to deliver a title and race-winning snowmobile.
Front Suspension — NEW! Walker Evans Velocity Front Suspension Shocks & Springs
Polaris leads the industry with this premium, high performance shock.
The position sensitive-shock allows for a softer initial setting but still has stiffness at bottom for big hits.
NEW! Upper Front Control Arm design to accommodate new shock reservoir position and for added protection to the shock.
NEW! Taller Spindles improve cornering and add ground clearance (0.5-in. taller).
Clutch
NEW! Clutch features straight-cut sheave angle for improved holeshot performance due to better belt grip.
Brakes — NEW! Floating Stainless Steel Brake Rotor and NEW Brake Pads
Improved stopping power, performance and durability.
The lighter-weight rotor is floating to prevent warping.
Running Boards
Feature new stock cutouts for easy snow evacuation and added traction cleats for additional rider traction.
Seat
NEW! Seat cover material for improved durability that maintains grip.
Rear Suspension Shocks
Calibration and styling updates.
FrogzSkin on Upper Hood Vents
Added intake foam seal and included FrogzSkin over upper-hood vents to prevent snow ingestion.
Polaris Ride Command® – New! Riding Conditions
Ride Command ® revolutionizes the snowmobiling experience by connecting you with your friends, your sled, and your device. You can plan rides, coordinate with friends before, during, and after your ride, and share the experience.
More than 200,000 snowmobile and off-road enthusiasts used Ride Command last year, generating over 3 million engagements. With thousands of snow trails now available in the Ride Command app, it has become an indispensable tool for discovering places to ride and coordinating groups.
NEW! See real-time trail conditions as you plan your ride route with Riding Conditions. A new map layer shows simple color-coded icons (green for Good, blue for OK, red for Poor) from real riders who have been on the trails within 24 hours. No more guessing at trail conditions or planning your ride based on trail condition reports that are a week old. Plan your route based on real time, real rider ratings and then provide your own update for the next riders.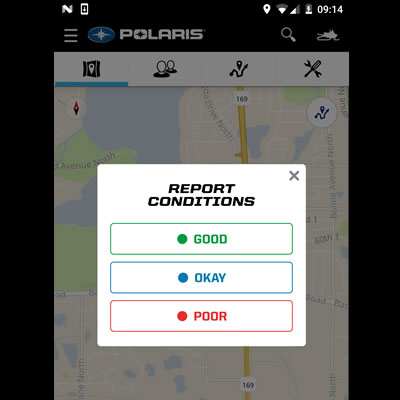 What is Ride Command Riding Conditions?
A new map layer called Riding Conditions shows simple color-coded icons (green for Good, blue for OK, red for Poor) based on rider ratings
The Riding Conditions ratings are real-time and are displayed on Ride Command for 24 hours to assure the ratings are current and reflective of current trail conditions
The Riding Conditions map layer is ON by default but is only available when viewing the snow trails map
Tap on the Riding Conditions icon to see the reporter's comments, name, time.
All snowmobilers can use Ride Command! The more riders using the ride conditions feature, the better the experience will be for all users.
Who can add a Riding Condition rating? How does it work?
Anyone with the Ride Command app that is logged in may add a Riding Condition
The app will automatically prompt you to add a Riding Condition after ending a tracked ride or stopping during a group ride
You can add a Riding Conditions anytime -- your current location is always used
New Riding Conditions reports are visible to all users immediately following an automated review
NEW! Camso Storm 150
This innovative, new trail track provides all-out acceleration and agility, whether the rider chooses to master the trails or carve through some fresh powder. Camso engineers co-developed the design with Polaris, long-time Camso partner and customer.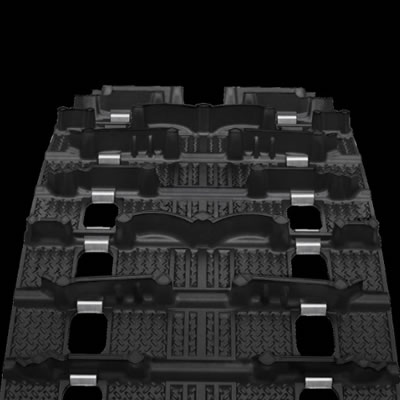 Features 1.5-inch cup-shaped center lugs that provide acceleration on packed trails and bite hard in soft, loose snow conditions. Combined with 1.25-inch outer lugs, it provides power and control through the tightest turns by improving tail-slide capacity.
Maintains solid ground contact. Optimized support columns provide the right balance of lug rigidity and flex for excellent all-round performance.
Trail track's design symmetry and profile geometry make the snowmobile feel more firmly planted to the trail for better handling even at high speeds while significantly reducing noise compared to many other trail tracks.
Fits RUSH ® (2010, 2015-18), Switchback ® (2015-18) and 2018 SKS 800 146
Polaris Part Numbers: 2839368 15"x120" Track / 2839370 15"x137" Track / 2839371 15"x146" Track