Kody Kamm's road to a second straight ERX Eliminator title was not without challenges, including a loss in the final round of double elimination. However, after 30 rounds of competition, the Hentges Racing/Monster Energy/Polaris rider prevailed in the two lap head-to-head format which he has become a specialist at in recent years, taking home the $10,000 grand prize.
Kamm was pressed a couple of times in the early rounds, including a back and forth race with Red Bull/Polaris rider Kyle Pallin in round two. His biggest scare came in the final showdown of the two remaining undefeated riders when AMSOIL/Klim/Ski-Doo Pro Lite ace Hunter Patenaude got the early jump into the first turn forcing him over the berm and off the track. What looked like a sure loss as Patenaude rode away to a full straightaway lead quickly took a dramatic turn when the Ski- Doo rider accidentally dislodged his tether cord stalling his machine. Kamm immediately caught back up to Patenaude and the two battled side-by-side for several corners before Kamm took control.
Patenaude would make his way back into the final round with a win over Kamm's teammate Petter Narsa. With one loss, it was win or go home for Patenaude and the young rider from Vermont, the only Ski-Doo rider to enter the Eliminator, raised the stakes to DEFCON 1 when he knocked off Kamm, forcing a final winner-take-all sprint. After getting the advantage through the all important first turn, Kamm was able to manage his lead and lock down the overall win.
Kamm and Patenaude also claimed wins in full-length qualifying races leading up the head-to-head elimination. Each rider collected a $1,000 heat race bonus for their efforts, with Patenaude earning an additional $1,500 as the highest placing Pro Lite rider in the competition.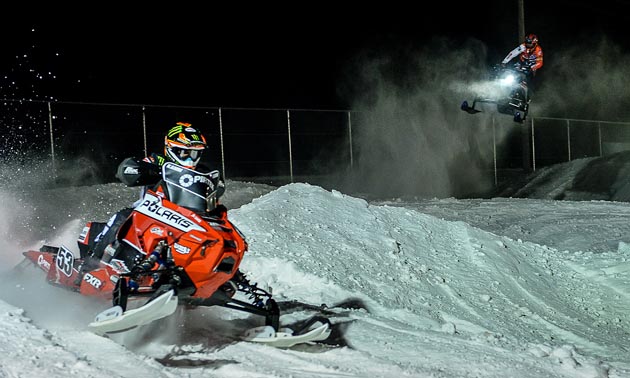 Amateurs Shine In Preliminary Action
A large field of amateur racers took part in their own showcase event throughout the day.
Thunder Bay, Ontario's Kenny Mandryk captured the Sport class win on his Polaris, steadily gapping the field in the final. Kaden Woodie recovered from an early incident in which he overshot a landing and went off track on his Bubba Burgers Arctic Cat to hold off a charging Mitchell Thelen for second place.
Tristian Hinton was the winner of the 200 final over Brody Bothma and Riley Johnson. 120 standout Brady Freeland cruised to an easy win in his main event. Avery Hemmer and AJ Skogquist rounded out the podium in second and third.