In less than a month, Halifax will be teeming with snowmobilers from across North America, as the Snowmobiler Association of Nova Scotia hosts the 50th Annual International Snowmobile Congress. The Snowmobile Congress is the premier event for the organized international snowmobiling community and is being held June 13 to June 16 at the Westin Nova Scotian in Halifax.
Representatives from the national snowmobile organizations and representatives from the state and provincial snowmobile organizations form the International Snowmobile Council (ISC), which meets annually at the International Snowmobile Congress (also called ISC). The International Snowmobile Council is dedicated to promoting safe and responsible snowmobiling. It provides a communication forum and a means of addressing issues that are common from an international perspective.
Snowmobiling is a significant recreation of choice and a major economic contributor throughout the Canadian provinces, 27 snow belt states, Scandinavia and Russia. It's estimated that snowmobiling contributes more than $30 billion of economic activity in North America alone. Snowmobiling is not without its challenges and that is precisely why there is a forum like the International Snowmobile Congress to learn about issues important to snowmobiling and how to keep it the best recreational activity it can be.
The International Snowmobile Congress is an event dedicated to the development of strategies on our common role with respect to the environment, conservation, access, education and accountability. It is the perfect opportunity to establish relationships with key snowmobile leaders. The conference offers invaluable opportunities to share ideas with the entire snowmobiling community. This is accomplished in a setting that offers fun, entertainment, good food, exceptional lodging and a unique "off-site" experience while engaging in important dialog.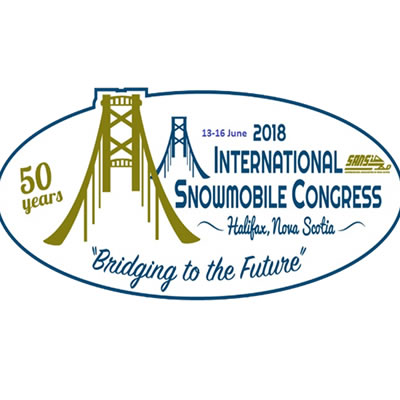 SANS (Snowmobilers Association of Nova Scotia)
The Snowmobilers Association of Nova Scotia (SANS) are the organizers and hosts of the 50th Annual International Snowmobile Congress in Halifax, Nova Scotia. SANS is a nonprofit organization, is dedicated to providing strong leadership and support to its member clubs to develop safe and environmentally responsible snowmobile trails and to further the enjoyment of organized recreational snowmobiling in Nova Scotia.
SANS and its 21 member clubs are responsible for approximately 4,700 kms (2900 miles) of snowmobile trails in Nova Scotia. SANS has a reputation for promoting snowmobile safety and protecting the environment. Our clubs are active players in sustainability and embrace ecologically-friendly policies from recycling to the adoption of new technologies. For additional information about SANS, please visit snowmobilersns.com
For more information, the agenda or to register for the 50th Annual International Snowmobile Congress visit their website at http://www.snowmobilers.org/isc/