BRP has been busy issuing new product bulletins lately, here is the rundown on the latest:
First of its kind Remote Coupling Block Adjuster to be offered for Ski-Doo Trail sleds
BRP introduces a new Remote Coupling Block Adjuster to give riders on the fly adjustment of their snowmobile's handling. The system allows Ski-Doo snowmobiles equipped with the rMotion rear suspension to be quickly and easily changed back and forth between uncoupled and coupled settings without getting off the machine – just twist the handlebar grip mounted switch - even while moving.
The benefits of being able to switch coupling of the rear suspension is the change in snowmobile handling: a coupled setting doesn't allow as much rear weight transfer, which keeps the skis planted for more positive steering, while uncoupled allows more rearward weight transfer and gives lighter steering while letting riders lift their skis over bumps.
If a rider wants more ski pressure through a set of twisting turns, they can move the adjuster to the coupled position, but when the trail opens up and they want lighter steering or the ability to lift the skis easily they can move it to the completely uncoupled position. On and off trail riders can also benefit, as the uncoupled position would work better in deep snow.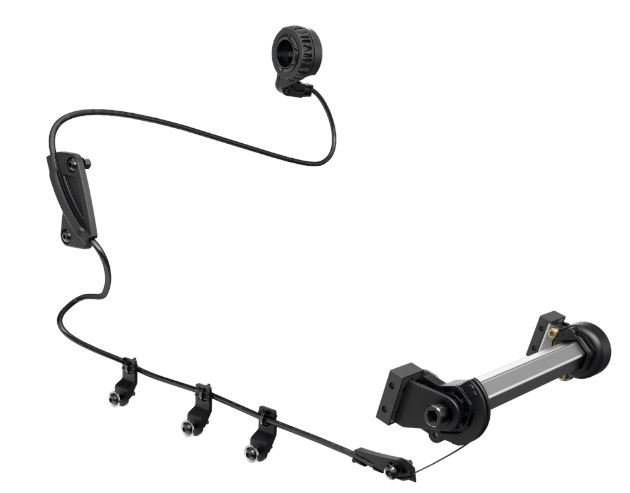 The system works via a cable running down from the handlebar mounted twist grip to the slide rail where the rubber cushions that couple front and rear arms would be, but these are replaced by a mechanism that lifts or lowers cushions to achieve the desired setting.
The kit is available for all rMotion suspensions from 2012 – 2018
New adjustable windshield for REV Gen4 sleds
BRP introduces a new Adjustable Windshield for the latest REV Gen4 platform based Ski-Doo snowmobiles that allows riders to change wind protection minute by minute.
Riders have long expressed the desire to change windshield height as they ride throughout the day. Starting with a taller windshield during colder morning hours and being able to lower it mid-day, as temperatures climb and for better vision, is what riders are looking for.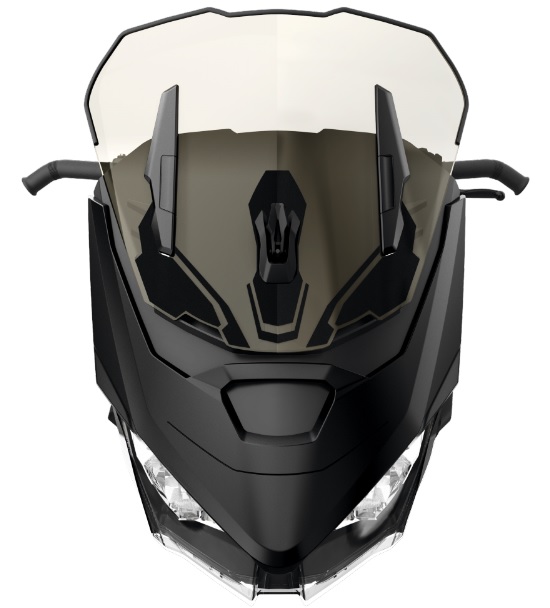 This new kit addresses that need by moving the windshield 4 inches (10 cm) total with a unique lever system that's both quick and secure. The range of 19" to 23" (48.5 to 58.5 cm) effectively moves from a medium windshield height - to that of a high windshield.
When mounted on the sled, changing height is accomplished by flipping the lever up, sliding the windshield to the desired position and then pushing the lever back down to lock it in place. The slides the windshield moves on are robust to operate in all temperatures easily and smoothly, while the locking lever can be operated with gloves on.
New FOX Shock Kits for Ski-Doo Mountain sleds
BRP and Fox Shox have teamed up to create eight new shock kits to fit select Ski-Doo Summit models for riders looking to upgrade or replace their current shocks. The kits feature Fox's most recent technologies with choices of Float 3 and Evol air shocks or Zero coil over models – many featuring QS3 quick adjust - and each is calibrated for mountain use.
Kits can be purchased for front only, rear only or complete sled, and come complete with all parts including springs as needed.
Complete product descriptions can be found at www.ridefox.com