In January I had the opportunity to travel to Toronto and once again remind myself that TO is a whole different world. This massive city just keeps growing and expanding. The town had buzz to it—the Maple Leafs were in town and the pre-NBA All Star game hype was already starting to gear up, noisy non-stop traffic filled the streets and freeways, construction cranes and projects were everywhere and the outdoor rink in front of City Hall was packed with brave-hearted skaters.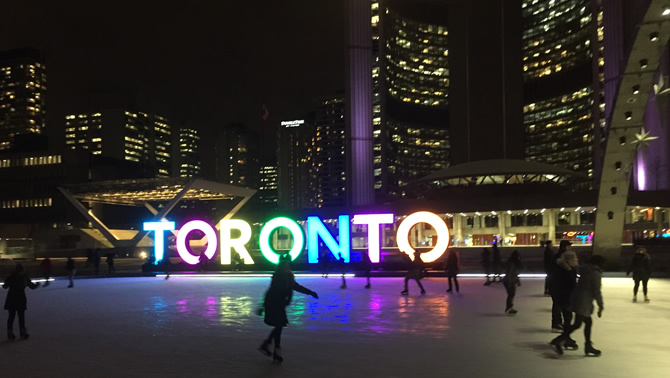 I had forgot how cold Toronto can be in January—though I utilized the subway system a great deal—I did end up walking a fair bit in the sub-zero weather. Brrr—I can see why everyone wisely sports a Canada Goose down jacket or coat.
After taking a long taxi ride out to Gordon Baker Road in the North York part of the city I met with Bryan Hudgin, marketing manager at Yamaha Motor Canada.
Yamaha is the only Japanese motorsports OEM that produces a snowmobile lineup and they also have a great lineup of All Terrain Vehicles (ATV's), generators and, of course, street and off-road motorcycles.
To impress visitors and enthusiasts alike, Yamaha's front office sported a new Grizzly ATV tricked up with a Camoplast 4TS track conversion kit.
I invited Bryan to send us more press information on Yamaha products and developments, so readers should see more mention of Yamaha appearing on our SnoRiders and RidersWest websites in the future.
After a brief (Bryan was gearing up for a number of upcoming outdoor shows) but productive meeting with Yamaha's marketing manager, I headed back to downtown TO for my next appointment.