As you'd expect from an Outstanding Snowmobile Family, the Evanses are a dedicated bunch.
"Snowmobiling is a big part of our lives," said Justin Evans, father of the Outstanding Snowmobile Family of the British Columbia Snowmobile Federation (BCSF) Excellence Awards. "We try to give back as much as we can. We help out with numerous snowmobile clubs, put on a fundraiser for Central Okanagan Search and Rescue, go to just about every snowmobile club dinner meeting, organize and plan avalanche courses and do our best to promote our sport in a safe and fun manner."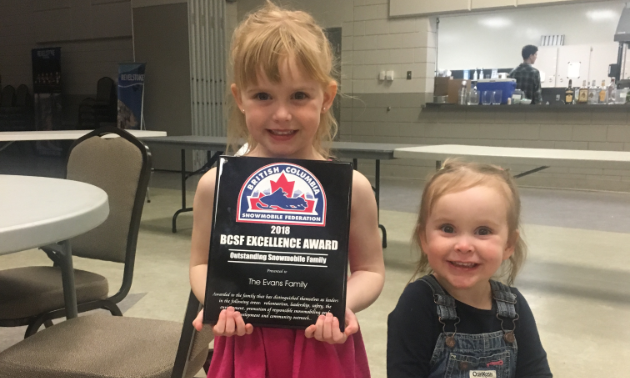 The award-winning Evans household consists of Justin (age 30), Kyra (29), Paisley (5) and Brooklyn (2). Justin and Kyra live busy lives. They work full time, help with the family cattle ranch, barrel race (Kyra and Paisley), hill cross race in the Western Canadian Hillcross Association circuit (Justin, Kyra, Paisley), sit on numerous snowmobile club boards of directors, volunteer with search and rescue, operate a groomer and ride 2,000 to 3,000 kilometres (1,243 to 1,864 miles) a season.
In order to achieve the level of commitment they currently possess, it takes generations of devotion.
Justin was taught how to ride by his father and grandmother in Hudson's Hope, B.C. Four-year-old Justin learned to ride on a 250 Yamaha Bravo in a neighbour's hayfield.
Kyra's dad and grandpa introduced her to the sport. They've both been avid sledders and active members of their local club for years. Kyra's grandpa is even one of the founding members of the Kelowna Snowmobile Club.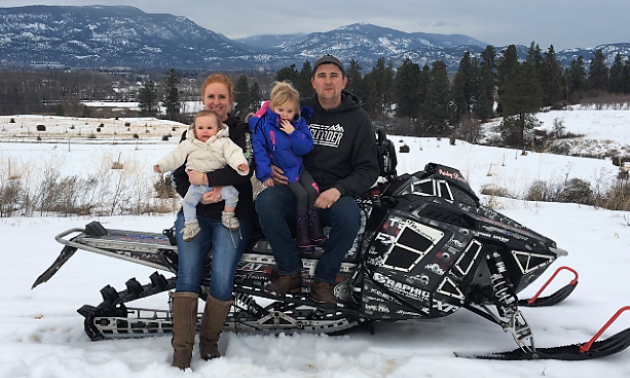 The couple has taken the passion for sledding given to them by their teachers and passed it along to their children.
"Both sides of our families were huge into snowmobiling," Justin said. "It's how we were raised and how we want to raise our children.
"We go for family snowmobile rides every chance we get. We're out every weekend, and the girls love when they get to come along for a ride. I take the family out in the groomer the odd evening as well. It's something different that they look forward to. We also enjoy taking part in the club dinner meetings as a family. Our girls always have a blast playing with other kids in attendance."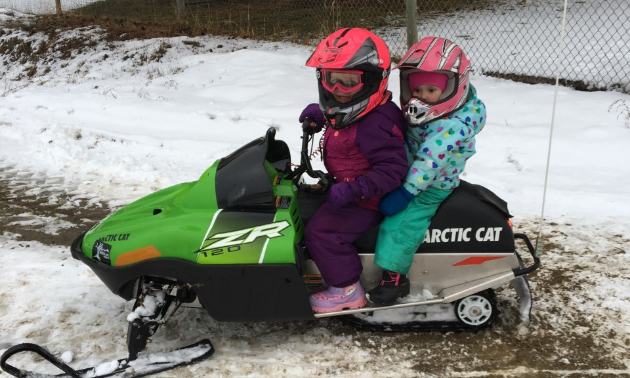 One of Justin's favourite snowmobiling memories involved the extended family and a whole lot of exploration.
"Over the Christmas holidays last year, we took the whole family up to McCulloch Lake," he said. "We brought up our 340 and old Yamaha Bravo so everyone could go for a rip down the trails. My sister and brother-in-law doubled on the 340. My other brother and nephew were on the Bravo. My nephews and the girls were all taking turns riding the 120. We had a ton of fun riding trails, logging roads and ripping across the lake. It was so awesome to watch the next generation of sledders have fun doing what we love and live to do."