Daredevil snowmobilers sometimes get a bad rap for being too extreme or taking too many unnecessary chances. But as we know, that's not always the case. Sometimes, these diehard sledders are just making it safer for the rest of us—and they do it with style, too!
Kelsey Fay is a prime example of a high-flying sledder who takes chances and then teaches others what to do when they find themselves in a similar situation. She's so dedicated to her role as a snowmobile-specific avalanche educator and riding skills instructor that she recently moved from Revelstoke, B.C., to Bellingham, WA, USA, where she has opened up her own avalanche education company, Elevated Backcountry.
"I think small group riding clinics are really important, it gives more one-on-one time for each client," Fay said. "It's overall safer and less chaotic. At the end of the day, safety is most important and the more people you have to manage, the higher the risk. Plus I want my clients to learn as much as they possibly can—more bang for their buck this way. I know I wouldn't wanna spend my hard-earned money taking a clinic where the instructors didn't have time to make sure I understood what they were teaching, so I applied that to my clinics."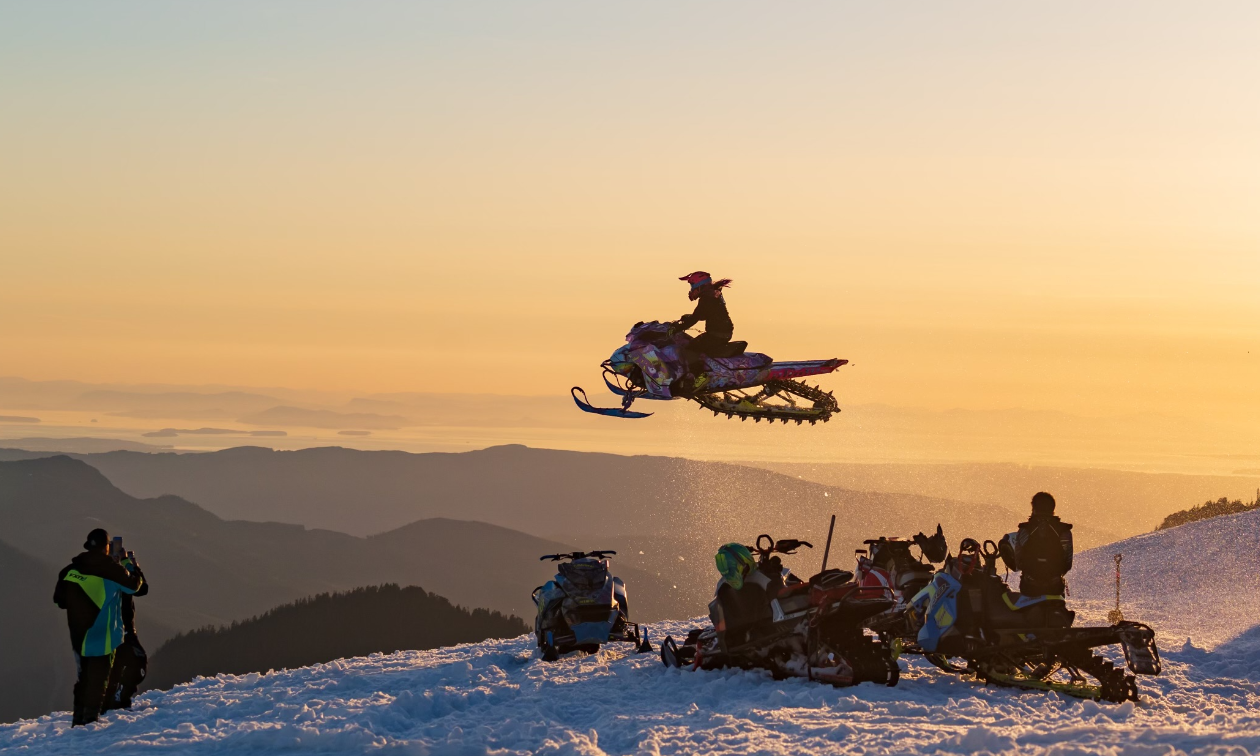 Fay holds her riding clinics in the same locations that she likes to explore, transcending the experience for everyone involved.
"My favorite places to ride here are on the north side of Mount Baker because it's about as close as I'm gonna get to terrain like back home in Canada," said Fay. "Excelsior is great because it offers both trees and alpine. Mount Baker NRA is easily the most popular riding zone in the area. Its beautiful glacier and iconic views make it an extremely popular destination for snowmobilers."
Elevated Backcountry's motto is "Mountain education for snowmobilers by snowmobilers," and Fay has plenty of experience on a sled. Fay grew up in Sicamous, B.C. In her adult years, Fay moved to Revelstoke, where she spent the majority of her days living the sled bum lifestyle—riding every single day.
"What I love most about this sport is the freedom," said Fay. "When you're up in the mountains, nothing else matters. Time stands still. It's the most incredible feeling in the world. Being completely free—on top of the world—able to go anywhere.
"You know that jump you hit when it all finally clicks—everything's smooth and you can get a little sideways? When you get to that point of effortlessness on a sled, everything feels cool. Sick tree lines, jumps, drops—it's a feeling like nothing else."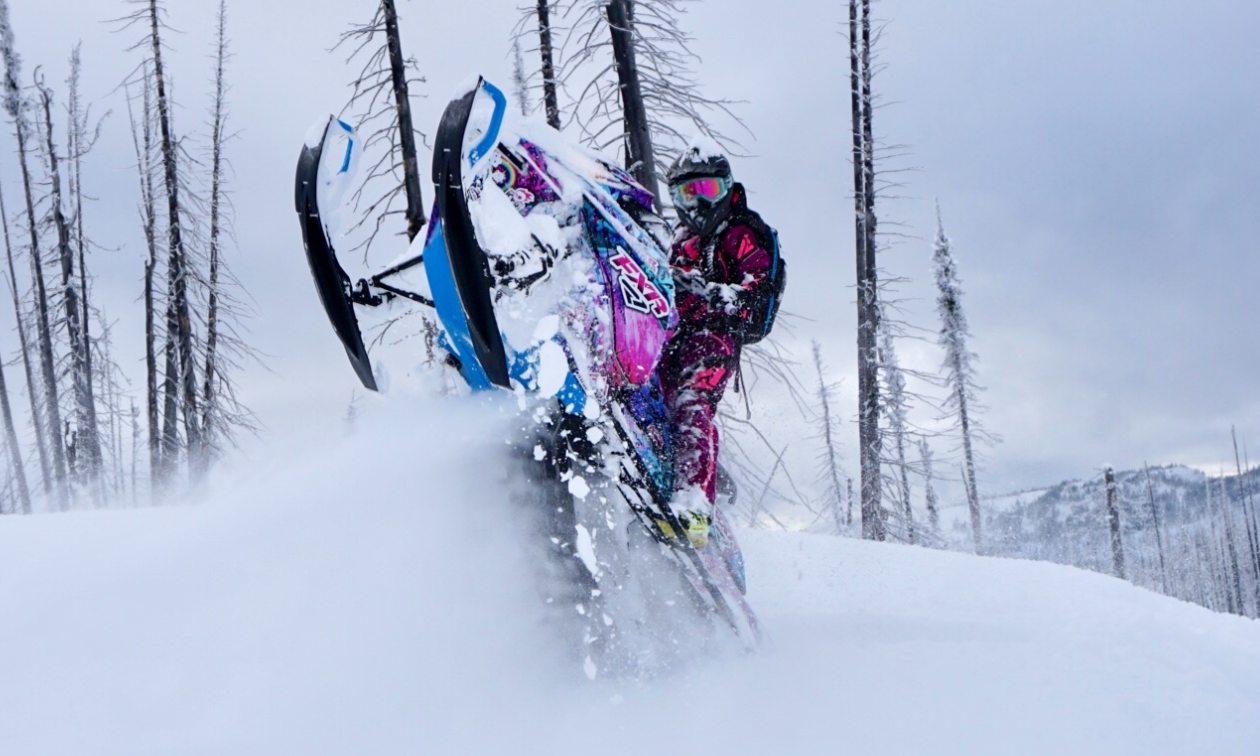 Fay's father introduced her to snowmobiling when she was five by taking her up to Valemount, B.C. By the time she was seven, Fay had her own full-size mountain snowmobile named Wild Child. An appropriate name by all accounts.
"I absolutely cannot sit still—I'm a full-blown adrenalin junkie!" Fay said. "I race a dragster, ride street bikes, and do multi-day grueling backpack trips in the summers. In the winters, I ride snowmobiles. I live my life a million miles a minute at all times!"
Fay's extreme enthusiasm extends to her penchant for snowmobile customization. Whatever sled wrap it happens to be sporting, Fay's 2023 Ski-Doo 850 154 captures the imagination of all sledders within the vicinity.
"As for my crazy wrap ideas, I do something different every year," said Fay. "I take a mythical or fictional character and I put my spin on it: Skeletons, zombies, deranged kinda things like that, ha ha! This year's wrap took multiple revisions because I'm so picky."
As you are now well aware, Fay excels at drawing attention to herself—and it's not by accident. Any aspiring photographers desiring eye-popping photos of themselves and their riding buddies would do well to take these pic tips with them the next time they're in the backcountry.
"If you want clean crispy gear shots, go as slow as possible until you feel absolutely ridiculous, ha ha," Fay laughed. "Those usually make the best shots. For action shots, I really love trying to get that snow flying, which makes for some pretty cool effects. Find those freshies."
Of course, not all of Fay's stunts are done in slow motion. For some action shots, things can get a little dicey. But even so, Fay uses her close-call experiences as a lesson in learning for herself and her fellow riders.
"There was this gnarly drop I did—the biggest one I had done, and I underestimated how far down it really was," said Fay. "I consider it a teaching moment from there on. Drops are tricky. You can look down and it doesn't seem that far so you come off the lip with very little throttle, then realize it's way further down and you needed a lot more throttle. I landed on the tip of my skis and had to whisky throttle out to save me from a bad ending. I will never make that mistake again."
Fay's willingness to attempt risky jumps and adapt midair and beyond are just a few of the reasons she's such a stellar sledder. What really puts her over the top is her drive to grow as a person and share the experience with others.
"I'm currently in the middle of getting my Pro 2 (Professional operational avalanche course), which has been a long, hard step up," she said. "There are very few women in the motorized community that hold this level of education in the avalanche industry, so you could say I'm super stoked and grateful to be one of those females in this male-dominant industry."
Whatever she's riding and whoever she's riding with, Fay makes the most out of the experience and has a good time doing it.
"I've had some of the deepest days where you can hardly make it off the trail and all you do is laugh all day long," she said. "As long as you're in the mountains with your closest buds, nothing else matters. Those are the days that stick with you forever."