Sicamous, British Columbia, is your 2017 SledTown ShowDown Champion of Western Canada. Gord Bushell, general manager of the Eagle Valley Snowmobile Club, still can't believe it.
"I don't know how we got there," said Bushell. "We are a very small club in terms of marketing."
In other words, you have no idea how good the riding really is.
With four stand-alone zones, four chalets and about 150 kilometres of groomed trails, Sicamous has the kind of sledding opportunities to rival its top competitors for your attention on southern B.C's powder highway.
"There is just so much terrain," said Bushell. "Eagle Pass is such a massive, massive area that you could put all of our hills in Eagle Pass and it wouldn't even put a dent in it."
And the snow?
"It's no different than Boulder Mountain (in Revelstoke) or Silverstar (in Vernon)," said Bushell. "Eagle Pass is part of Boulder so we get the same snow as Revy gets."
Both Revelstoke and Sicamous lie within the mighty Monashee Mountains, the range where the goods are delivered. Some say this range receives 12 metres (40 feet) of snow on average and others, up to 18 (60 feet). Either way, it's gonna be deep.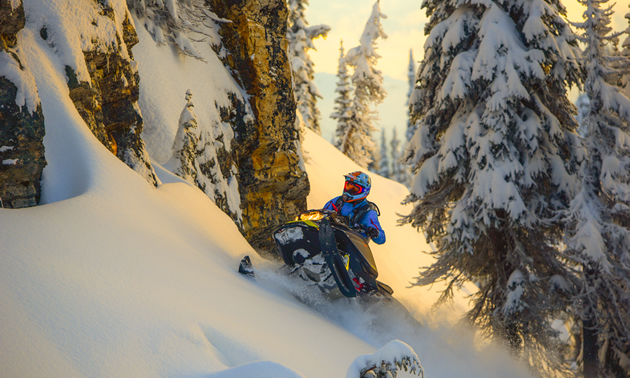 Not into a stuckfest? That's OK, because variety is the name of the Sicamous sledding game.
"The groomed trail we are doing from Owlhead over to Blue Lake is becoming pretty popular for trail riders and families," said Bushell. "Some families are intimidated by some of our photos, but if you really look at that trail, it's through a cutblock and it's very safe."
Inconspicuous as the Eagle Valley Snowmobile Club may be, the word about Sicamous is getting out.
"We've really grown," said Bushell. "Last year, we had 16,000 sledders come to Sicamous."
And they weren't all from Western Canada.
"We just had some folks from Sweden staying at the Best Western," said Bushell. "They bought sleds and stayed for a month."
Because of the snowmobiling, many from Alberta have relocated to Sicamous. Also taking up residence in Sicamous are some of the industry's biggest-name athletes—snocross legend Carl Kuster, backcountry film star Rene St. Onge and hillclimb champions Trent and Tyler Backus, to name a few.
For Sicamous, the tides are turning. No longer is Canada's houseboat capital waiting out the winter in silence, for the two-stroke invasion has officially begun.
"This is huge for us," said Bushell. "We were a dormant little town and we became a SledTown."