If you're near Sicamous next Family Day, the Sicamous Ripped Festival is a must-attend. This past February, the Town of Sicamous and SledgeHammer Apparel co-hosted Sicamous Ripped for the second year in a row. Its second annual appearance was bigger and better than last year's, including multiple races in both amateur and professional categories, great music, good food, tobogganing, and even a bouncy castle.
Sicamous Ripped in 2017 was a fun-filled day of snow bike races. The 2018 event was a three-day family-friendly event with races for both snowmobiles and snow bikes. The kids, however, were the real focus of this weekend. "We really wanted to make this into a kid-friendly and family event, so we introduced kids racing," said Craig Moore, Western representative of SledgeHammer Apparel.
Riders race on a snowcross track that Moore designed. "It's about one minute per lap running about 10 minutes," he said. To join the professional classes, racers must gain enough points throughout their racing career to be transferred. Anyone can register for the regular ranks.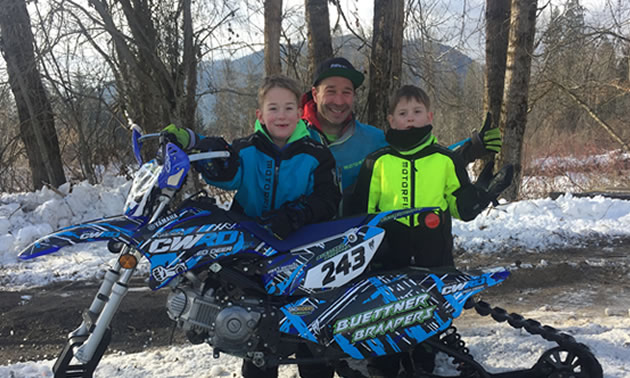 It runs in the family
Moore rides both snow bikes and snowmobiles, but doesn't race in Sicamous Ripped because he designed the track. His expertise in the sport runs in the family: "My grandparents were the first Ski-Doo dealership in British Columbia back in 1967. My family was huge into the winter festivals."
He hopes to pass his family's values on to the younger generation of racers. "It was very family-oriented back in the day," he said. "We have to keep the sport alive, which we are trying to do with these kinds of events." Of the 120 racers for the entire weekend, 22 were kids. "The kids are our future. We want to start teaching them the safety of riding a machine when they're young," Moore said.
For the kids who wanted to try riding, but didn't have their own machine, one of the vendors supplied a machine to test run. "We saw that a lot of people wanted to participate. Everyone likes to race!" Moore said.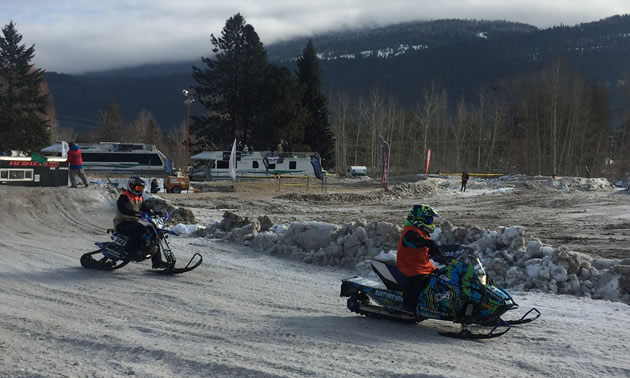 From far and wide
Attendees arrived from across British Columbia and Alberta, with some coming from as far east as Quebec or as far as Washington State. All the hotel rooms in Sicamous were booked with families eager to join the action out in the snow. "I like seeing smiles on the faces of everyone who comes into the festival," said Moore. "Snowmobiling and snowcross used to be huge, but it faded away. I think we are going to see it grow again."
Even though racing is the main event, many families come to Sicamous Ripped for the community. "The big thing is that with racing, yes, you are racing against each other, but everyone is there to help out," Moore said. For example, a rider's sled broke down seconds before the race. "My sled was there, so I started it up and moved it into position for him."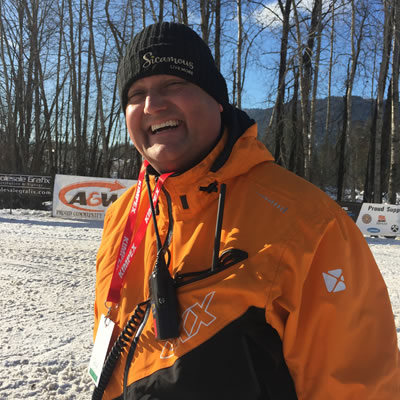 Everybody's race
The professional snow bikes were scheduled to race on the Sunday of Sicamous Ripped 2018. Unfortunately, a hiccup with the track made racing unsafe. Instead of calling it quits, volunteers and attendees made the most of another day in the snow. They focused on the kids with professionals taking the kids for rides in side-by-sides. "We still had a good crowd of people on Sunday," said Moore.
First-timers welcome
If you like powersports, motorsports or anything that has an engine under it, it's reasonable to assume that you will like snowmobile and snow bike racing. "If you're hesitant about spending the money, rent and have a guide take you out," said Moore. This way, first-timers can get a feel for the sport in a safe environment.
For those who do decide to register for a race, "It doesn't matter if you're good or not, it's a day of fun," Moore said, "And you never know, you might do well too!"
Moore said that the priority is to make this Family Day event accessible, which is why it is free to attend. Sicamous Ripped is entirely volunteer run; any proceeds are donated back to the community. "We couldn't have done this without the support we had both from our vendors and the community," he said. "They all know who they were. We couldn't have done it without them."