B.C.'s Shuswap region has a sled-friendly landscape to say the least. Snowmobilers come here for trail riding, boondocking, hill climbing and cruising through tree-lined terrain.
We checked out sledder-friendly businesses from Sicamous to Salmon Arm, and found a selection of top snowmobiler-friendly accommodations, restaurants and attractions in the area.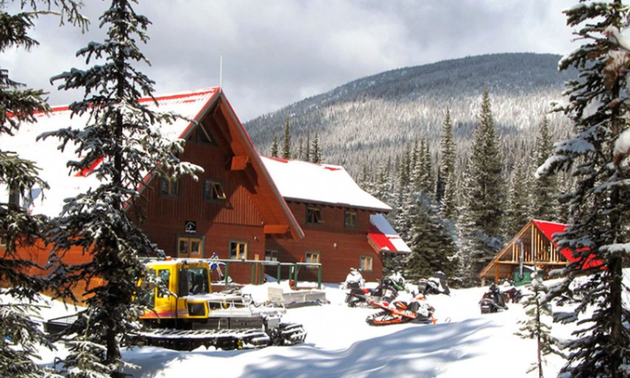 - Photo courtesy the Grizzly Lodge
Grizzly Lodge, Scotch Creek, BC
Complete with a drying room, onsite restaurant, hot tub and massage therapists on staff, Grizzly Lodge was built with snowmobilers in mind. The lodge can accommodate up to 28 guests, with either two twin beds or a queen-sized bed per room. Most importantly, it grants you easy access to some of the province's best backcountry snowmobiling terrain.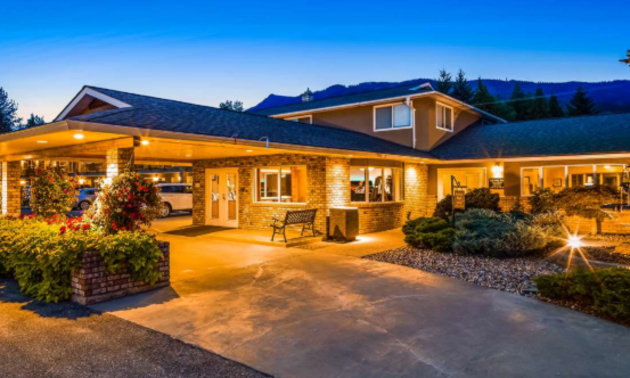 - Photo courtesy the Best Western Sicamous Inn
Best Western Sicamous Inn, Sicamous, BC
Located off Trans-Canada Highway 1, the Best Western Sicamous Inn offers clean rooms and exceptional service. Sledders will appreciate the spacious parking lot, suitable for trucks and trailers. You can find snowmobiling trailheads right across the street.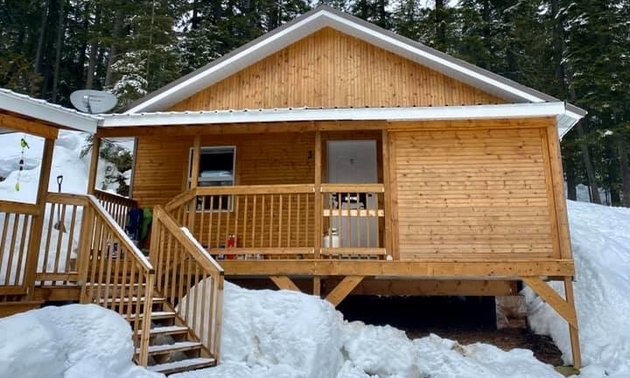 - Photo courtesy Last Spike Lodging
Last Spike Lodging, Malakwa, BC
Located in the middle of sledding country, the cabins at Last Spike Lodging provide the perfect winter escape. They're rustic and cozy, but built recently, so they have all the modern conveniences. There's even an onsite repair shop that you can rent for the day (or overnight) if you need space and tools to do emergency work on your snowmobile.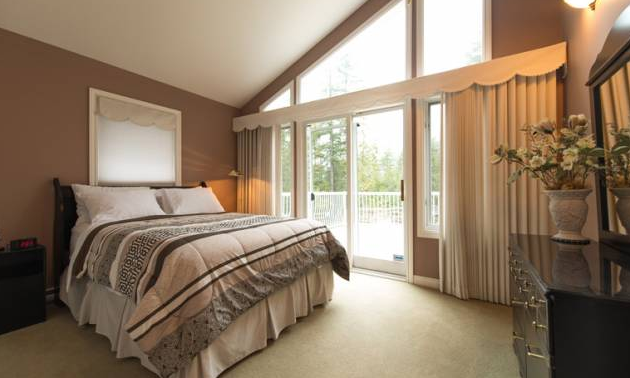 - Photo courtesy Crazy Creek Resort
Crazy Creek Resort, Malakwa, BC
Crazy Creek Resort is a four-season haven with easy access to sledding trails of varying difficulty (everything from expert-level routes to relaxed family riding). The trailhead is just two kilometres from the resort parking lot. After your ride, you can come back and soak in the sulphur-free hot pools.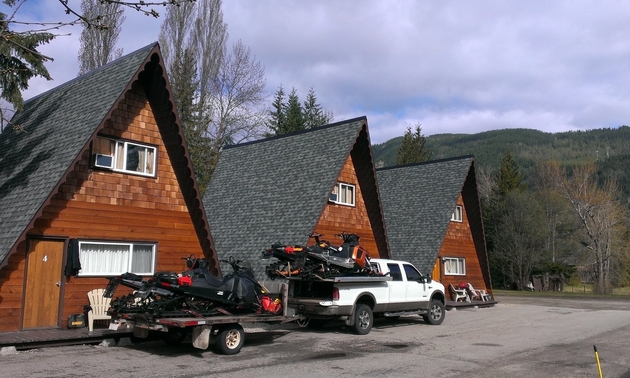 - Photo courtesy Joe Schmucks Motel
Joe Schmucks Motel, Sicamous, BC
This alpine-style accommodation has rooms that are more like private cabins. Joe Schmucks Motel caters to snowmobilers, offering sizable private hot tubs and an onsite restaurant to welcome you back after your adventures.
Top restaurants in the Shuswap region
Joe Schmucks Roadhouse, Sicamous, BC
Joe Schmucks is one of the top hangouts for snowmobilers in the Shuswap. This fully licensed restaurant serves comfort food such as ribs, pizza, appetizers and a selection of local beer and wine. In winter, they play the latest sledding DVDs on their televisions.
Moose Mulligans Public Eatery, Sicamous, BC
Moose Mulligans serves hearty meals - even their appetizers and salads go above and beyond the usual pub fare. They also offer wraps, pizza and other satisfying entrees.
Andiamo Restaurant, Salmon Arm, BC
Andiamo Restaurant has quality Italian cuisine and generous portions. They have live music on Thursdays, Fridays and Saturdays, and you can check the calendar to see who is performing on the night you visit.
Things to see and do in the Shuswap region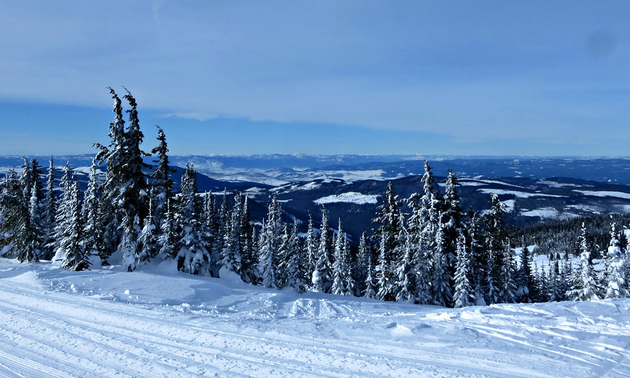 - Photo courtesy Ruth Hartnup
Multipurpose trails
In addition to offering some of the best sledding terrain around, the Shuswap also has trails suited to hiking, snowshoeing and cross-country skiing. There are so many ways to explore, if you're feeling adventurous.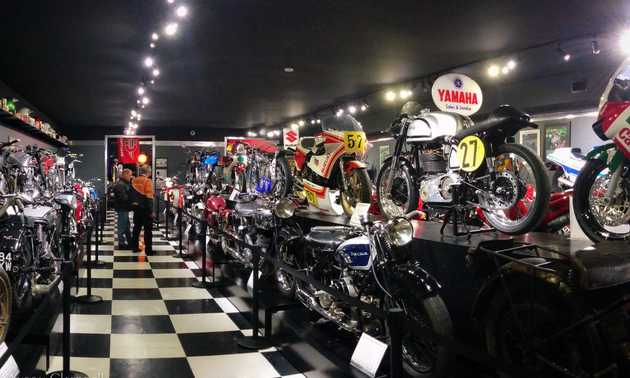 - Anson Chappell photo
Dreamcycle Motorcycle Museum, Sorrento, BC
Head to Sorrento and check out this impressive collection of vintage motorcycles. You'll see some skillful restoration work, and learn about the history of motorcycling. Top it off with a tour! Canadian Motorcycle Adventure Tours is operating out of the museum, and you can relax and get a bite to eat at Sprokkets café when you're done.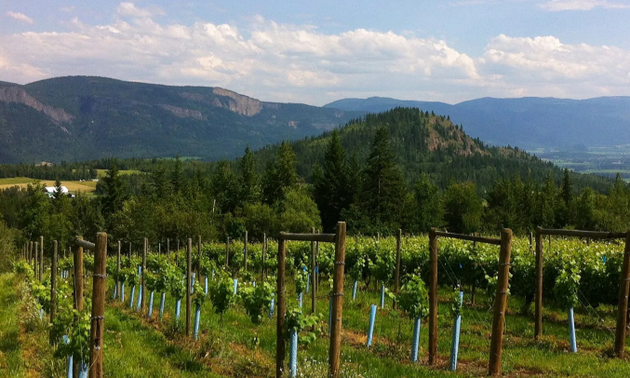 - Photo courtesy Larch Hills Winery
Winery tours
Some of the Shuswap wineries are open to guests year-round, offering tours of their facilities and samples of their wines. Some even host seasonal events; Larch Hills Winery in Salmon Arm holds a holiday wine sale every December.