Many new parents can't wait to introduce their offspring to their favourite hobbies. For snowmobilers, taking their kid for a rip is a no-brainer. But what age is appropriate? When is a good time to take a wee one into a winter wonderland?
Radium Hot Springs couple Bobby Chomica and Shelby Ingram welcomed their son, Mason Chomica, into the world just over a year ago, and they've already taken him all over the countryside on their sleds.
"He's been on seven rides so far, with more spring rides in his future," said Shelby, member of the Windermere Valley Snowmobile Society (WVSS). "We went to Farnham Glacier for our first ride in November, when he was 8 months, and it was just a short trail ride to the cabin. Then we started taking him to Forster and have been there the most as it's just so family-friendly and close to home for us.
"We plan to take him for many more spring rides on the glacier, and even have an over nighter planned at The Dave White Hut in April. Next season, he should be old enough to come on some day trips to our other favourite riding areas out by Golden and he might even ditch his dad to ride his own sled. He has a 120 Arctic Cat waiting for him when the time comes and he's independent enough."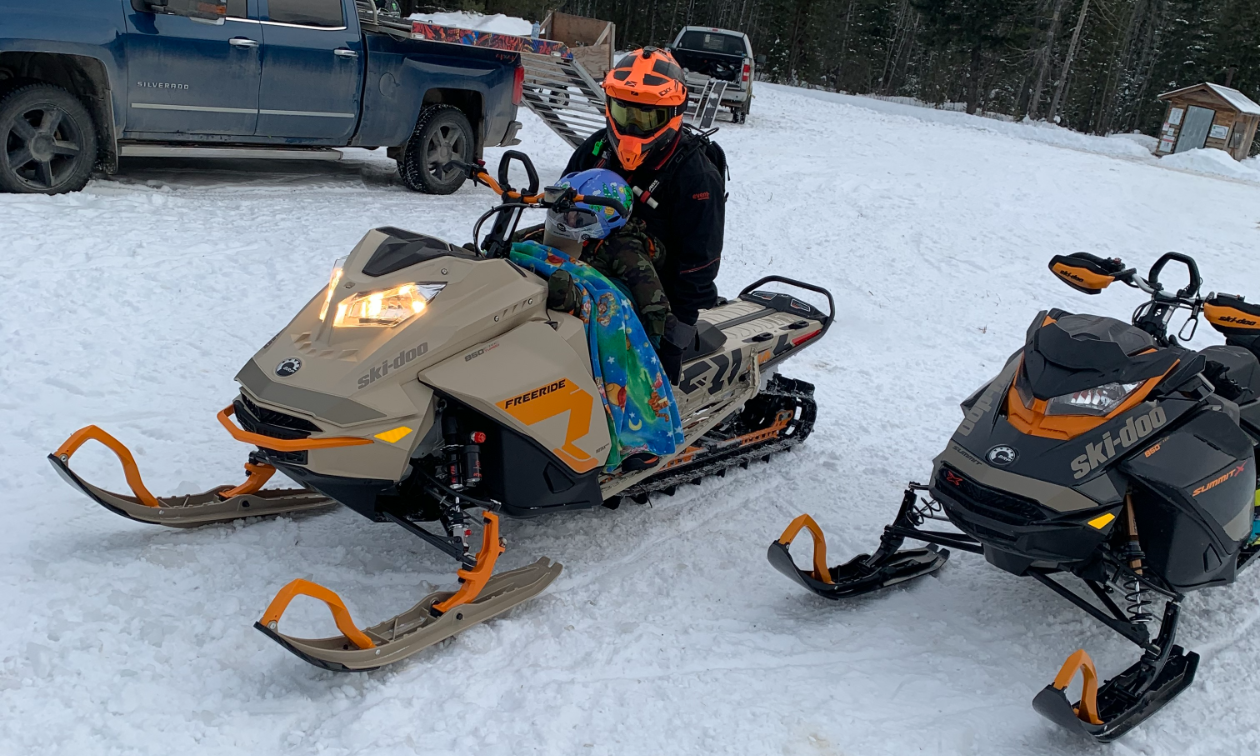 Little Mason is such a trooper that he's already napped in four different alpine cabins, and there's two more on the list before the season is over.
"He absolutely loves it!" Shelby said. "When his dad goes out to load the sleds before we go, he stops whatever he's doing and is at the window pointing. Cabin naps are his favourite, he sleeps better out sledding than he does at home from all the fresh air."
Preparation tips
As you can imagine, it takes a great deal of patience and effort to take a baby on a snowmobile ride.
"I won't lie, it's a lot of work," Shelby said. "You're always checking on them and worrying that they're uncomfortable, but it's so worth it to see him out there enjoying his backyard at such a young age. Of course, taking a baby anywhere, you have loads of extra stuff."
Here's what Shelby recommends bringing on a snowmobile trip with an infant:
Do not forget the bottles or the diapers. You never know when a baby is going to have a blow out.
Ear plugs are a must. We cut a regular ear plug in half and then Bobby opted to not put a can on his sled this year so it would be as quiet as possible.
Pack lots of snacks and clothing.
Make a list at home of all the things you need to pack so you don't forget anything and aren't running around right before you leave.
Start slow
Once organized, it's time to set out for adventure. Shelby advises taking a cautious approach to get a baby comfortable with the whole idea.
"For our little guy, we started him out on small rides and then each time went a little farther," she said. "We're always checking him to make sure he's warm. They burn lots of energy keeping their little bodies warm."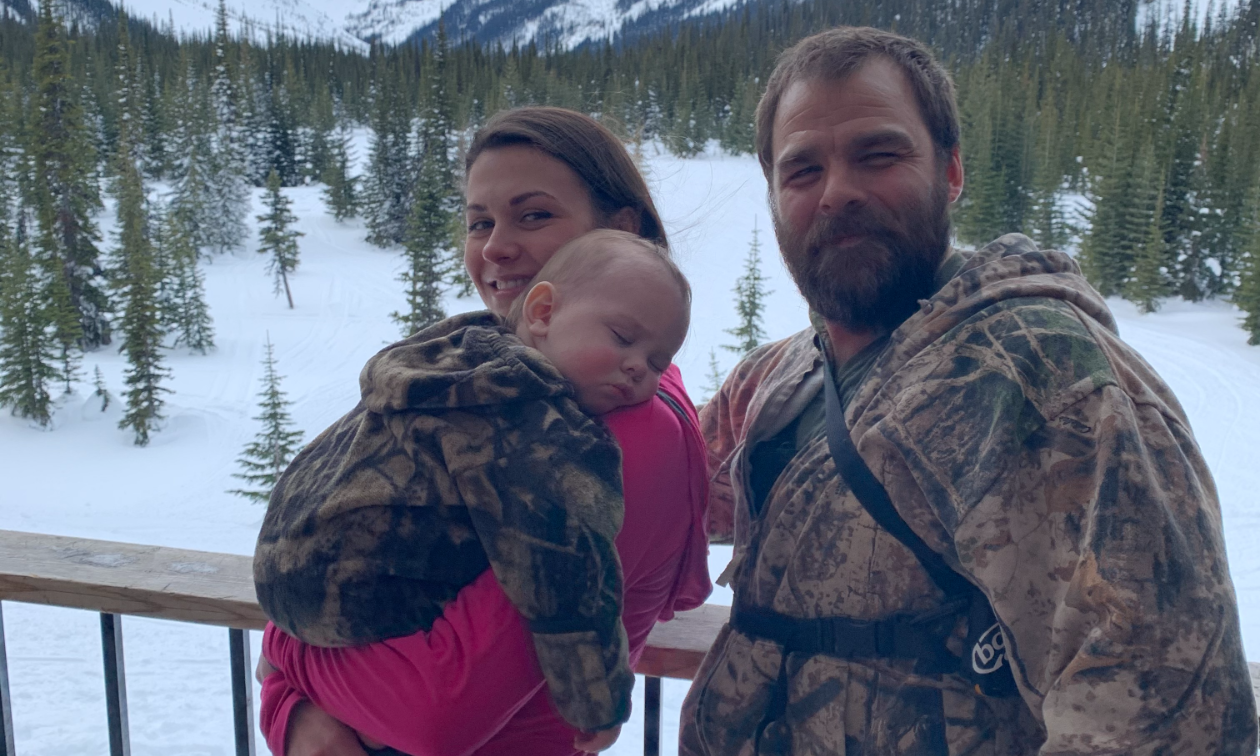 For the best experience, Shelby suggests going with no expectations for the day. That way everywhere you go and anything you get to do is a bonus.
"The first time we took Mason, we said 'We're not going to make it to the cabin.' " said Shelby. "We were totally okay having to turn around, but Mason had other plans and wasn't missing out. Bobby and I take turns riding so that one of us is always full on with Mason and it works great for us."
Having a set plan in place as to what responsibilities mom and dad will look after throughout the day makes the whole experience much less stressful for everyone involved.
"We also have designated tasks at the truck for when we're getting ready to go and when we get back to the truck," Shelby said. "Bobby gets dressed and unloads the sleds while I hang out with Mason—he loves pretending to drive the truck. Then Bobby takes him while I get organized. Lastly, we dress Mason up and get him on the sled right away so he doesn't get too hot in all his gear. On the way down, I go ahead of them on the trail and start the truck so it's warm, and then take Mason in the warm truck while Bobby loads up."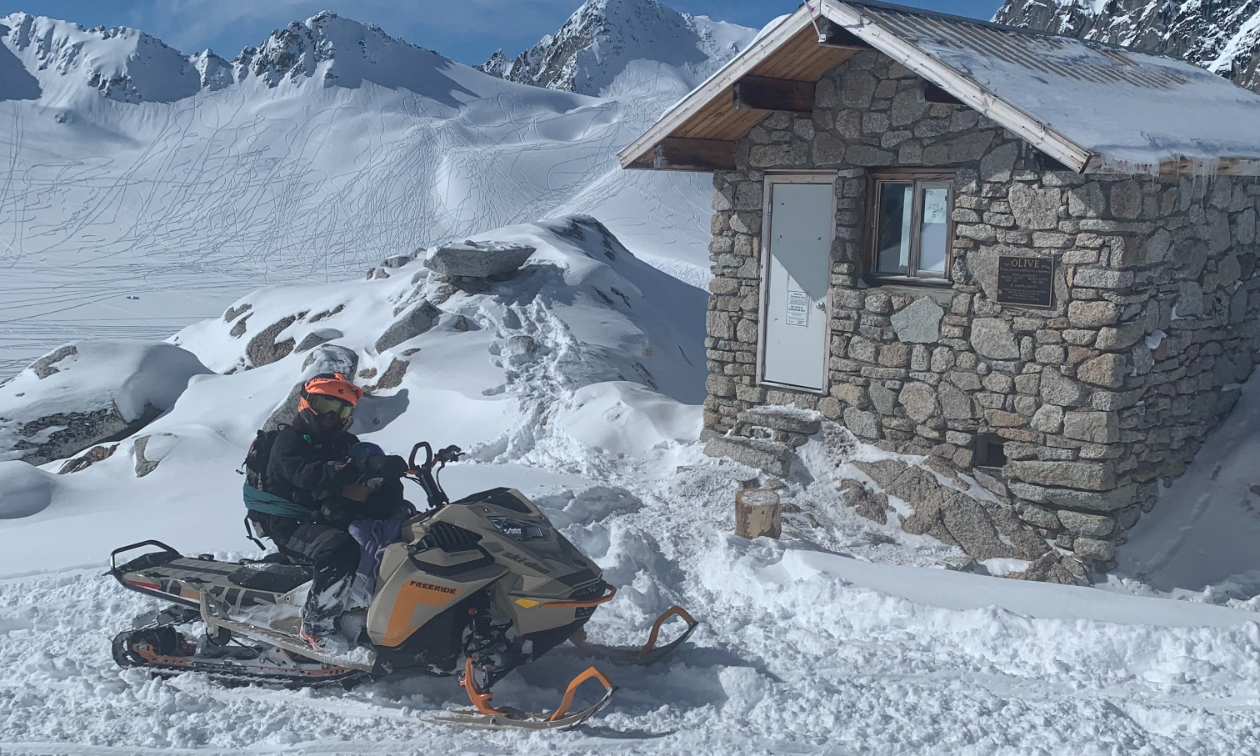 Child safety
Keeping a child safe and cozy for the journey is the highest priority for responsible snowmobiling moms and dads, and there are a number of ways to go about doing that.
Monitor his strength. We made sure he could support his own neck and was strong enough to wear his helmet. I started putting his helmet and little balaclava on him here and there in the house just to get him used to it.
Keep him warm. Keeping him warm is the key to keeping him happy. We have lots of layers on him, and then a blanket over him on the sled. We have to tape a piece of cardboard on his helmet to extend the visor so no wind gets in. It's not pretty, but it's warm.
Stop at a cabin. Having a cabin is also super handy, as he can have a bottle, nap, and get a break from wearing all the gear.
Check the avalanche bulletin and the weather forecast. We don't take Mason out unless the avalanche risk is low, and if it's colder than -10, we won't go.
Another consideration to improving the whole experience is to travel with a group. Having some extra help along the way is always welcome.
"We have the best crew of friends we ride with," Shelby said. "They are always looking out for us with Mason. Whether it's someone going up ahead to light the fire so the cabin is warm when we get there, or someone riding in the back to make sure we're all good, it really does take a village to raise a child and Mason has the best group of guys to learn from and look up to."