The Vintage snowmobile movement in Saskatchewan has been growing strong in the last 20 years and the 2015-2016 season will be no exception.
Because of the healthy dose of winter that Mother Nature sends Saskatchewan every year, residents have always been drawn to snowmobiles. The decade of the 1970s saw rapid growth in the sport, and now many baby boomers and gen X-ers are dragging those old sleds out of the barns and sheds and enjoying the nostalgia of that period.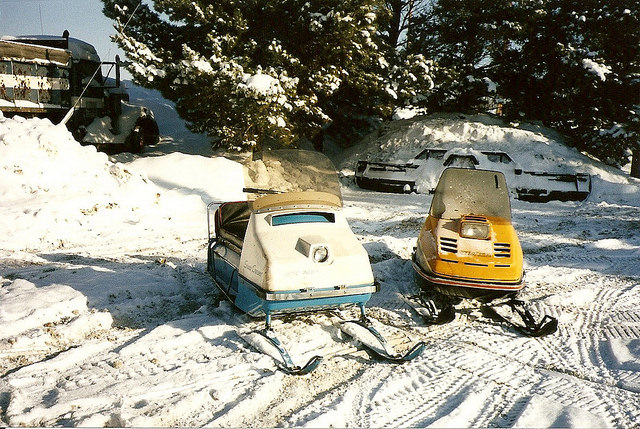 Other than the enjoyment of just reviving a vintage snowmobile, generally there are three activities related to the sport.
Vintage show and shines and vintage rides
Enthusiasts like getting together at vintage show-and-shine meets, where they display their sleds and trade stories from "back in the day." Vintage rides can be a bit more challenging because the 40- to 50-year-old hardware may not co-operate for 16 to 48 kilometres of real-world riding. It's a hoot to see the old sleds running down the trail again.
Radisson Show and Shine: Usually the 4th Sunday in July: David Ruzesky, 306-827-2390
Earl Grey Vintage Swap Meet, November 28, 2015: Garry Gibson, 306-531-5117
Tregarva Vintage Ride, January 16, 2016: Richard Schropp, 306-533-1739
Clavet Vintage Ride, February 6, 2016: Paul Pitzel, 306-220-1047
Togo Vintage Ride, February 14, 2016: Amanda Burback, 306-542-9151
Love Vintage Ride, March 19, 2016: Shawn Arcand, 306-276-7281
Vintage drag racing
Vintage snowmobile drag racing has been wildly successful in the province for over 20 years. What started out as "for-fun" grudge matches have turned into several race meets that can see well over 140 vintage toboggans (1981 and earlier) of all types racing for bragging rights and cool prizes. Don't be fooled by the "vintage" moniker as some of the ultra-modified sleds can reach upwards of 140 km/h in 200 metres on snow!
Spectators can view these events from track-side or the comfort of their vehicles and there is always good food on the grounds. The Saskatchewan Vintage Snowmobile Association (SVSA) helps to set the rules and race dates. Check out the SVSA pages.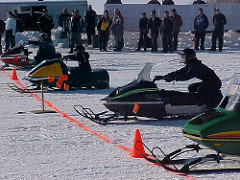 Moose Jaw Drag Race, January 30, 2016: Greg Nichol, 306-690-8542
Earl Grey Drag Race, February 13, 2016: Garry Gibson, 306-531-5117
Earl Grey Ice Drag, February 14, 2016: Garry Gibson, 306-531-5117
Nipawin Drag Race, February 20, 2016: Al Pinkney, 306-862-4601
Foam Lake Drag Race, February 27, 2016: Glen Helgason, 306-272-7123
Christopher Lake Drag Race, March 12, 2016: Rusty Watt, 306-982-4516
Vintage ice oval racing
Vintage ice oval racing was resurrected about five years ago in Saskatchewan and has been on a rapid growth spurt ever since. Held on a 0.5-mile (0.8-kilometre) ice oval track, this form of racing is ultra-exciting and, again, easy to view from the comfort of your vehicle. While there are classes for the real "relic" sleds, the "super mod" machines can obtain 120 to 140 km/h in the straights! The Saskatchewan Vintage Oval Racer's Alliance helps to regulate these events; check out its website at www.svora.ca.
Bellevue Oval Race, January 23, 2016: Victor Guillet, 780-872-0925
MacDowall Oval Race, February 6, 2016: Albert Ratti, 306-961-3326
Nipawin Oval Race, February 21, 2016: Keith Boxall, 306-862-8467
Christopher Lake Oval Race, March 13, 2016: Rusty Watt, 306-982-4516