Over the summer we are pleased to rewind our most popular Old Sled Sightings from our SnoRiders Old Sled Zone page by re-posting the Top 10 most popular posts from last year.
From the dozens and dozens of Old Sled Sighting posts we have selected the best by reader reach. Do you have an Old Sled story or photos to share? Email SnoRiders at [email protected]
We are pleased to re-run these Top 10 most popular Old Sled Sightings postings, ranked by the number of people reached each week with our Facebook postings. We had a tie for #10.
#6 - Old Sled Sighting — Herter's snowmobiles shipped in a wooden crate to your door — (Reach 920)
I've had my eye on this old Herter's snowmobile for a long time. It sits outside a second hand shop just across the Canadian border in Eureka, Montana. I hadn't been by the store for a while so I had Stephen White in our sales and marketing department recently snap a few photos of this old sled.
"Other than being buried in a scrub of Knapweed, this old sled was pretty easy to find," he said. "A true rusting relic."
It would appear that this model is a 1968 or 1969 Herter's, with a JLO engine, Tillotson carb and Salsbury clutch.
It is probably one of the rarer snowmobiles we've spotted during this summer's Old Sled Sighting series. Herter's machines had a pretty limited run, producing snowmobiles from 1968 to 1975. The Herter family was strongly connected to Alaska and the north, so a lot of the snowmobile models were named after these northerly climes.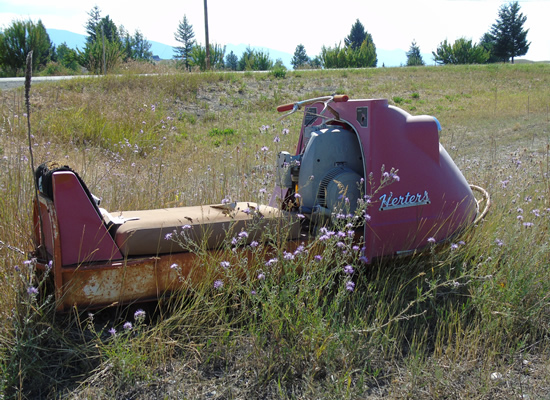 Over the years Herter's produced models called the Sitka, Barrow, Yakulat, Seward, Kodiak, Yukon, Barrow, Nitro, Nome, Klondike, Snow Tiger, Snow Leopard, Snow Falcon, Snow Wolf and Snow Master.
George Leonard Herter is said to have used the first power snow sled in Alaska many years ago. George Herter supposedly tested every snow sled made in North America, Europe and Asia and concluded he could produce a better snowmobile. The resulting Herter's model Huskie Power Sleds were made for hard work and durability as well as for fun and play. Sold direct to the user – no ridiculously high manufacturer, distributor and dealer profits, or so wrote George Herter in his direct mail catalogue.
In their heyday, Herter's Outdoor Wholesale Catalog was legendary – selling everything from fishing tackle, archery, ammunition, rifles, shotguns, decoys, boats. bullets, binoculars, gunstocks and of course snowmobiles. The company was established in 1893 and was based in the small south central Minnesota town of Waseca.
According to the Top of the Lake Sowmobile Museum, "In 1966, Herter's Inc. of Waseca, MN introduced the first of their snowmobiles called the Hudson Bay Husky Snow Sleds with 3 models. Herter's, founded in 1893, was a direct-buy mail order firm specializing in sports and outdoor equipment. For 50 cents, you could order their 600 page catalog. Their ad stated "Guaranteed no snowmobile made of more expensive materials, better workmanship, more durable or faster."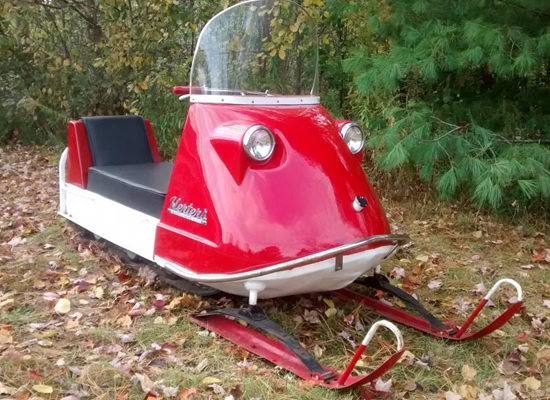 "By 1969 they offered 6 models as well as a sled cutter and the trailer to pull your snow sled. In 1970, 14 models were offered and from 1971 through 1974 anywhere from 7 to 9 models were offered. Over these years JLO, Sachs, and Kohler engines were used. Herter's eliminated their snow sleds after the 1974 model year due to snow conditions and the state of the economy."
Herter's eventually ran into financial trouble and ceased publishing their popular outdoor catalogue – and some of their assets were snapped up by Cabela's – sans the Herter's snowmobile.
Herter's is another memory in the long list of defunct snowmobiles, though it has one of the more colourful back stories. Come to think about it — a snowmobile in a crate? Shipped to my door? Sounds like a business opportunity that Amazon's Jeff Bezos is missing out on. The Bezos Quantum Maxx Snowmobile — sort of has a nice ring to it!