Over the summer we are pleased to rewind our most popular Old Sled Sightings from our SnoRiders Old Sled Zone page by re-posting the Top 10 most popular posts from last year.
From the dozens and dozens of Old Sled Sighting posts we have selected the best by reader reach. Do you have an Old Sled story or photos to share? Email SnoRiders at [email protected]
We are pleased to re-run these Top 10 most popular Old Sled Sightings postings, ranked by the number of people reached each week with our Facebook postings. We had a tie for #10.
#8 - Old Sled Sighting: WOW! What a restoration—'68 Herters looks brand new! (Reach - 803)
The last time we heard from SnoRider reader John Samolis, he was looking for a track for his Herters snowmobile which he had just purchased in August at Haydays in Minnesota.
John had been inspired by an article we published in our Old Sled Zone column, about an abandoned, rusting Herters snowmobile we had discovered. So he jumped at the opportunity to buy a '68 Herters machine for himself.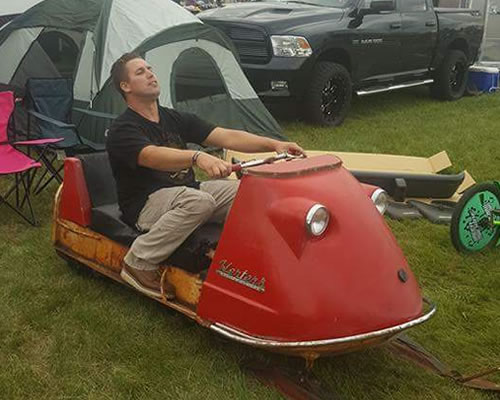 Here's what John Samolis told us, "I recently purchased a 1968 Herters 372cc single cylinder snowmobile in Minnesota at the Haydays event in northern Minnesota. The photo was taken by professional photographer Jake Forstall, a friend of mine. I purchased this sled on Friday of the event (Haydays) and it quickly become a popular conversation piece in our swap meet area," said John.
"The attention (the old Herters received) was overwhelming. We put some gas in the sled and surprisingly it ran. I have plans on restoring the sled and riding it in vintage gatherings." added John.
Well — restore the old Herters John did. It's hard to believe the old rusty Herters John purchased back in August has been transformed so quickly into an award-winning vintage snowmobile.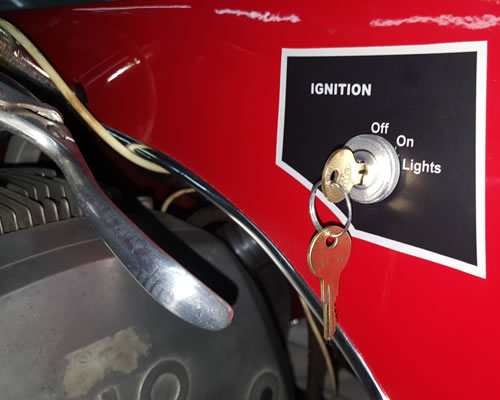 We just heard from John again: "Hello, I just wanted to give everyone an update on my restoration, it runs well. I did my best to reuse all the original parts—however the windshield, seat and paint have been re-done. I added some rivets to the track in order to reuse it. I won my first vintage show over the weekend and plan on many more. Thanks, John."
Well, I can't say enough about John's spectacular restoration of his 1968 Herters snowmobile – way to go John, this is super impressive! Congratulations and thank you for sharing your project from start to finish with SnoRiders.
Got a vintage snowmobile story or photos? Share it with us: [email protected]