We leaned on our friend in vintage snowmobile restoration to tell us about his latest old sled find and how the project is shaping up and Sid Samek didn't disappoint. Seems like Sid found another John Deere to restore. Not surprising since John Deere is one of Sid's favourite old sleds.
In an excerpt from an original John Deere press release, John Deere touted the merit of the 295/S snowmobile: "John Deere, Moline, Ill, will introduce a high-performance, limited-production snowmobile in December (1973). The new John Deere 295/S is powered by a special twin-cylinder engine rated at more than 40 horsepower. High performance engine components include dual Mikuni slide-valve carburetors, capacity discharge ignition, precision John Deere torque sensing, variable speed clutch system, and a tuned exhaust that meets all noise level requirements. The recently introduced John Deere slide-suspension system with 3-piece, 15-inche grouser bar track is standard. Additional features include complete instrumentation, shock absorbers, "tether" switch, energy-absorbing seat and handle bar crash pad."
Here's more information on the legendary John Deere machine as posted on Wikipedia: "In 1974, a factory sponsored cross-country race team was assembled to go along with the introduction of the 295/S, Deere's first purpose-built snowmobile for cross-country racing. The team would eventually be known as "Enduro Team Deere". The team had many wins, the most notable being the 1976 Minneapolis - St. Paul International 500. Brian Nelson brought home the trophy on his Liquidator. His sled is currently on display at the Snowmobile Hall of Fame and Museum in St. Germain, Wisconsin."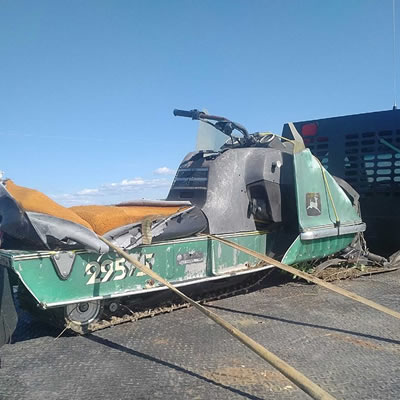 As you can see from this series of photos, Sid is well on his way to restoring this old John Deere to its former glory. That's the great thing about old sled restoration — they make for great "before" and "after" pictures. Can't wait to see the completed "after" picture on this John Deere 295/S.
Great job, Sid!
Do you have an old sled story or photo? Email [email protected].