Back in mid-February the Cranbrook Snowmobile Club held their annual Poker Run and Vintage Ride. In addition to a great turn out from local riders, snowmobilers from as far away as Ontario and Saskatchewan participated in the fun and popular event.
Here's what club member and SnoRiders correspondent/photographer, Doug Williamson told us, "A great turnout of vintage sleds and new sleds. Both parking lots were filled to the max plus. There was a great group of volunteers at the parking lot getting everyone parked in an orderly fashion to make room for all. Thanks to the parking volunteers, Bernie Ogonoski, Mike Reilly & Al Johnson. Another great crew was looking after registrations and poker hand sales at the Sea Can (checkpoint #1). Thanks to Valerie Williamson & Mike & Marnie Plant. The average rider was running the course with 3 hands. A big thanks to Martin Wake for getting the fires going in the sea-can and outside the sea-can to keep the volunteers all cozy warm."
The Club also thanked Doug Williamson, who was busy getting photos as usual.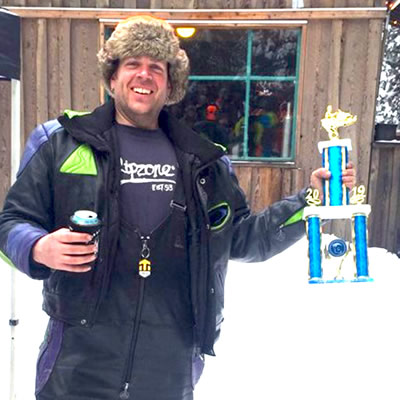 The report continues, "At the snowmobile Club cabin Kim Wake & Sharon McDowell were looking after checkpoint #5 and selling hot dogs, coffee and pop being helped by Todd Jones & Martin Wake. Kevin Metters was looking after checkpoint #2. A big thanks to the event organizers Mike Sanderman, Kris Peltzer and Wade Boardman. Another big thanks to Kriz Peltzer and Kent Keiver for getting the Poker Run course all groomed up Friday. It takes dozens of volunteers to put on a successful event like this and I apologize to the ones I haven't mentioned."
Here are the Poker Run Winners:
1st place Poker Hand winner - Kris Peltzer
2nd place Poker Hand winner - Kalen Yates
3rd place Poker Hand winner - Shawn Slasor
Talking about vintage snowmobiles, there was a great turnout of vintage sleds on display as well. In fact, Poker Run winner Kris Peltzer is shown here riding an old Arctic Cat 440 complete with custom Mac Tools tool box strapped on the back of his machine -- just in case of a vintage sled mechanical failure.
Over the next few weeks and maybe even months, we'll be featuring a number of the cool vintage snowmobiles that were part of the Cranbrook Snowmobile Club's annual Poker Run and Vintage Ride. Thanks again to Doug Williamson for his photos and reports.