In the mid-1990's the term "mountain sled" was a bit of an enigma. Bombardier had just produced what was considered, at the time, the first fully-dedicated mountain snowmobile — in the likes of the 1994 Ski-Doo Summit. Then in 1996, Polaris produced the first RMK or Rocky Mountain King snowmobile. And the rest is snowmobile history as the mountain sled category quickly came to dominate the industry.
However, unbeknownst to any industry gurus and only shown to a few friends and fellow sledders, a Sparwood, B.C. man, Cam Webber, was toiling away in his shop building his own vision of a mountain sled – one that was actually a lot closer to the long-track, deep-cleated, power-hungry, lightweight and high performance mountain sleds of today.
"Weight is the enemy of mountain riding," says Cam Webber. "So my biggest objective was to strip as much weight out of the sled that I could without impacting on the structural integrity of the machine."
So, Webber pieced together a high performance, ultra-lightweight mountain machine which was made up of an assortment of snowmobile parts – high-rise powder handlebars, a stretched-out custom built aluminum tunnel, a powerful Rotax engine, a 154" Camoplast long track with deep lugs and a mesh screen cowling designed to replace the "heavy" fiberglass of regular snowmobiles.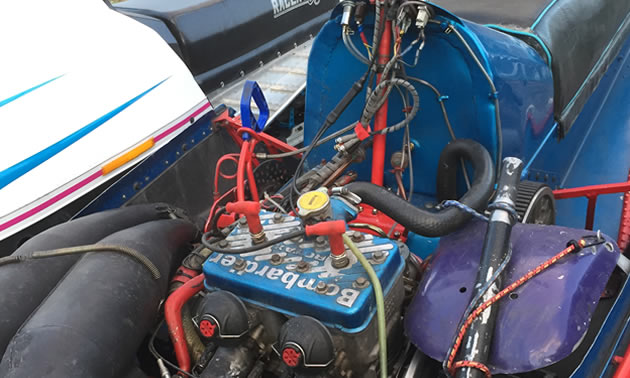 So how did Cam keep the weight down? "I designed and fabricated all the bumpers, handlebars, steering components, trailing arms and spindles from chrome moly tubing," explained Webber. "The fuel tank was crafted of aluminum and it doubled as a solid handlebar support while it also supported a stripped down dashboard. The sled was 425 to 430 pounds wet."
He installed a 670 Rotax rotary valve bored to 740 cc with twin 48 round slides. This produced a hefty output of 157 raw horsepower. An in-dash Digatron gave a good read on exhaust and coolant temperatures plus RPMs. The machine was completed in 1997.
What are some of the riding memories that Webber reflects on? "Too many to mention and a few are still only known to my sledding buddies," he says with a grin. "I will say it's the only sled that has sat on the top of the Elkford ski hill mountain, but really I'm not a very good rider though I usually was able to get the job done."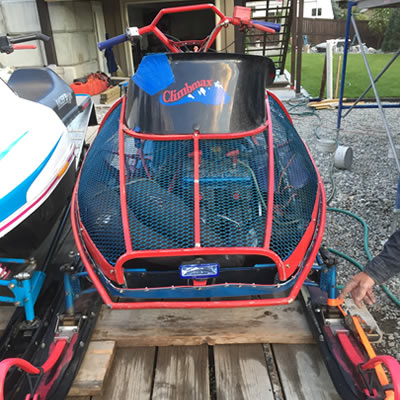 He added, "That's why the sled has a lot of battle scars at 20 years old."
The custom sled project took several months from start to finish. It was quite a project to undertake he says, "The building of a painting room allowed the pieces to be individually painted. It was assembled and dissembled several times as my assistant and sledding buddy Jack Doratty can attest to."
As Cam Webber reflects on the many mountain areas he has explored with his custom built snowmobile, he sums it up, "It wasn't just a hill climber though as it pulled dozens of sleigh loads over the years, sometimes with 30 gallons of fuel and gear. This allowed for extended stays in the beautiful creation that exists in our high back country."
The original mountain sled? Maybe not, but a tribute to an avid rider who can proudly look back on his custom-built lightweight mountain sled and all the pleasure it has brought him – from concept to building and finally to enjoying an exhilarating ride every time.