A burning question on a lot of vintage sled enthusiast's minds these days, I am sure, is what has Sid Samek been up to lately? Sid is our friend in vintage and classic snowmobiles.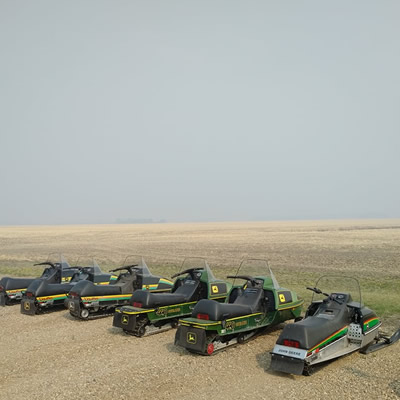 Well, from his picture of a field full of JDs (John Deere) it looks like Sid has been busy as ever.
Sid was kind enough to send some photos and a brief note to update us on the vintage sled projects.
"Here are a couple more sled recoveries . . .done up another 77 John Deere Cyclone that needed a track and suspension. Put on the Polaris 136 track on both machines with the ultra 10 suspension. The next sled was a 74 Merc S/R that was missing a track and suspension . . . this one got the Polaris 133 with the ultra 10 suspension. Al machines got a track extension to get the some clearance for the track."
Thanks, always great to hear from you, Sid! Do you have an old sled photo or story to share? Email [email protected]