Every once in a while when I am in Kalispell, Montana I like to stop by a snowmobile repair shop called Ricky Anderson's Snow Jobs and Dirt Stuff. He usually has some old (vintage) snowmobiles sitting outside—great to look at and snap a couple of photos.
Recently when I made a pit stop to see what he had, I was shocked to see someone had torched most of his snowmobiles and ATVs that were sitting outside in front of the shop.
Here is an edited version of a call to help to apprehend the suspects of this crime which was posted on a local Montana news site: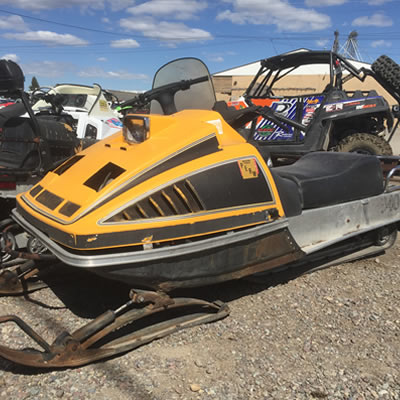 "Attention: To the pathetic person(s) who torched Ricky Anderson's shop. There are people who would go to the end of the world to help and Ricky is one of them. Riley, Ricky, Ira and all of the gang work so hard and to have it literally go up in flames is devastating. There are cameras and you will be found. The snowmobiles that used to be on the flatbed are federal property, belonging to the Montana Department of Fish, Wildlife and Parks - a federal offense. FBI, KPD and everyone is involved. Any information, please let someone know. Leave an anonymous tip! If you see anyone with fresh burns, let us know. Share this post! There are cameras so it's only a matter of time until you're caught."
The Flathead Beacon newspaper also reported on the incident: "The Kalispell Police Department is investigating a fire that broke out at a business on West Center Street early Thursday morning. The fire at Rick Anderson Snow Jobs and Dirt, a local snowmobile and off-road vehicle repair shop, was reported at about 1:30 a.m. A number of snowmobiles and off-road vehicles were destroyed in the blaze, but the building appeared untouched. Anyone with information about the fire is encouraged to call the Kalispell Police Department at (406) 758-7780."
One of the only sleds that seemed to be left untouched was a mid-1970's Ski Doo 340. These popular sleds had a solid reputation of being versatile on the trail and responsive to the rider.
We wish Ricky Anderson and his staff the best and hope the criminals are found in short order.
A GoFundMe page has been set up to help Ricky and his staff on the road to recovery: https://ca.gofundme.com/help-ricky-anderson