Back in the mid-1970's Bombardier came up with a slogan to sum up their new line-up of Ski-Doo snowmobiles.
The slogan went something like this...."Ski-Doo, the Machine That Changed Winter...Has Changed!"
While the Ski-Doo above is not a Silver Bullet you can definitely see some similarities to the "silver" model. What made the Silver Bullets unique from the more traditional Ski-Doo's, like the 340 model pictured above?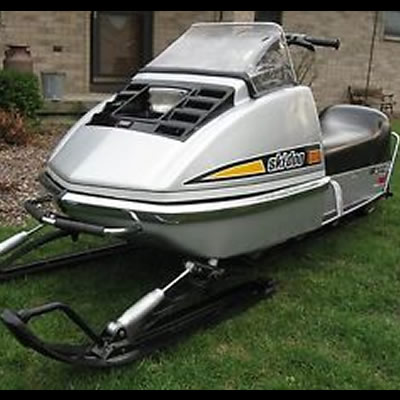 As one observer noted, "The most startling thing was that the (Silver Bullet) T'NTs weren't yellow and black."
He further made these comments, "The fascinating thing was that the hoods and chassis were painted silver, other than a small reflective yellow stripe at the base of the hood. The "Silver Bullet" as this particular model had come to be known as, came in a new 293cc engine, along with the 340 and 440.
The "Silver Bullets" were a different color because they were promoted as the 15th Anniversary sled of Ski-Doo snowmobiles. The "little Ski-Doo's" were manufactured in 1958.
The Silver Bullet came equipped with either bogie wheels or slide rail suspension. The slide rail suspension had a new single rail design - prior slide suspensions had a double rail suspension. The slide rail also incorporated the use of a shock absorber attached to a rear arm.
The new 1973 Free Air (F/A) was definitely one of the sharpest T'NTs. The hood came in a yellow, black, white and orange color scheme. The frame and belly pan was new and made out of aluminum. The Blizzard was the first to use this concept in their 1972 models.
The F/As dominated the stock classes for the 1972-1973 season. The speed, power and handling was outstanding even with the problems they had."
Can you share a story or photos of a Ski-Doo "Silver Bullet?" Send them to us at [email protected].