Tyler Hagley, a rider from Moose Jaw, Saskatchewan brought a nice looking 1970's Rupp 44 Sprint snowmobile to February's Poker Rally and Vintage Snowmobile Run held by the Cranbrook Snowmobile Club at their Lumberton cabin and trails. Our reporter on the scene, Doug Williamson, lined the vintage machine rider up for a great looking photo on this cool Rupp 44 Sprint.
Rupp, like many vintage snowmobiles, has a strong legacy in the snowmobile annals of history. They were highly popular performance machines, with their trademark candy apple red paint, at their manufacturing peak in the 1970's.
According to a post on Wikipedia, "Rupp Industries was a Mansfield, Ohio based manufacturer of go-karts, minibikes, snowmobiles and other off-road vehicles founded by Mickey Rupp in 1959. Rupp Industries operated from 1959 until bankruptcy in 1978. Rupp vehicles are known for their performance and bright red coloring, particularly the snowmobiles and off-road vehicles. They have since become extremely collectible.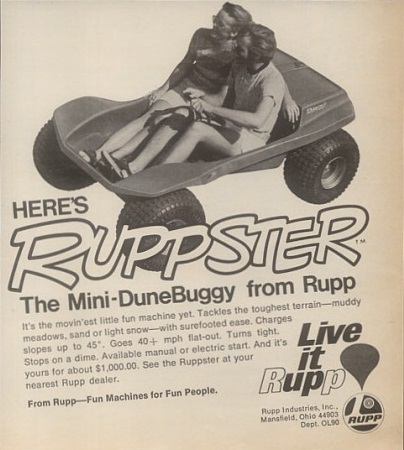 Rupp Industries was born in 1959 when Mickey Rupp began assembling and selling go-karts from his basement. Originally Rupp Manufacturing, the name Rupp Industries was adopted by 1971. In that year Rupp employed 400, with 23 engineers in the R&D department and sales in the millions. In addition to their popular go-karts, Rupp began producing minibikes and snowmobiles in the early 1960s.
Mickey Rupp sold the company in 1973 when it ran into financial trouble. Although the company would continue to produce dirt bikes, minibikes and snowmobiles, they would never regain financial stability and by 1978 went bankrupt."
Here's something maybe you didn't know about Rupp - they also were a pioneer in ATVs, producing a model called the Ruppster in the 1970s.
"Rupp also made some other vehicles including off-road and on-road vehicles. These include the Go-Joe, Mini Go-Joe, Ruppster, Rat and Centaur. They also made some lesser known items, including a prototype ice boat."
The Ruppster was Rupp's dune buggy machine, first produced in 1971. It was powered by a 12 HP engine and Rupp torque converter. It was advertised with the ability to climb 45 degree grades and reach speeds of over 40 mph. It had a red fiberglass body, had large 21 x 11 balloon style knobby tires and could seat two passengers. It retailed for about $1,000.
Do you have Rupp snowmobile memories? Share your stories and photos with us at SnoRiders. Email [email protected]