Last week we featured a lineup of old sleds in Murray Willis' backyard in Kamloops. Murray was kind enough to share a few more photos with us and a lost and found story, too.
Murray says, "The picture with my Dad and I is a 1960 Tin Cab. It was the first year for production and only 225 were made. My Dad bought this one in 1963 for $300 — a lot of money back then for a toy. Dad sold it in 1969 after my cousin was killed on a Ski-doo. A train hit him. So it got lost for a number of years then Dad found it and bought it back. 20 years ago he shipped it out to me here in Kamloops, B.C. where I restored it. It has a 7 HP Kolher four-stroke engine. Top speed of 20 mph. The other ones are part of my collection."
Of course, the Tin Cab Ski-Doo is one of the earliest of the Quebec-based manufacturer's popular models, and one of the iconic snowmobile models of all time. The nickname Tin Cab, of course, refers the tin material used on the snowmobile hood — replaced in later years with fiberglass.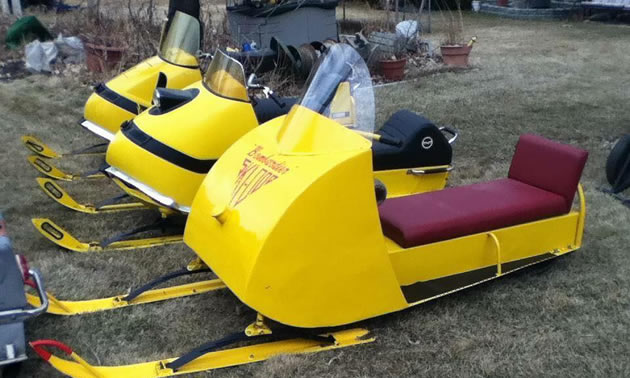 The front of the brochure said, "Bombardier offers you a thrilling winter sport as well as a pleasant and economical means of transportation with the incomparable SKI-DOO." It then listed that it would provide, "Pleasant and healthful hours for young and old…elegant, comfortable, efficient, safe, easy to drive, sturdy construction and easily transported." Then going on to state, "Ideal for… sportsmen, trappers, missionaries, prospectors, surveyors, game wardens and public utilities."
Ski-Doo's promotional brochure mentioned the advantage of the 1960 machine: "Exciting excursions, enjoyable for all ages and ideal for linesmen and patrolmen."
The back of the brochure also stated, "Outdoor enthusiasts looking for new thrills in winter sports will find them in the Bombardier SKI-DOO, riding cross-country, through woods, hills and dale, crossing obstacles such as snow covered ditches, mounds, hollows, snowbanks etc."
Thanks once again to Murray Willis for sharing his old sled story and photos with us. Watch for our next column on Murray's Ski Whiz and Mercury sleds.
Got a vintage snowmobile story and photos? Let us know: [email protected]