Here's a hot vintage sled from the Edmonton Snow Show, it's a beautifully restored Polaris TX 398 model — a sled that was known for its speed, high performance and gutsy looks. Owner Chris Swan of Vermillion, Alberta has to be proud of this A-1 sharp-looking old sled.
Place: Edmonton Snow Show 2017
Year: 1971
Snowmobile: Polaris TX 398 Cross Country
Engine: Polaris 398
Owner: Chris Swan
As one parts distributor states, "Quite possibly, no other snowmobile has as much of a racing legend as the Polaris TX. The TX and TX-L dominated the ice oval and cross country races throughout the 70's. Because of Polaris' advancements in the racing world, the consumer benefitted as well. The TX sleds were some of the best trail sleds of the time because they came straight from the race tracks"
As we have written before, in its prime the Polaris TX was a legend in its class. The sled was introduced in the mid-1970s, and filled Polaris' need for a quality trail sled.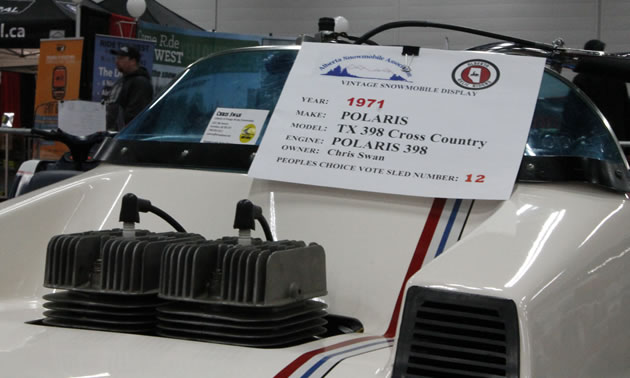 In this era, "Polaris' racing group had earned a reputation for winning races whether they were speed events on ice ovals, required stamina and speed for 500-mile endurance tests or the durability and grit necessary to be first in real-world cross country races," says one snowmobile enthusiast's website.
Now this was a muscle sled with a lot of muscle to it! A true legend of its time!
Got an old sled story? Ever own a Polaris TX 398? Share your story and photos with us—[email protected]