Well you never know when you might come across a vintage snowmobile, mouldering in the grass and weeds. On a quick visit recently to Rosebud, Alberta, better known for their stage plays and opera singing – I spied an old Scorpion Stinger 400 hidden away in someone's backyard.
So naturally it called for a quick stop, a couple of photos snapped and another old sled sighting to share.
According to Bruce Kettunen, a contributor to a Scorpion Sled internet forum, he talks about the history and legacy of the once proud Scorpion snowmobile line:
"The '71 Scorpions had the 400 cc CCW twin engine, not particularly fast, but a sweet running, good starting engine. This was the first machine that tried to hide the engine behind some cowling. The wedge hood was not very good at shedding snow in deep running. Snow built up in front of the headlight at night. Also, this was the first year of the cast plastic gas tank and they tended to crack a lot.
Scorpion went back to JLO for some of its engines in 1972, and the twin was a very good engine. The firm in Germany that made JLO engines was owned by Rockwell, thus the JLO-Rockwell nomenclature for similar engines.
The Cuyuna engine, named for the Cuyuna Iron Range in Minnesota, near Crosby, was a buy out by Scorpion to build their engines internally. They bought the tooling from the engine manufacturer in Germany and set up a line in Crosby to cast and assemble the engines.
In the early to mid 70's, Scorpion was the number three selling sled, out-selling even Polaris. They became especially popular after the ParaRail suspension, which at the time combined the best of bogies and slide rail suspensions. The advertising slogan at the time was "Look out Cat, Look out Ski Doo, the Big Red One's coming through!"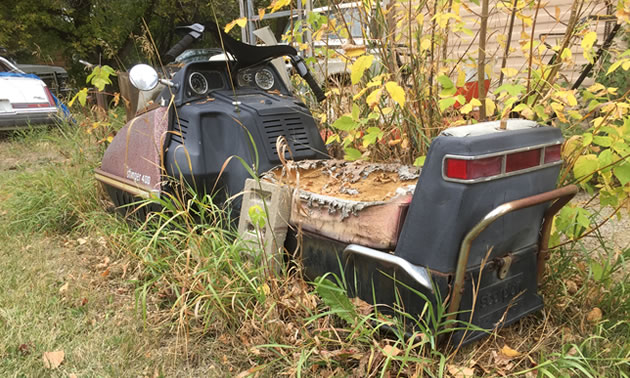 The fuel crises in the 70's and several winters with very poor snow conditions spelled hard times for Scorpion. In 1978, they were bought out by Arctic Cat, reportedly to give them access to the ParaRail suspension.The line was discontinued at that point, and Arctic Cat almost went under a few years later."
Do you have an old snowmobile story/photos to share? Have an antique or vintage snowmobile find? Let us know [email protected]