We have featured John Dyer's 1979 Yamaha Enticer before in this column, and we were impressed recently when he sent us a photo of his vintage sled out for an early ride on the first new snow of the season.
Dyer's Yamaha Enticer is in showroom condition and obviously it's in great running condition, as he takes it for an early season fun-run.
In our earlier post about Dyer's '79 Yamaha and his Moto-Ski, he spoke about his old sled collecting passion: "I was hooked. . . I started looking around for something old and in good shape—not a lot of luck, at least not in my price range. In the spring of 2016, I accidentally came across a fellow selling his collection and I ended up buying six sleds! Two TNT's, one Olympique, a Citation SS, and a '79 Moto-Ski & Yamaha - a little more than I was planning."
So what did John decide to do with all those old sleds?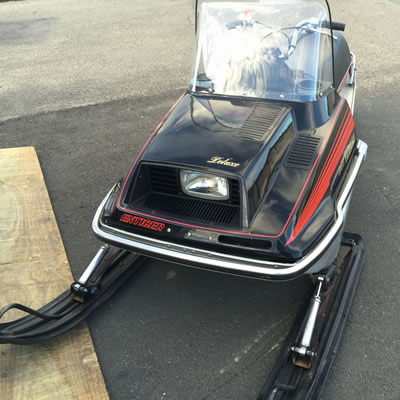 "I decided to keep the Yamaha and Moto-Ski as they were in the nicest shape (restored) and mechanically sound. I have had an absolute ball riding them! Doesn't matter where I go people stop and ask me about the sleds. I always encourage my friends and family to take them for a "spin" and love the look on their faces when they come back. I've had a few people say I should show them and let them know quickly these are daily drivers! Yes, it's nice to look at them but much more fun riding them!"
So it looks like John is following his own advice and taking his vintage '79 Yamaha Enticer out for a first-of-the-season spin around the back forty—he definitely is putting the fun back into snowmobiling and preserving some great history too.
Great to hear—thanks John, for sharing your story and photos.
Got an old sled story/photos? Share them with us at [email protected]