McBride, B.C., located 200 kilometres east of Prince George, is a snowmobiler's paradise. This town is nestled in the Robson Valley, between the beautiful Cariboo and Rocky Mountains. The town is small but full of heart, welcoming winter tourists who simply want to get away from it all.
"Tourism is one of the primary industries in McBride," said local resident Glen Daykin. "You will be treated like royalty from all businesses the moment you arrive into the townsite."
You may remember the heroic volunteer efforts in 2008 made to save two stranded and starving horses abandoned high on the mountains of Renshaw, near McBride. One snowy Christmas Eve the people of McBride worked tirelessly to dig over two kilometres of trench through six feet of snow to walk the stranded horses out. This was a huge effort, but the people of McBride refused to let these horses die. This spirit of sacrifice and giving defines McBride.
The McBride Big Country Snowmobile Association, formed in 1990, has an active grooming program and provides a welcoming environment for families to enjoy the sport of snowmobiling.
Bell Mountain
Bell Mountain, located 13 kilometres west of McBride, is one of the most family-friendly riding zones in the area. Watch for signs on the highway, which will lead you to the snowmobile staging area. Parking is shared at Kilometre 5 with the Yellowhead Ski Club, so snowmobilers are asked to stay to the right of the parking lot.
Many families choose this area for simplicity's sake. A well-groomed 12 kilometre trail to the warm-up shelter provides a quick jaunt, allowing users of all ages to enjoy the backcountry. Around the cabin you'll find many easy meadows and play areas, including a marvelous tobogganing hill. Some use this area for sled-access boarding and skiing. In the event of an emergency, there is cell service right behind the Bell Mountain cabin.
Lucille Mountain
Lucille Mountain, with staging located on the Lucille Mountain Forest Road, is another very family-friendly riding area near McBride. A welcoming warm-up cabin, located 12 kilometres up a groomed trail, has terrain for everyone, including beginners. Along with ample meadows to enjoy, there are many starter hills for newbies to hone their side-hilling and climbing skills. If you want to learn how to downhill carve, Lucille has ample fresh snow and gently sloped hills to help you gain confidence and skill as you shred.
Access to many interesting play areas and bowls can be gained from the groomed trail, which is great when riders are wanting to transition gradually from simple to more challenging terrain. A clearly marked transition trail named the Granny Trail will take you into a wonderful big adventure bowl that is easy to get into—and out from. The getting out can make all the difference in the world to new riders, who may struggle to climb out of bowls they can easily drop into.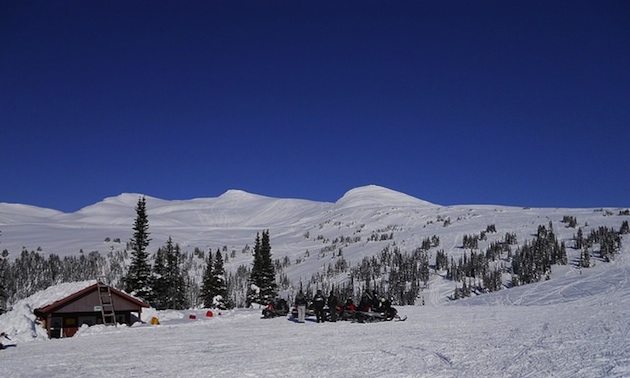 Renshaw
Renshaw is an area with terrain for everyone to enjoy, from beginners to advanced riders. Head east out of town across the Fraser River, then turn left on Mountain View Road, directly across from the Beaverview Campground. Approximately 21 kilometres in you'll find a staging area with ample parking.
"Renshaw will always have fresh powder to play in, which is why many choose to ride there," said Daykin. "It is not uncommon to spend three or four riding days in a row without crossing the tracks of others in Renshaw when you get off the beaten path."
A 30 kilometre trip on a groomed trail will lead you to the Renshaw cabin. Around the cabin is simple terrain, but as you go deeper in, you'll find more technical terrain for advanced riders. Minutes from the cabin is a steep climbing hill dubbed Showoff Hill by locals. Riders are reminded to hit it one at a time for safety's sake. You may need to pack gas, especially if you have a thirsty snow beast. There are so many hidden gems within this ride zone, you may lose track of time and fuel consumption.
The McBride area is true alpine riding at its finest, so avalanche training and preparedness are a must. Be sure to pack—and know how to use—your avalanche and safety equipment. Be kind to the people and the beautiful terrain of McBride and pack in what you pack out. There are some caribou sensitive areas, so be sure to know these boundaries before setting out on your winter adventure. This area is maintained by volunteers, not your mommy—so clean up after yourself, please.