Lac du Bonnet boasts over 30 years of history and over 200 kilometres of paths to ride. The Lee River Snow Riders was formed by Rudi Gretschman in 1986. Gretschman is responsible for building the trails that are still being ridden throughout Lac du Bonnet today. A lot has changed over the years, but Gretschman's contributions cannot be overstated.
Past
Before the Lee River Snow Riders came into existence, Lac du Bonnet hosted snowmobile races. When Gretschman formed the club, there was a lot of work that needed to be done to establish a trail network. It took 14 grueling years to stretch the system to the nearby community of Pinawa.
The club was rife with other challenges during that time. Difficulties with raising funds, recruiting new members and acquiring equipment to properly groom the trails plagued the club's early years. Without an abundance of members, much of the workload fell on Gretschman. At that time, trails were groomed with a snowmobile and a homemade drag.
In more recent history, current president Brad Wall sunk a small groomer a few years ago. He was by himself that night and it took over two hours for someone to rescue him. He described the ordeal as "not good."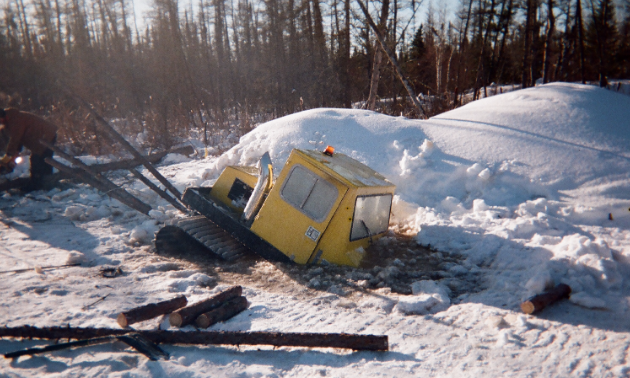 Now
All the hard work put into Lac du Bonnet's trails has paid off in a big way for the Lee River Snow Riders. Based on its trail counter, over 10,000 snowmobiles are on the trails each season. To keep up with the copious amount of visitors, the club has invested in a 2016 Prinoth Husky which was purchased brand new last year.
"A great membership base and dedicated directors put in countless hours to fundraise for the new groomer purchase," said Wall. "We had a down payment of $100,000. The groomer cost over $240,000!"
The Prinoth Husky will certainly see a lot of use. The Lee River Snow Riders are responsible for grooming Lee River, Lake Lac du Bonnet, Bird River and the Anson Lake area.
If you're looking to take a break, there are five warm-up shelters to choose from. "Each year we try to upgrade each one," Wall said. "We've added LED lighting and solar panels to each shelter as well as interior pine walls and stand-up island tables in two of the shelters. Two years ago we had some big equipment come in and make our Anson Trail twice as wide, as it is one of the busiest trails on our system. The Anson Trail can see as high as 1,000 sleds per week. This past fall, one of our volunteers completely renovated Rose's shelter from top to bottom."
Members of the Lee River club have never been content to sit back on their laurels. They are continually working on making their trail system better. "This season we are planning to completely renovate our Anson Lake Shelter," Wall said. "The roof will be replaced and we hope to add a deck and paint the interior."
The legacy of the Lee River Snow Riders is hard work and smooth trails. Anyone who chooses to ride in Lac du Bonnet will be a beneficiary of the club's years of commitment to maintaining such a popular destination.