In our haste to get the Fall 2016 issue of SnoRiders to press, we forgot to tell you who landed on the cover of our magazine. It is none other than Stephanie Schwartz of Revelstoke, B.C. If you have a copy of the print magazine, you can read more about Schwartz and her elusive backcountry sled habits on page 34 or visit the online version of this story.
An apology also goes out to Brianna Lukkar, the photographer who captured this shot.
Born and raised in the West Kootenay region of B.C., Lukkar works part of the year in the forest industry and the other as a guide for Great Canadian Snowmobile Tours at Glacier House Resort in Revelstoke.
She is also a tail guide, coach and photographer at Nadine Overwater's La Nina Sled Camp, which brings us to the story behind her amazing photo of Schwartz:
"I met the lovely Steph during my first season in Revy," said Lukkar. "She joined us for the first ever La Nina jump camp this past April where, as with all the sled camps, I met a group of rad sled girls.
"We spent the weekend looking for natural features to build skills on, working together to build booters, build confidence off the jumps and laughing until our sides ached. The female sled community is definitely something special, and a lot of that is due to the immense influence and infectious laugh of Stephanie Schwartz.
"The photo of her currently gracing your cover I took on the final day of the jump camp at the biggest jump we built that weekend. It only took a couple of practice runs before Steph was hitting it with the form of a pro, going bigger and bigger each time. I think the world should know she laughs uncontrollably through most of the process. I don't think she can wipe that smile off her face if she tried.
"Between the flying, the mountains and the sunset at the end of the day, it was a wonderful time to be up in the snow doing what we all love so much. I am stoked to see Steph get recognized for all she does for the sport."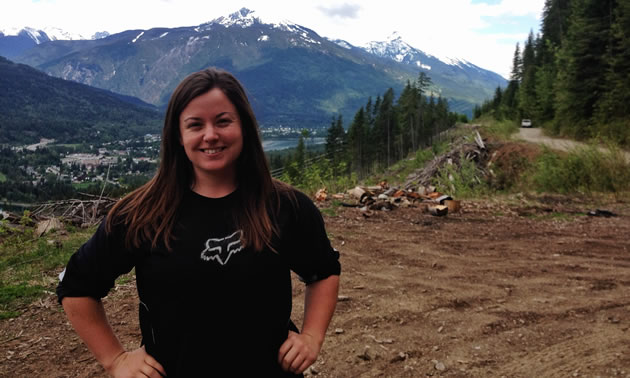 What do you enjoy most about helping women improve their riding skills?
"I really enjoy guiding and coaching, primarily because I get to share the mountains with so many people and appreciate the huge amount of time I get to spend in them even more. Watching girls progress on their machines is amazing, and seeing a once timid rider improve and gain confidence when surrounded by a group of like-minded ladies is very rewarding.
"It's pretty fantastic how one small tip I provide can make a world of difference. For example, telling a girl to use her hips to initiate a pow carve rather than try to force the machine over with the arms, and seeing the light bulb turn on and suddenly this skill explode is great. And seeing a girl suddenly realize she can get around all on her own, without needing the boyfriend or husband to pull her out is wonderful. We can do this!"
What advice do you have for us she-shredders?
"My advice is to always keep patient, and keep trying. Getting stuck is just part of the fun. Get that shovel out and try again. Frustration never got us anywhere. Find a couple of other rad ladies to ride with. Keeping up or out-riding the boys is always great, but having an awesome group of girl shredders to build confidence and giggle with is the next level.
"And last but not least, with that awesome group you ride with, practise your avalanche skills. Bust out that beacon, probe and shovel and learn how to use them. Because being a responsible rider is just as important as being a skilled rider."