One of the most recognized names in the women's snowmobile scene is Revelstoke's Stephanie Schwartz. By day, she is a full-time employee for Divas SnowGear, helping to manage athletes and facilitate product design, but she also maintains a part-time position with Red Deer, Alberta's Turple Brothers Ltd. Her passion for mentoring new riders has now developed into international clinics where women from all walks of life participate and learn from Schwartz, who has a decade of experience mentoring new riders.
We love her for her class, dignity and dedication to the sport—this is the Stephanie that most see via social media, but there is another side to this incredible shredder.
"Most people have no idea that I can actually ride," said Schwartz. "I am not comfortable tooting my own horn, so I usually shift the focus to the people I am mentoring and supporting."
From the start
This freerider has developed an immense amount of skill and knowledge on her journey as a mountain snowmobiler. Revelstoke born and raised, Schwartz giggles when asked how old she was when she started riding.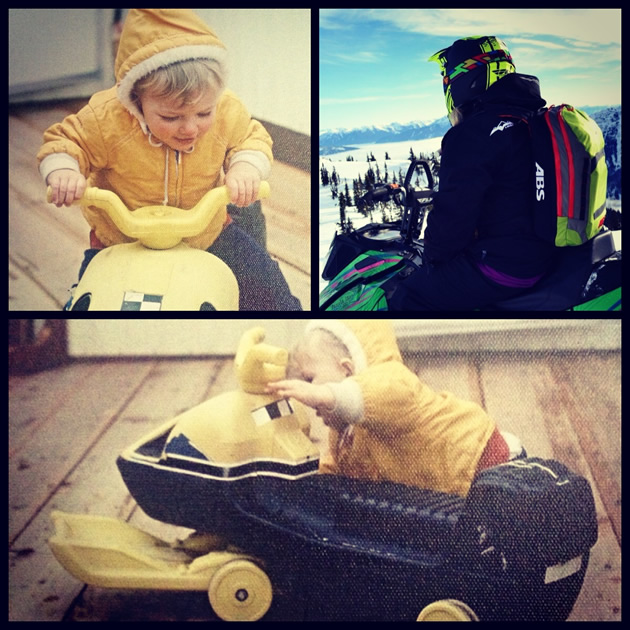 "My family have always said I was conceived on a snowmobile," she said. "I can't remember a time in my life that I didn't ride."
Schwartz grew up in a snowmobile family where mother, father and brother have simply always rode. It was a good way to grow up in Revelstoke.
Schwartz's father, Ron LaRoy, always took her out riding, not because he had to, but because he wanted to.
With Schwartz perched in front of him at the age of four, deep in the Revelstoke backcountry, he wanted his daughter to not only learn how to ride, but to be able to safely navigate the backcountry.
"While seated in front of my dad it was up to me to find our way home," said Schwartz. "I'd point in the direction I believed to be the way. I was taught right from day 1 that backcountry navigation was a crucial part of snowmobiling."
Most don't know how skilled Schwartz truly is. With tree bashing and ravine and creek bed play pushing her past her boundaries, Schwartz rides hard.
"I want to be completely wadded up within the first 15 minutes of riding—to me that means I'm learning something," said Schwartz. "Pushing myself to the point of tears is my way of knowing I'm expanding my boundaries and gaining more skill."
Jaws drop when people see this shredder execute technical lines through steep off-camber trees, but that is the side she rarely shows, making her even more interesting.
Learning to fly
Humble and hardcore, Schwartz knows that the key to maintaining her passion for the snowmobile industry lies in the need to take time for herself.
"Last season was busy and this season I am even busier, it seems," she said. "All of my camps are fully booked up. I am taking time for me this season, which fuels my passion for the snowmobile industry."
Very few pictures or video clips ever surface of the elusive Stephanie Schwartz, but make no mistake—this woman is one of the most skilled female riders in the sport of snowmobiling.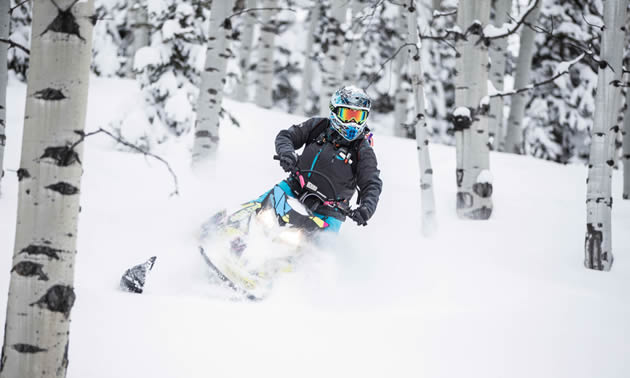 This past 2016 season Schwartz surprised herself by gaining a skill doing something she never thought possible.
Enrolled in Nadine Overwater's Jump Camp, Schwartz discovered that she loves to fly. Her most memorable moment and greatest achievement was taking that leap of faith off her first man-made jump.
"I love to fly!" said Schwartz. "I am living proof that you can teach an old dog new tricks."
Writing down goals at the beginning of each season is important for Schwartz. Her personal goals for the season are the same as those of many hardcore mountain freeriders.
"I want to fly higher and I will nail an elevator this season," she said. "It's been close, but this year will be the season I pull it off!"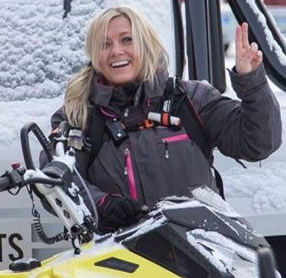 Inspired by fellow freeriding women, she knows that anything truly is possible.
"Age doesn't matter," said Schwartz. "Being a female doesn't matter. If there is a skill you want to develop, go for it."
This mindset is why she is so successful in mentoring new female riders. Robynn Winkelman of Wyoming shared her experience:
"Steph is so easy to talk to and she definitely knows how to make a rider feel comfortable and confident to try things that scare them a little bit," said Winkelman. "Or a lot."
#noduckfaceselfies
Stephanie Schwartz is truly one of today's most skilled but underestimated female riders. By choice, she revels in the success of the many she teaches rather than focusing on self promotion. Knowing that she is making a difference means more to her than likes on Facebook and Instagram. Never compromising her high standards, she sets one of the most powerful examples for new riders entering the scene.
"I want women to know that they can be supported and accepted without needing to compromise their moral foundation for more likes on social media," said Schwartz.
Watch for Stephanie this season aboard her 2017 Ski-Doo 850. If you look hard enough and deep enough in the Revelstoke backcountry, you too may see the elusive Schwartz shredding up a storm.
Where will that be, you ask. Zippermouth Creek. In other words, this lady has many secret honey holes around Revelstoke.