Like most of his riders, Swan City's 2016 Club President, Lou Maffret, loves the mountain terrain that Grande Prairie's nearby trails have to offer. "I do lots of mountain riding, so I head out to the Kakwa area and ride the trails on the mountain terrain out there," he said. Swan City's trails expand across Alberta and into British Columbia, with riding agreements set in both provinces. Riders are expected to learn the altitude and riding time restrictions on the capital park websites.
These trails offer a wide mix of terrain and difficulty levels, so both families and adventurous riders can enjoy on the same day. "You can take the family out there, but you can definitely do some more aggressive riding if you want." The mountain valleys tend to be the best place for family rides, but riskier trails extend up the mountains.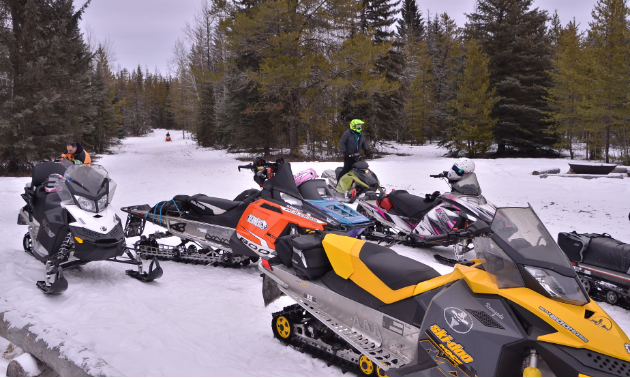 Where is the main Grande Prairie snowmobiling area?
Grande Prairie riders choose from two areas that are maintained by the Swan City club: Big Mountain and Kakwa Park.
"The Big Mountain Trail System is close to town, easy, and accessible," Maffret said. "We follow the Big Mountain creek, which is a nice little area, and we follow it down the Smokey River." The Big Mountain Trails are perfect for day trips from Grande Prairie. The warm-up shelters make these trails a bit more family friendly than Kakwa's Trails.
Big Mountain boasts three loops of varying lengths that the Swan City Snowmobile Club recently renovated. The club is proud to share their wider, well-groomed Big Mountain Trail System with the snowmobiling community of Canada at the 2017 Jamboree. The new trails feature new bridges and freshly mulched paths covered by fresh powder.
The Kakwa area has more mountain riding, and the scenery to match. "It's harder to get out there," said Maffret. "It's not like going to Revelstoke or Valemont. You have to take tire chains and be prepared to maybe spend the night. There might be so much snow that you can't leave the parking lot. It's not just for the faint of heart. You have to be prepared. You need radios."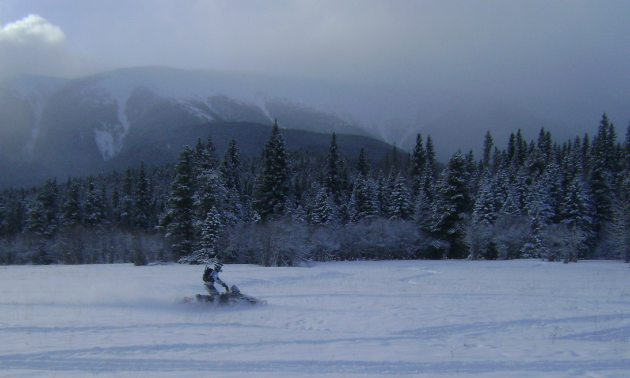 Where is the snowmobile staging area for Kakwa Park?
Kakwa Park is 2.5 hours south of Grande Prairie. Riders travel down Highway 666, which turns to gravel about 30 kilometres past Grovedale, to find the single spot to unload near Kakwa at the end. The gravel portion of this route is called Two Lakes Road. The area is quite remote, but winter camping is available for club members and guests for a small fee. The camping grounds at Kakwa's staging area are spacious enough to host large camping equipment, including fifth wheels and motorhomes, all winter long.
The trails themselves are still a bit of a trek from the staging area. "It's 50 kilometres from where you unload to get into the Kakwa Lake area. You have to do 50 kilometres before you can even be really riding," Maffret said. The extreme distance makes overnight camping common when riders choose Kakwa Park as their destination. Riders take off from their winter campsites to get the most of the long trails.
www.env.gov.bc.ca/bcparks/explore/parkpgs/kakwa/
Where is the snowmobile staging area for Big Mountain?
The Big Mountain Group Campground is located 20 minutes south of Grande Prairie on Highway 40. This area acts as the staging area for Big Mountain's three loops. There are no camping hookups at either Kakwa or Big Mountain's staging areas, so overnighters have to arrive prepared with their own generators. The camping grounds for both Kakwa and Big Mountain are reserved through the Swan City Club themselves.
http://www.albertaparks.ca/big-mountain-creek.aspx
Where to find trail passes for Swan City's trails?
Alberta Snowmobile Association trail passes are $20 per day, or $80 for the season. Swan City's trails that cross into British Columbia are in special agreement with the ASA for trail passes. They can be found at all the snowmobile dealerships throughout town, or through the Swan City Club directly.
What type of groomer do they use?
With the recent expansion, Big Mountain requires a larger groomer: "We used to just have a little 8-foot groomer, but now we are able to run our BR250 with a 10-foot drag on it," said Maffret. Now Kakwa is groomed by a BR350 with a 12-foot drag that was purchased in 2016.
The trails are groomed regularly throughout the winter. Swan City Snowmobile Club also sends members out to the trails in the summer months on quads to keep the trails in top shape for when the snow falls.
Where are the warm-up shelters?
Riders can find a couple shelters along their massive mountain trail system. First, the Big Mountain Group Campground hosts a wood-heated shelter for riders to gather after a long day. "Half way around the trail system we have what we call our A-frame building, which is a nice big structure that is heated too," said Maffret. "We are working on a couple other smaller huts." Swan City hopes to have their new warm-up shelters ready for the 2017 Jamboree.
The British Columbia side of Kakwa Lake has a shelter, but the remainder of the Kakwa trails are straight wilderness.
When are Swan City Snowmobile Club meetings?
Every 3rd Tuesday of the month.
How do riders join the Swan City Snowmobile Club?
Interested riders can contact the club directly. Membership fees are the regular ASA trail passes for the year, plus $10.
Connect at
http://altasnowmobile.ab.ca/trailsclubs/swan-city-snowmobile-club/
https://www.facebook.com/Swan-City-Snowmobile-Club-160807497278531/
Club start date: 1974
Average number of members: 600+
Current President: 2016 President is Lou Maffret. 2017 voting occurs late October.