My grandson, Grayson, loves to build things. He's only five (four in these photos) and he's always got a project of some kind on the go.
Grayson is my middle grandson; his older brother gets sort of bored with his many projects and his younger brother sometimes destroys them.
Grayson loves Lego. I guess that's one of the best things about being a grandpa or Papa—you get to buy him a new kit every now and then, and once in a while he lets you help him put the set together.
So as we scanned the shelves of the local big box retailer, there seemed to be an endless variety of Lego projects to select from—spaceships, castles, sailing ships, cars and trucks, heavy equipment loaders, and—tucked away in the back—a snowmobile. A SNOWMOBILE!
Since Papa publishes a snowmobile magazine, I suggested the snowmobile Lego set. Do I have a snowmobiler in my future? I have a feeling all three boys will be motorsports enthusiasts one day, because seldom is there much moss growing under their feet. They love to be on the go—all the time.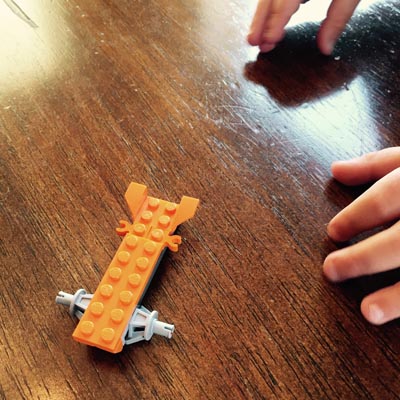 So a few days later we sat down together at the dining room table and started to assemble the 44 pieces that made up the Arctic Snowmobile. Looking at the box and the instructions we got a pretty good idea that this was going to be a fun project. The accompanying brochure read as follows (you have to be impressed with the excitement the copy writer infused into this little box of Lego pieces):
Investigate the secrets of the ice with the LEGO® City Arctic Snowmobile! Search for the secrets of the ice with the super­cool LEGO® City Arctic Snowmobile! Venture out into freezing polar conditions with the explorer in his specialist Arctic gear. Crack open the huge ice block with the axe to reveal the mysterious crystal inside. Use the walkie-­talkie to report your discovery, then load the ice and crystal onto the sled and return to base camp to conduct more tests.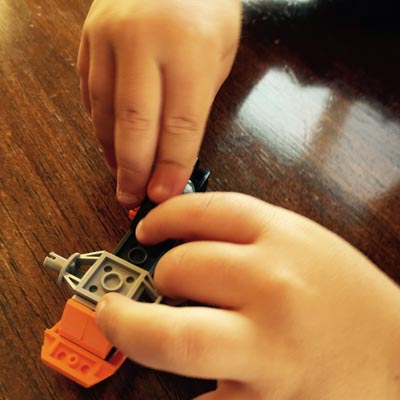 Includes an Arctic explorer minifigure with accessories
Features skis and detachable sled
Also includes a translucent blue ice block and a crystal
Accessories include an Arctic explorer hood, walkie-­talkie and a pickaxe
Report back to base with the walkie­-talkie
Transport the huge ice block on the sled
Examine the mysterious crystal inside the ice block
Arctic Snowmobile measures over 3" (8cm) long and under 1" (2cm) high and 1" (2cm) wide
Sled measures over 1" (4cm) high, 1" (5cm) long and 1" (3cm) wide
Combine with the 60036 Arctic Base Camp for the ultimate Arctic research and discovery mission
Good thing we tackled the project because I understand Lego has retired the Arctic Snowmobile kit. Time went by quickly and soon we were looking at the completed project—a true Arctic snowmobile complete with Eskimo rider, trailer, walkie­-talkie and one very happy young boy.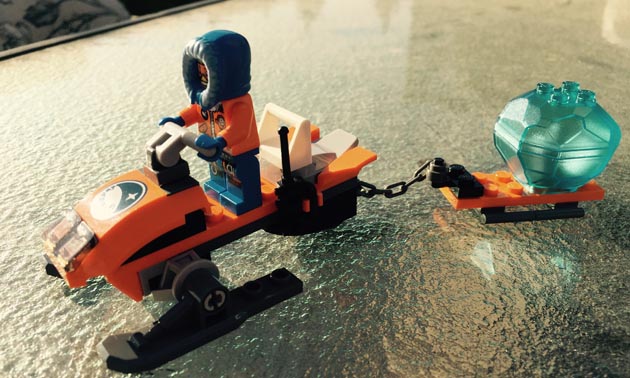 Grayson held up the project, threw back his head and let out a great big laugh of satisfaction. I was just as tickled as he was to have worked together to assemble his Arctic Snowmobile. Only time will tell if this little project will inspire a future sledder. Watch out Mom and Dad—you might have three busy boys tugging at your sleeve saying, "Let's go snowmobiling."
Now, that would make Papa smile!