The upcoming 2018 season marks Yamaha's 50th anniversary in the snowmobile business. To celebrate, the company has released seven limited edition models, as well as a new suspension system for the Apex and a youth snowmobile. The Sidewinder also takes centre stage for mountain riders.
The SnoScoot returns
Youth play an important role in the future of snowmobiling. Unfortunately, they've been forgotten, as snowmobiles have gotten bigger, faster and more expensive. In 2018, Yamaha intends to attract more families by bringing back the SnoScoot. Unlike its 1968 counterpart—which featured an 80-cc engine—the 2018 SnoScoot is powered by a fan-cooled, 192-cc, four-stroke engine with a continuously variable transmission. Equipped with the Cobra track and a long, tapered tunnel, this little sled is designed to handle the trail as well as some powder play. Teach your 12-year-old how to transfer weight and counter steer and he or she will be shredding the gnar in no time!
Last year for the Apex
If you've been coveting the Apex for years, now's the time to get one because 2018 will be the last year this sled is in production, and you'll only be able to get it during spring power surge. What's more, the 2018 Apex X-TX and the Apex LE 50th Anniversary edition feature Yamaha's new Reactive Suspension System technology or YRSS.
"This exclusive Yamaha technology connects the two front shock absorber bodies hydraulically," writes Yamaha on its website. "Oil flows between the shocks through a YRSS control unit that affects damping and volume transfer based on the movement and forces generated at each ski."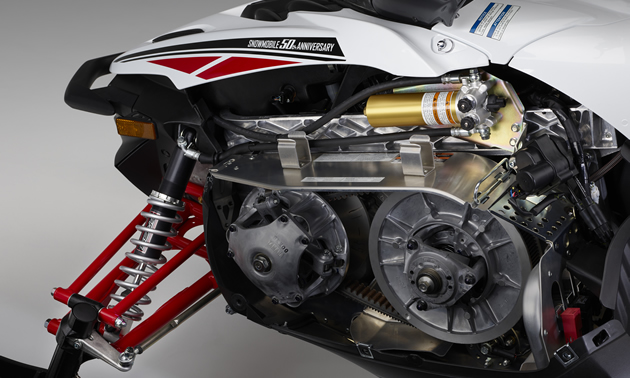 With YRSS, the sleds should stay flatter and hold a line better in the corners.
Sidewinder improvements and expansion
When it comes to the mountain segment, Yamaha is sticking to its four-stroke guns. You'll notice, however, that the SR Viper and Phazer have been taken out of the M-TX family and replaced with new models of the turbocharged Sidewinder.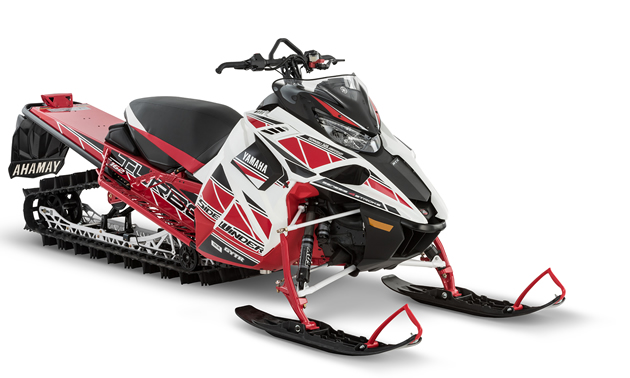 For 2018, the Sidewinder will be available in both 162- and 153-inch track configurations. Yamaha also invested in some key upgrades to the Sidewinder M-TX series. They include a drop and roll chaincase, eight-tooth drive sprockets, narrower running boards and a new intake venting with pre-filter. Deep, steep and technical, bring it all on!
For more information, see Yamaha's website.