Recently, we here at SnoRiders sent out a survey to you, our readers, to find out what brand of snowmobile you currently own. Here are the results:
As you can see, over half of the respondents (52%) own a Ski-Doo snowmobile. The next most popular manufacturer is Polaris (35%), then Arctic Cat (30%), followed by Yamaha (21%).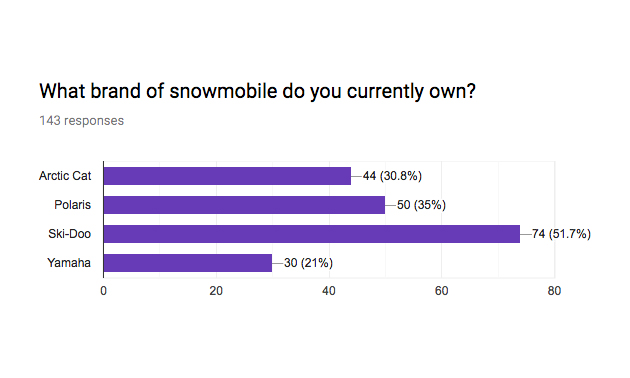 During the survey, we gave readers an opportunity to tell us what they would like to see more of on SnoRidersWest.com. Here were some of the comments that stood out:
More tech
Updates in new snowmobile tech and aftermarket accessories
More accessories and aftermarket stuff
Links to hard-to-get parts or remanufactured parts
More new products
Latest and greatest snowmobile products and reviews of said products
What works best in aftermarket: heads, insulated pipes, Y-pipes, quiet cans and overall reliability
Alrighty, readers. We hear you. You want more info about aftermarket products and tech.
So, what are your favourite aftermarket- and tech-related products?
Thank you to everyone who participated in the survey.