Pants or bibs, which do you prefer?
When I proposed this question to a group of female snowmobilers last fall, the jury was divided. Some chose bibs because they said they hated getting snow down their backs while others said they preferred pants because of convenience and a hatred for suspenders. I was of the latter opinion, until I started riding in the Contessa bib.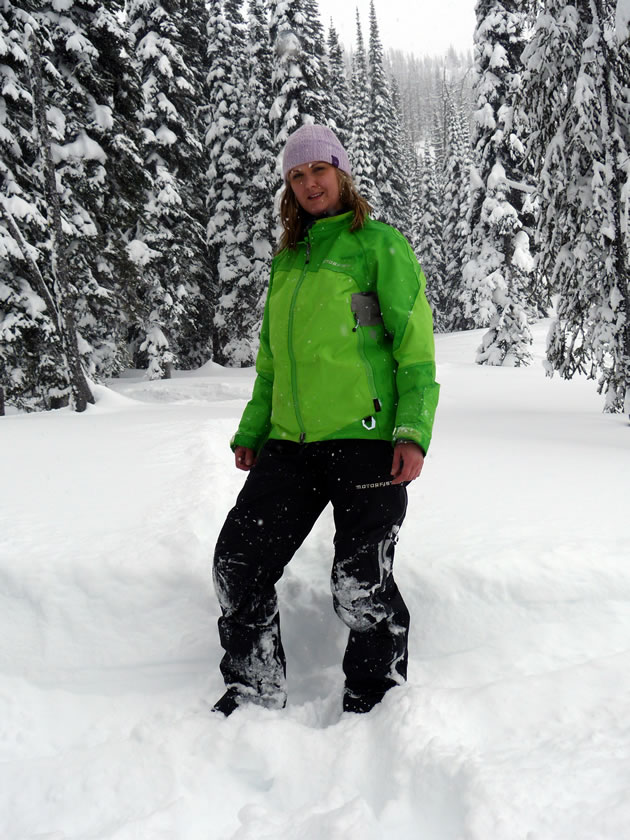 First off, what you should know about this winter in the Southern B.C. Rockies was that it was epic. And cold. So I was happy the bib gave me some extra warmth without adding too much bulk. As a technical piece of riding gear, this bib is uninsulated and features 300D Polyester Construction, which proved tough enough to withstand running boards and tree bashing. Normally, I wear knee pads but the Contessa bib comes with built-in padding. There was some bunching around my knees in the early days of testing, but this problem ironed itself out as the fabric broke in. By the way, the knee pads are removable.
Also removable is the upper portion of the bib. This handy feature meant I could choose to wear bibs or, come spring, pants. Quite possibly the greatest feature on the Contessa bibs, however, is the drop seat design. For ladies bibs, this is a must-have, although it does take some finesse after the fact to get your base layers back in order.
Enough said. The Contessa bibs also feature an adjustable waist with belt loops, as well as adjustable gaiters with boot clips. As for the sizing, I am 5'10" and 155 pounds (shhh) so I went with a large, which fit a little baggier than I would have liked. But overall, I was happy with the Contessa bib and look forward to putting some more miles in it next year.
For more information, visit the Motorfist website.