The mono, onesie, ski-doo suit—whatever you want to call it—is back, and it's what all the cool kids are rocking these days. Do they know something we don't? Or do they just want to look hip and fly for the camera? A good question, among others, that was answered this winter while my better half and I were testing the new-for-2017 Blitzkrieg Suit from Motorfist.
Upon first contact, we were surprised at how soft and pliable the fabric is. Too tender for running boards and close encounters with trees? I'll get to that later. The Blitzkrieg Suit is also remarkably light for the amount of fabric involved, and it didn't pull on our neck and shoulders like some would think. Nor did it hang too low in the crotch or feel like wearing a diaper. The rear end was a bit droopy, however, and this may have had something to do with the sizing.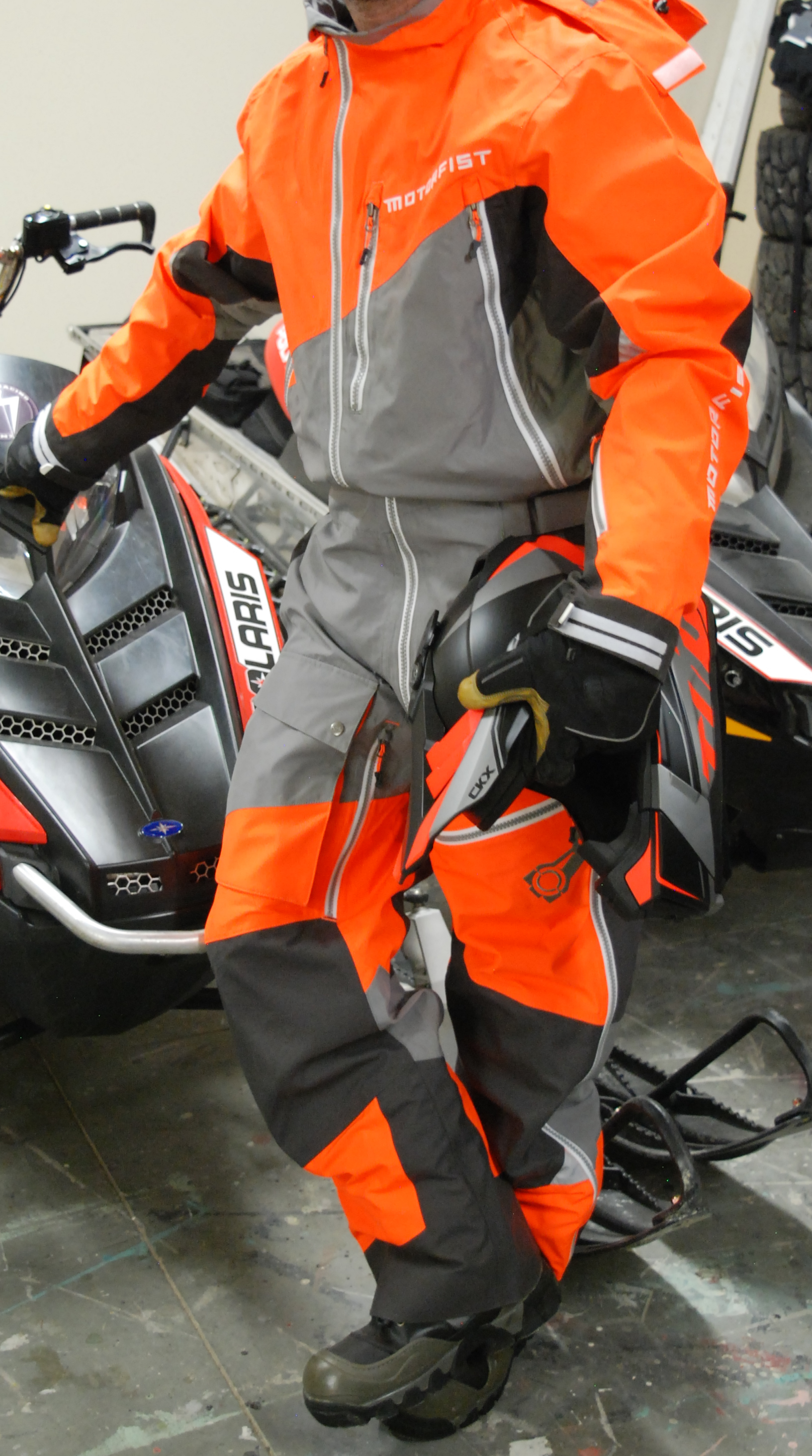 Choosing the correct size is difficult when you can't try it on before you buy it. Ordering online, we went with a large. My husband is six feet tall so the arm and overall length of the suit was ideal. Thanks to the suit's interior suspenders, I could also adjust the length for my 5'10" height. As for shoulder width, my husband is a mid-size (175-pound) fella so medium may have fit better. I, on the other hand, was swimming in a men's large and if I were the primary tester, I probably would've went with a small for my 155-pound build.
On snow, the Blitzkrieg Suit is 10 times more comfortable than any snowmobile gear we've worn. It never feels stiff, binds or interferes in any way with your riding. With greater mobility, one feels freer to hang it out, and snow never gets down your back. Lifting your leg to get back on the sled is easier too, even when you've stepped off and sunk up to your knees in the fresh.
The Blitzkrieg Suit scores a 10 on the breathability scale, thanks to Motorfist's eVent technology and a moisture-wicking liner. Even though it's an uninsulated suit, we were concerned that it would be too warm, especially in the spring. But it was the opposite. Early season, my husband tripled up on layers. Otherwise, anything below -12 C and he'd freeze. In the spring, however, one layer was all he needed to keep warm and dry.
Other features we appreciated about the Blitzkrieg Suit include the removable hood, the lycra cuff extensions and the adjustable gaiters with boot clips and snaps. Never did we have snow creeping into our boots, even when we were tromping around, helping each other (well, mostly me) get unstuck. The suit also has removable knee pads. We left them in but doubled up with shin guards as well because running boards are unforgiving and supermanning over the handlebars does happen.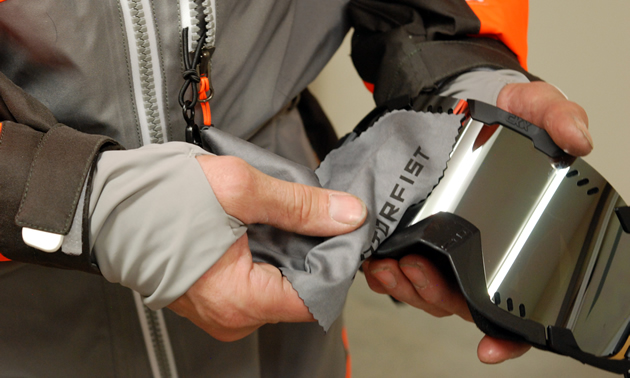 In terms of durability, the Blitzkrieg Suit stood up to our tree bashing, but after about 20 rides, it was showing signs of wear on the lower section of the legs. One leg zipper had also come apart so we feel improvements could be made in this area.
Speaking of zippers, though, the Blitzkrieg Suit has more vents and pockets than a rider knows what to do with. At first, the large leg pocket seems out of place but it becomes a handy spot for stowing your toque, eh.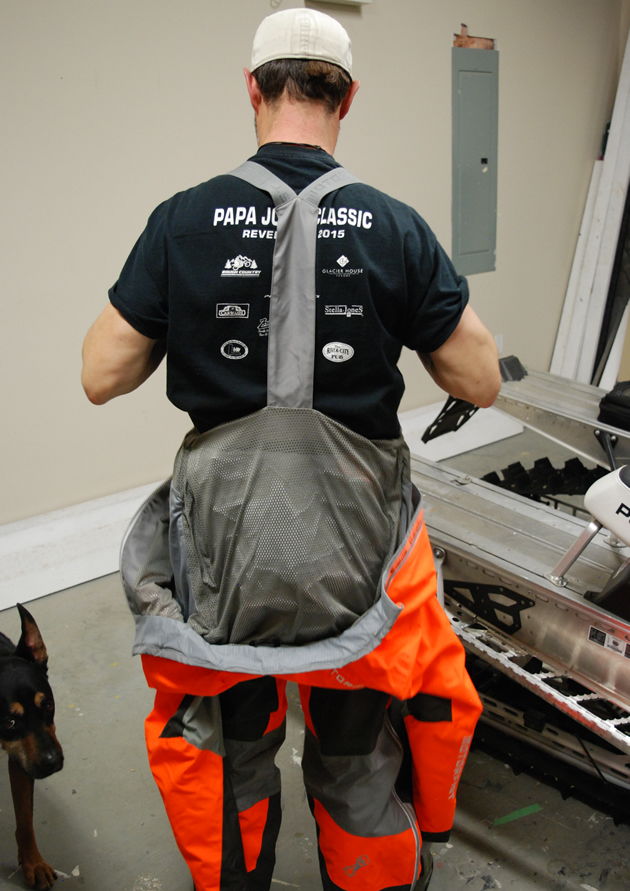 Riders, near and far, could see us coming in the Blitzkreig Suit. The orange/grey is definitely the loudest of the three colourways available, but it's great for being spotted in the trees, especially when you're stuck and in need of a helping hand. Coming from the traditional world of black snowmobile garb, one thing we did learn about colourful gear is that dirt and grease show up a lot easier.
Overall, the Blitzkrieg Suit was a great asset to our riding wardrobe this year and we were very thankful to Motorfist for giving us the opportunity to try this whole mono thing for ourselves. Is it just a fad? Or is a onesie the way to go?
Well, it depends. If you hate getting snow down your back and want the very best in comfort and mobility, then yes, it's time to rock the mono. In the truck or heading into a restaurant, however, you'll find the mono inconvenient. Do I let it hang or tie the arms around my waist? Bringing an extra set of clothes with you to the parking lot may be the answer, but who wants to change in the parking lot?
Price is another deciding factor. Right from Motorfist, the Blitzkrieg Suit is cheaper than its two-piece counterparts. But will you want it for other applications? For example, my snowmobile jacket often doubles as fall horseback riding and winter hiking gear. If you don't need the flexibility, though, and want something that is purpose-built for sledding, then maybe the mono is right for you.