Motorfist really stepped up its safety game in 2017 by releasing the Argo Avalanche Airbag Backpack. Durable and equipped with the Swiss-made Alpride Airbag System, the Argo pack is a high-quality safety device that's meant to increase your chances of survival should the worst happen. The airbag deploys in three seconds to 150 litres and the shape of it is designed to protect your head and neck from trauma, which is a significant cause of death in avalanche victims.
Last winter, I got the chance to test this backpack, and by test, I mean wear it throughout the season. What you should know is that this was my first experience with an avy bag, and it took some getting used to.
I noticed right away that the Argo pack is designed for safety first, storage second. At 22 litres, it has ample room for your shovel and probe, plus an extra pair of gloves and maybe some snacks or a bottle of water. Because I always travel with camera equipment, however, I had to juggle a few things around, putting more items in my tunnel bag than I was used to. Other people I've ridden with say they keep only emergency items in their avy packs and things they'll need throughout the day in a waterproof tunnel bag.
I also found that the pack is not easy to take off, primarily because of the crotch or leg strap. This is good, though, because if you find yourself stuck on a slope, the last thing you want to be doing is removing your best defence against a slide. It might seem easier to leave the crotch strap undone, but it's extremely important to wear since the strap will keep the bag from being pulled up over your head in the event of an avalanche.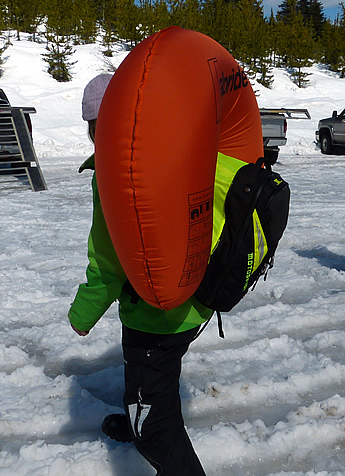 Speaking of the straps, one feature I like about the Argo pack is the chest strap. It could be raised or lowered depending on your body shape. As for sizing, the Argo pack tends to fit wide on the shoulders and longer in the torso, which was perfect for my male riding partner. In the future, however, I would like to see Motorfist design an avy pack that's made specifically for women.
The Alpride airbag uses a dual-cartridge system, with one cartridge filled with carbon dioxide and the other filled with argon for burst. Deployment is through a T-handle, which can be mounted on either the left- or right-hand side of the pack. What's nice about the Argo pack from Motorfist is that the first two cartridges are included in the purchase price. They are easy to load and repacking the bag isn't difficult either.
Since I always bring an extra set (or two) of goggles, I appreciated the fleece-lined goggle pocket on the front of the pack. The dual padded hip pockets came in handy as well. All in all, the Argo pack is a great product for backcountry snowmobilers who want to step up their personal level of safety when looking ahead to a new season.
For more information, see Motorfist's website.