To say it's been an unusual winter in Cranbrook, B.C., would be an understatement. For the longest time, we had no base and not enough snow, even up high, to cover the land mines. Then it was February and boom, the snow set up and we got hammered with over 60 centimetres in one weekend. Cranbrook is also known as the sunniest city in B.C. Not this year. Bluebird days have been few and far between with snowy and socked in being more the norm.
No snowmobiler in his or her right mind is complaining right now—although temperatures, which have been unusually low, have kept a few riders at home. The moral of the story is this season has been the ultimate test for the new CKX Titan Helmets we've been sporting since November.
By now, you've either read reviews or seen ads for this helmet so you probably know it's a backcountry-style helmet with modular features, such as a drop-down muzzle, which by the way, I love. Flip it down when you stop to talk, have a snack or help dig out a sled and there's no trying to wiggle your head back into a frozen lid. The muzzle is also removable, and I've taken it off several times to allow for better airflow when I'm doing more of the technical stuff.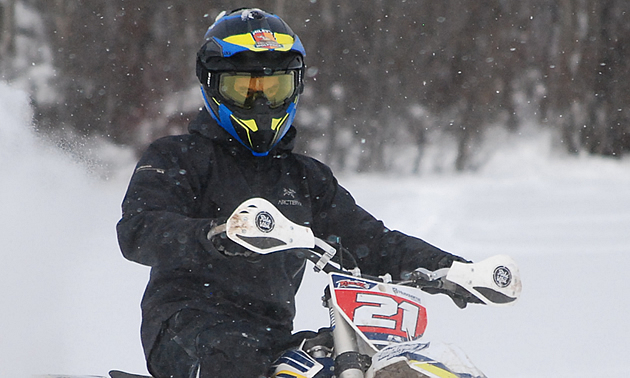 Next up, the goggles. Love em? Hate em? Truth is, I'm not sure yet. The wide field of view is great since you don't have to crane your neck as far to see who's behind you. On the trail, these goggles do a great job of sealing out the wind, especially when the rubber breath guard is installed. Off-trail and especially in the trees, I've had problems with fogging. It could just be me, however, since my riding partner can usually see just fine.
Of course the Titan Helmet fits best with the 210-degree goggles, but it is possible to use other brands as well. Why would you, though, when $400 gets you a Titan helmet and goggles, plus all the goodies you need to seal it up for trail riding? Since we ride about 80 per cent backcountry, we've left the helmet in the ventilated configuration.
The ProClip quick release system is another great feature that sets the Titan helmet apart. No more fiddling with a frozen chin strap. And lightweight? At 1,430 grams, the Titan has been mistaken for a carbon fibre.
Want to learn more? Go to the Titan Helmet website.