Now that Ski-Doo has launched their world premiere technology inside the all-new 2020 Summit 850 E-TEC Turbo, let's take a look at the nitty gritty.
Platform
REV Gen4 platform: The open design of the REV Gen4 mountain platform allows riders to ride freely with their own style, attacking terrain as it suits them instead of the sled. Designed to be the most agile, responsive sled in the mountains, the side-to-side centralized mass creates a sled that's ultra-responsive to rider input, making it easy to initiate sidehill and carving maneuvers even in the most technical terrain.
Rotax Engine
NEW Rotax 850 E-TEC Turbo engine: The first-ever factory-built 2-stroke turbocharged engine in any industry. The Rotax designed and built turbo provides full 165 horsepower from the industry's strongest 850 twin up to 8,000 feet of elevation and remains a constant 40 horsepower more above that mark compared with normally aspirated 850's. Sophisticated design integrates flawlessly with the REV Gen4 platform for ideal balance at minimal weight. Ultra-impressive power, instant response with no lag, and factory reliability from a turbocharged 2-stroke - only the industry's leading manufacturer could develop and stand behind it.
Suspension
tMotion rear suspension: The tMotion is both extremely agile and ultra-responsive to rider input. A simple shift in rider weight is all it takes for the sled move in the desired direction. A swiveling rear arm and split front arm allow the skid frame to flex laterally for easier roll up into a sidehill or carve. Rising-rate motion ratio adds capacity to handle big drops and comfort when riding the trail to get to the mountain. Standard adjustable limiter strap gives riders quick, easy choices in ride dynamics.
HPG Plus rear shocks: High quality KYB lightweight rebuildable high pressure gas shocks RAS 3 front suspension: Precise, predictable handling and outstanding bump absorption, even in harsh conditions, with State-of-the-art unequal length A-arm front suspension.
HPG Plus front shocks: Highest quality Kashima coated KYB lightweight rebuildable high pressure gas shocks front. Rebuildable and revalvable.
Lightweight Springs: Front and center shocks
Key Features
Short Tunnel: Shorter tunnel length allows for optimal maneuverability in deep snow. Standard rear lightweight snowflap with LinQ-ready attachment points.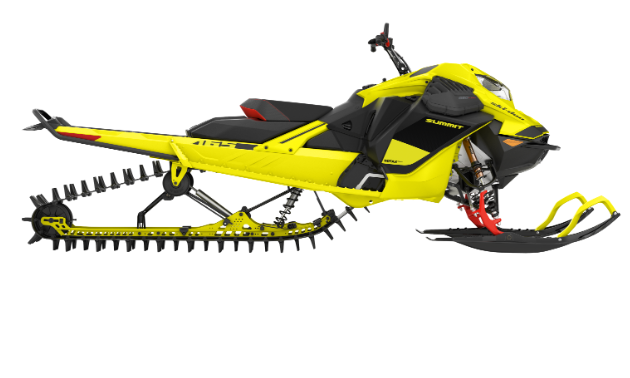 SHOT engine starting technology: Push-button starting with nearly no added weight. After an initial pull-start, the engine charges an ultracapacitor. Pushing the handlebar SHOT button for subsequent starts uses that stored energy to turn the magneto into an electric motor that turns the crank. E-TEC technology then fires the engine to start. Eliminates nearly 20 lb./9 kg compared to conventional electric start.
Narrow, adjustable ski stance: Effortlessly roll the sled on edge with a 35.7 in. (91 cm) standard stance. Stable cornering on trails with the chassis' low center of gravity. Stance can be easily widened to 37.4 in. (95 cm).
Lightweight ski spindle: Lightweight alloy spindle with geometry to reduce ski drag and improve predictability in technical sidehills.
Pilot DS 3 skis: Precise control to easily hold sidehills in a ski specifically designed to work in tandem with the deeper and longer tracks. The Pilot DS 3 skis are a variation of the well-received Pilot DS 2 with a 12 mm deeper keel offering an industry-exclusive removable ski tip extension: ride with it in deep dry snow conditions for flotation, ride without in crusty conditions to minimize tip-up.
Track: 165 x 16 x 3.0 in. (420 x 41 x 7.63 cm)
PowderMax Light with FlexEdge track: Climb with authority thanks to the 3.5 in. (9 cm) pitch that not only reduces weight but increases performance by keeping more snow between the lugs for better traction and keeps the sled on top of the snow. Strong yet lightweight lug design combined with the 3.5 pitch helps further reduce overall weight. Exclusive 16-in. (41-cm) wide design adds flotation and traction without sacrificing maneuverability.
Ice Scratchers: Rail-mounted scratchers provide additional snow/ice spray for cooling in icy and hardpack conditions. Reverse-capable.
Tunnel design: More freedom for the rider to move thanks to the beveled shape allowing for narrow tank and seat. Open rear cap design eliminates drag in deep snow. Heat exchanger is integrated using cutting-edge friction stir welding manufacturing process for greater heat transfer, added strength and less weight.
pDrive primary clutch: Fast and friction-free dual rollers transfer torque in place of traditional sliding buttons on this clutch. Oversized rollers with needle bearings, wide based flyweights and a shaft-on-shaft design emphasize smooth operation and long life. Ultra-responsive shifting, impressive RPM consistency, lightweight and maintenance-free. Fixed sheave is finned to circulate more air - paired with the new CVT cover delivers better air flow and cooling.
Drive belt: PBO material and design enhanced drive belt durability in deep snow.
NEW Drive Belt Monitoring System: Alerts riders in two different ways, duty cycle and temperature, if drive belt issues are impending before failure. Allows rider to be proactive to prevent belt failure. In both scenarios engine performance is not altered in any way – the system is meant to warn riders of potential issues before they happen.
NEW QRS Vent Plus driven clutch: Finned fixed and moving sheaves maximize airflow of the CVT system to decrease overall operating temperature and offer consistent performance.
Brembo disc brake: Hydraulic system from the world leader in brakes and X-exclusive racing-style pads provide powerful, fade-resistant stopping power. Steel-braided line.
Ergo-Step side panels: More comfort thanks to the ergonomic design of the rear section of the panels shaped to support the rider's shins on downhills. Narrow profile and shape at bottom minimizes "paneling out" in sidehilling. Bottom pan is shaped for flotation in carving and sidehilling.
Limiter strap adjuster: Quickly and easily change limiter strap settings for terrain or conditions without crawling under the sled.
Profile II running boards: Rigid full-length extruded aluminum grid-style design with 60% wider openings for exceptional snow evacuation and 3 times more grip Flat foot positioning for comfort and control, plus a 1 lb. weight reduction.
Open toe-hold: True freedom to choose. Enables rider to naturally and freely adjust footing on the running board. Optional toe-hold accessories available to customize the fit for all styles.
Compact Lightweight Seat: Compact, low profile and lightweight. Intentionally sculpted for easier side-to-side rider movement. Weather resistant to remain dry and lightweight throughout the years.
Compact digital gauge: Includes all critical data points in a small, lightweight package positioned perfectly with large display numbers to be seen by a standing rider.
Mountain Light handlebar controls: Even more compact design for no interference with the rider. Warmer switches on console. RER reverse button further shielded.
Small diameter handlebar and grips: Tapered bar ends and new grip design for improved rider comfort.
NEW One-piece Lightweight Hood: One-piece Polypropylene construction reduces weight by 6 lbs. Optimized for heat management and noise reduction.
Low mountain strap: Lower strap height keeps it out of the way while riding or reading the gauge.
4.7 in./120 mm riser block
Flexible handguards: Semirigid design for increased hand protection. Flexible enough to avoid breaking when rolling the sled or riding in tight trees.
Rotax Electronic Reverse (RER): A simple push of a button reverses the sled – by reversing the direction of the engine. Adds nearly zero weight.
RF DESS Key: Ball-and-socket design with embedded radio frequency microchip ensures solid connection.
Accessory-ready: Designed from the factory for easy installation of more than 150 Ski-Doo accessories for the REV Gen4 platform, including LinQ cargo system, skid plates, side panel vents, auxiliary LED light, GPS receiver, 1+1 seating system, alternative windshields and more.