Here in the West, we mountain riders tend to think we are driving the market, but in the bigger picture, according to Polaris, it's the crossover segment that's growing faster than any other category in snowmobiles. That is probably why for 2018, Polaris has created a new series of "extreme crossover" snowmobiles, as well as added race-ready Switchback XCRs and a more trail-friendly version of the deep powder SKS to the mix.
All new Titan models
Built on the new AXYS Titan chassis and powered by the 800 Cleanfire H.O. engine, the 2018 Polaris Titan brings utility, power and playfulness together in a package that can handle pretty much whatever task the rider throws at it.
Hauling gear or towing firewood to your backwoods cabin? The Titan has integrated storage options, plus it can carry up to 85 pounds of gear and tow up to 1,200 pounds without affecting the handling. Engine power is transferred through the Polaris Titan Alpa Transmission with high, low, reverse and neutral. The Polaris Titans also feature a cooling system with a radiator and fan, as well as a Power Boosting Regulator and high-performance braking system. On the ground is a 20-inch-wide by 155-inch-long track.
The 2018 Titan comes is three trim packages: the no-frills 800 Polaris Titan PS, the high-end 800 Polaris Titan XC and the two-up 800 Polaris Titan Adventure.
New XCR packages in the Switchback family
Race-inspired technology makes its way into the more traditional crossover segment with the new Switchback 800 XCR and 600 XCR. Built on the AXYS chassis, these two models offer rider balanced agility and acceleration for on- and off-trail riding. Premium suspension, strong and lightweight driveline components and the Polaris Race Technology Brake System are part of the package as well.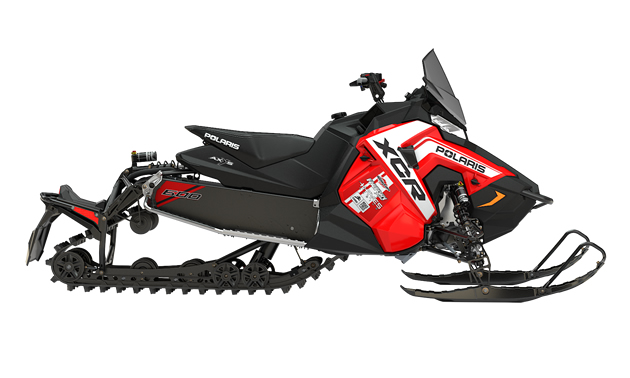 A mountain sled with good trail manners
For 2018, the RMK family remains largely unchanged, except that there are new graphic packages and the 800 SKS 146. A deep-snow or backcountry machine with even better trail manners than its 155 counterpart, the 800 SKS 146 is built on the AXYS chassis adapted for crossover riding. It is also equipped with IGX (Ideal Geometry Xover) rear suspension to conquer changing snow depths and conditions.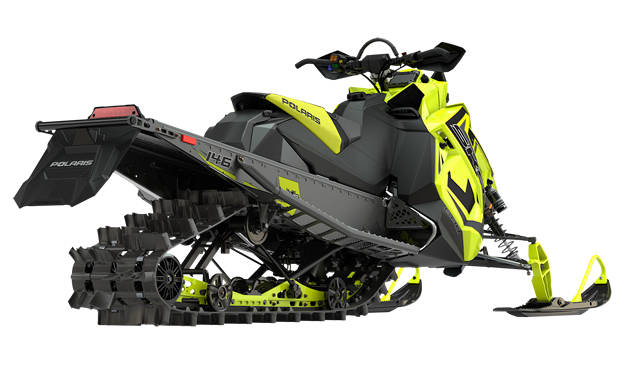 For more information, see the Polaris website.