A small company in Russia is giving outdoor sledding enthusiasts another way to get around during winter: the snow scooter.
Sniejik is a lightweight electric snow scooter that allows riders to travel effectively on snow and ice in winter. The scooter can also swap out the ski for a wheel to travel across sand, gravel and swamps in the summer.
Sniejik snow scooters are manufactured in Samara, Russia, by a small team of entrepreneurs led by Max Gnedov, the founder and CEO of LLC Snowbike.
"Our mission is to help residents of northern cities move efficiently over difficult surfaces—snow and ice—using modern, energy-efficient technologies," Gnedov said.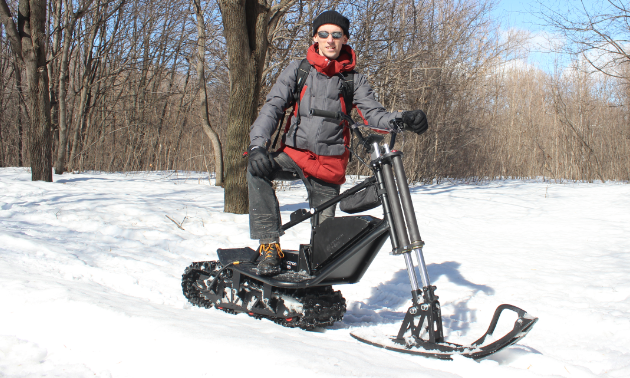 Gnedov got his start at a company making electric bikes. In his free time, he produced ski equipment (snowscoot\skibike) and motorcycle track kits. The electric snow scooter was borne out of a combination of these projects into one product.
"We have seen that the popularity of electric transport is growing every day, but no one has ever made winter electric transport," he said. "We decided to make the first prototype and, after testing, were very happy with the results. I decided to create a new company that is engaged in the promotion of winter electric transport."
There's a lot to like about the Sniejik snow scooter, such as its lightweight, compact design (see below for more info), but its biggest draw according to Gnedov is silence.
"I like that it's silent," he said. "Silence is the most important factor that our customers like."
Changing of the guard?
So, is the Sniejik snow scooter set to disrupt the snowmobile market in a major way? To put it simply, no. But it was never meant to be an all-encompassing substitute for a snowmobile.
"Those who have experience using ATVs and snowmobiles understand that a snow scooter is not a replacement for a snowmobile or snow bike—it's a supplement," said Gnedov. "Under more difficult conditions, our snow scooter will certainly lose to a normal snowmobile. It shouldn't be used in deep snow or at temperatures below 30 degrees Celsius."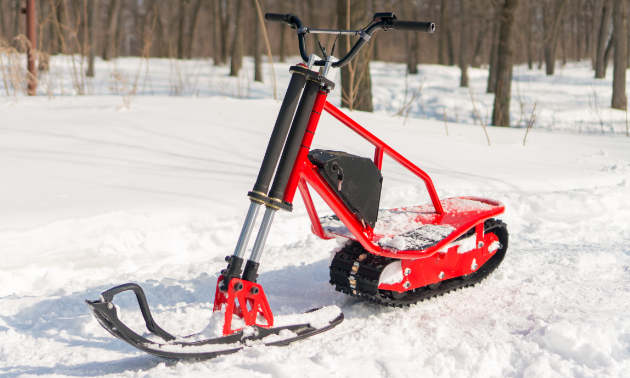 The Sniejik snow scooter is most effective on snow up to 30 centimetres (one foot) deep, at temperatures up to minus 20 degrees Celsius, and ridden within a radius of 50 kilometres.
If you'd like to add a bit of scooting to your sledding, you can order a Sniejik snow scooter online. The production time is one month and delivery to Canada takes three to four weeks.
"It works as soon as the customer receives it and takes it out of the box," Gnedov said. "It is cheaper than a snowmobile and weighs less, so no special trailers or tools are needed for maintenance. The device is designed in such a way that the client can replace the broken part by himself. All you need to do is to monitor the battery charge and clean the track after the ride so that the ice does not destroy the components."
Snow scooter benefits:
Although electric snow scooters don't have the power of a snowmobile, there are a number of benefits that these little machines have over other snow-based modes of transportation.
1. Silence: The electric motor runs almost silently. This snow scooter can be used in the backyard or in a public park.
2. Scentless: No grease or gasoline required, meaning there is no unpleasant smell or exhaust fumes.
3. Lightweight: The snow scooter only weighs 100-132 pounds (45-60 kilograms), depending on the equipment. This means that one person can lift the snow scooter, drag it over an obstacle or pull it out if it is stuck in the snow.
4. Compact: The snow scooter consists of modules. It is disassembled in five minutes with one multitool and can be fit into the trunk of a car in parts.
5. Simplicity: There's only an on/off button and a gas knob like an electric scooter. Children can learn to ride within five minutes.