Your sled comes to a stop at the top of a mountain. A three-hour ride has brought you to one of the best vistas you've ever seen. The sun comes out from behind sparse clouds, causing the snow to sparkle and shine. At the same time, your stomach starts to rumble. What you wouldn't give for a hot meal. Luckily, you brought along the perfect tool for the job.
The Muffpot is the food warming/cooking industry standard for preparing food on the go. Wherever and whenever you ride, you can easily attach the pot to your engine and cook or warm up your food. The Muffpot, comprised of a pot, lid and clamp, is made from the best Series 300 Food Grade stainless steel. It can withstand continuous use at temperatures over 800 C (1,472 degrees F)—not that you plan on torching your food.
"Primarily what makes our steel so great is its ability to resist corrosion, such as acids, alkalis and, most importantly, chlorides (salt)," said Desmond Tsai, vice-president of sales at Muffpot. "Another impressive thing is our product's durability.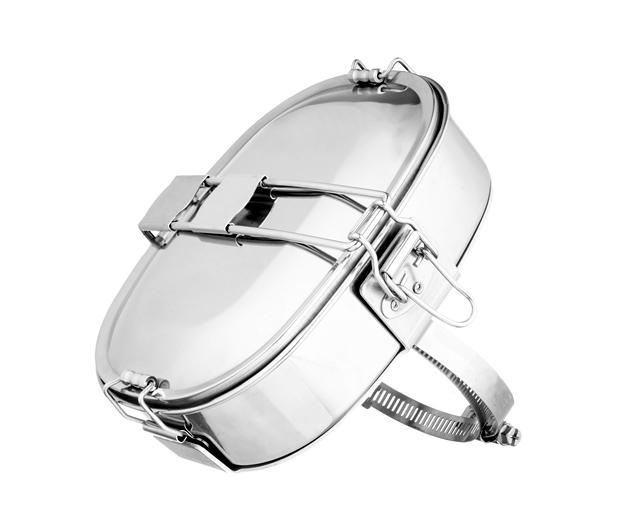 "Through customer feedback and reviews, we are well-known for our quality and durability over knockoff competitive products," Tsai said. "In Muffpot's 20-plus-year history, we have never had a single replacement via our lifetime warranty. This goes from the attachment, to the lid clamps, all the way to the body itself. It is engineered to last a lifetime!"
The pot can be a cooker or warmer, depending on how close it's placed to the engine. The closer it is, the hotter it cooks, up to about 218 C (425 F), or between 82 and 93 C (180 to 200 F) if placed on the clamshell. Cooking time and temperature vary, depending on how long and how hard you've been riding.
"We do suggest keeping your gloves on when removing it," said Tsai. "It is the equivalent of an electric table-top stove/burner, and is enough to cook just about anything—including a well-done steak if given enough time."
A simple search for "Muffpot Recipes" can assist you in finding some great uncooked and pre-cooked recipes, including suggested cooking times. These go from reheating soups and stews, to cooking pre-seasoned veggies, sliced meat and pre-prepared sauces. The sky is the limit!
Behind the business
Muffpot is a family-owned business, based out of California.
"We created the Muffpot while on a family trip to Colorado," said Tsai. "While enjoying ourselves out there, the only downside was stopping for lunch. It was never something we looked forward to, as it was usually cold turkey sandwiches. That was when the idea of the Muffpot was born.
"Twenty-plus years later, we have changed the outdoors experience for snowmobilers and ATVers. Muffpot now adds flavour to every outdoor experience!"
Some competitive vendors on the market misuse the name Muffpot as a product category. Make sure that the pot in your cart, is in fact, the original Muffpot. The company continues to maintain a 9.2 NPS score and 4+ star product review rating across all of its sales channels. As many of its customers have said, "The Muffpot is a life-changing experience!"
You can get your own Muffpot today at www.themuffpot.com.